Binoculars are the ultimate grab 'n go observational tool. When there's a brief break in the clouds and the stars can momentarily be seen, binoculars are readily available to dive deeper into that cosmic ocean. Some observers simply prefer them over a telescope; they're relatively inexpensive, portable, and can allow amateurs of almost any experience level to explore the universe.
Celestron, one of the leading manufacturers of astronomical equipment, produces the SkyMaster range, a series of binoculars specifically designed for astronomy. We took the Celestron SkyMaster 20×80 model out for a night under the stars, and this is what we found.
Our Score for the SkyMaster 20×80 Binoculars

Learn More

Overall Expert Rating

What we like:
Smooth focusing mechanism for sharp, colorful star views.

Weight
Magnification
Aperture
Ease of Use
Image Quality
All Photos Credit: Richard J. Bartlett
About the SkyMaster 20×80 Binoculars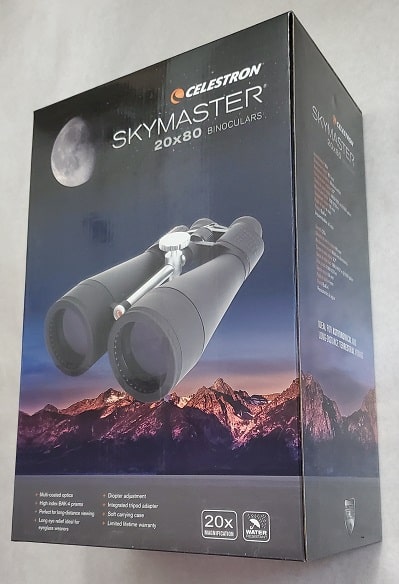 Packaging & Accessories
As you might expect of binoculars this size, the packaging is neither small nor flimsy, with the box measuring 11 x 7 x 16 inches and the entire package weighing 6.8 pounds. Most binoculars arrive in a plain package that gives little away about their contents, but Celestron has clearly made some effort here, with a nicely designed, attractive box.
Inside, you'll find the binoculars themselves, a canvas carrying case (with a shoulder strap already attached), a strap for the binoculars, a small cleaning cloth, and a user manual.
Being canvas, the case is soft and is designed simply for the purpose of allowing you to conveniently carry the binoculars with you. As such, it won't provide a lot of protection should the binoculars be knocked or even dropped.
Unlike some other brands (and even certain other binoculars by Celestron) the case has no pockets, which is a shame since there's certainly room for one on the back.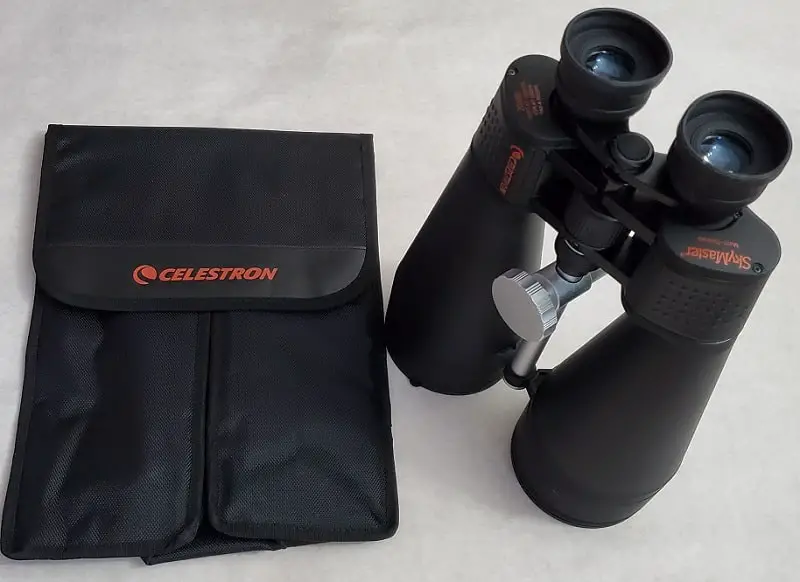 The user manual is relatively large in dimensions (8 x 11 inches) and yet the print is frustratingly small, so be sure to wear your glasses before attempting to read it!
You'll also notice that it's written for the SkyMaster range as a whole, rather than the 20×80 model specifically. (Some manufacturers are even more generic, so Celestron should be commended for at least making it specific to the range.)
The binoculars themselves are safely and securely encased in foam for transport. The first thing you'll notice (even before you take them out of the packaging) is that there's a tripod adapter attached. This is not removable, but given the weight of the binoculars (see Quality and Durability below) you'll soon realize that a tripod is an essential accessory for any observation session lasting a prolonged period of time.
The eyepieces have a single cover with a small loop, allowing you to thread the strap through and preventing the covers from dropping to the ground. Meanwhile, unlike most other binoculars, the lens covers don't fit over the apertures, but rather inside the apertures themselves, almost like plugs. This provides the covers a much tighter fit and prevents them from slipping off in the carry case.
Quality & Durability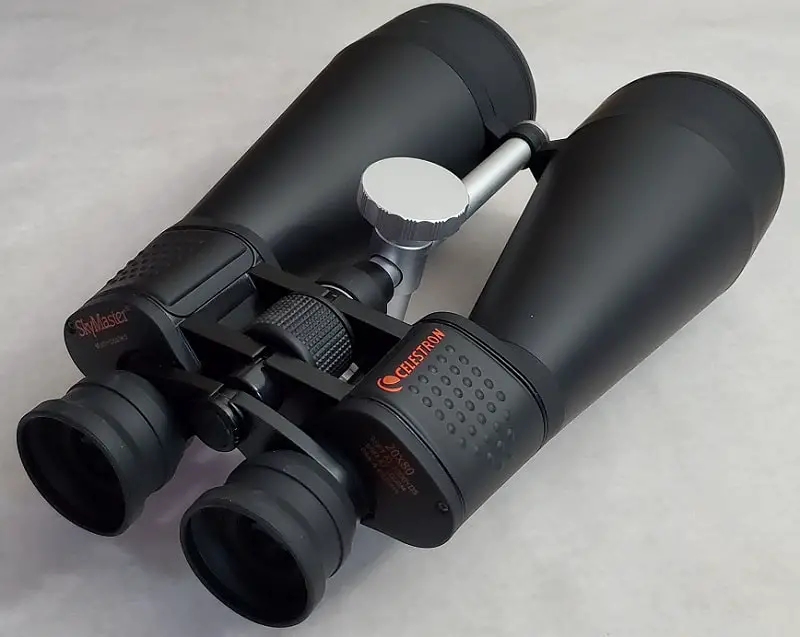 Celestron is a very well-respected manufacturer, and as you'd expect, these are very well-constructed binoculars, but the optics are not quite the same quality as the SkyMaster 20×80 Pro. For example, the lenses on the standard 20×80 SkyMaster binoculars are multi-coated, while the Pro's lenses are fully multi-coated.
What's the difference? The lenses are coated to reduce light loss and glare; multi-coated lenses mean the lenses have been coated multiple times on at least one surface. Full multi-coated lenses have all glass surfaces coated multiple times. According to Celestron's blog, fully multi-coated lenses provide a light transmission rate of 90-95%.
The prisms are BaK-4, which are a better quality than the BK7's you might find in cheaper or inferior products. Specifically, this allows for a crisper image around the edge of the field of view.
Holding the binoculars up to the light, the exit pupils appeared sharp and circular, with no visible clipping, confirming the presence of the BaK-4 prisms within. The prisms themselves are not coated.
On a related note, the aperture test yielded the full 80mm, so you can be sure you're getting the full field of view.
Lastly, it might be worth pointing out that these binoculars are water-resistant, not waterproof. This means they're safe from the rain but probably won't stand up to being immersed in water.
Overall, these binoculars are sturdy and solidly built, and while it's never a good idea to subject them to a knock or two, they should hold up well in the event of an accident. (Incidentally, if you happen to drop them, they may need collimation, and while a temporary fix may be attempted by experienced observers, beginners would be best advised to leave this to an expert.)1
Ease of Use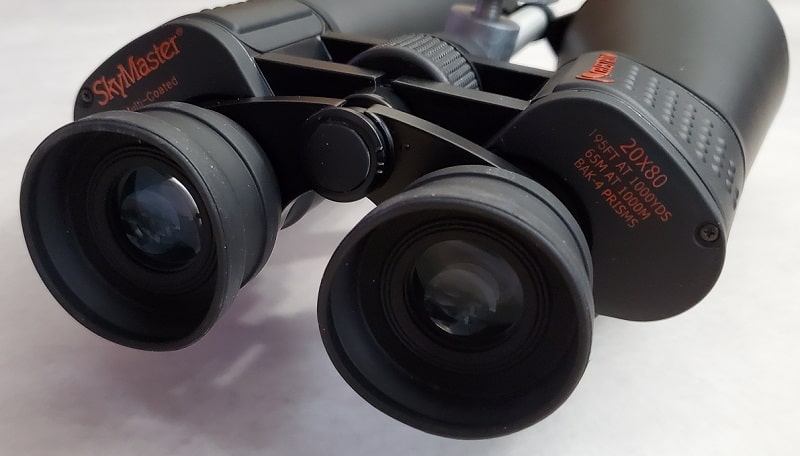 When you remove the binoculars from the packaging, the first thing you'll immediately notice is that these binoculars are not small or light; with an aperture of 80mm, it's like holding two small telescopes up to your eyes. That, of course, is part of the appeal, but given their size, they're also a little on the heavier side.
While weighing in at a respectable 4.7 pounds, these are not the heaviest on the market (in comparison, the Orion Giant View 25×100 binoculars are 10.1 pounds) but they're still about twice the weight of regular 10x50s.
You can, in theory, use them like any other binoculars, but you'll need to attach them to a tripod if you want to be outside for any reasonable period of time. (Otherwise, be prepared to suffer aching arms for your trouble.) Fortunately, the binoculars come with a tripod mount already fitted, so you only need to purchase a tripod to attach them to. (Incidentally, the mount cannot be removed.)
That said, if you're looking at buying a tripod, be sure to buy one that's capable of supporting the weight of these binoculars. Some of the more inexpensive tripods might not be up to the task! (It's also a good idea to buy a tripod that can extend to six feet or more, as that will make it easier to observe objects that are higher in the sky.)
If you wear glasses, you'll be pleased to know you'll have no problem using these binoculars. With a generous 18mm eye relief, you can comfortably hold the binoculars that distance from your eyes and still be able to see the entire field of view.
The eyecups fold down (rather than twist) and measure 50mm (2 inches) in diameter. That's a little on the large side, so if you want to replace them with your own, you might have some difficulty finding a size that fits.
On a more practical level, while the distance between the two halves (called the Interpupillary Distance, or IPD) could be adjusted to between 56mm and 70mm, the hinge itself was stiff and a little difficult to move.
Similarly, the movement of the central focuser was smooth, but also a little stiff. However, both the hinges and the focuser might move a little easier with continued use.
Lastly, like many binoculars, the right eyepiece has a diopter adjustment with a range of -4 to +8, giving you a more accurate focus by allowing you to compensate for the differences between your eyes. After focusing with the central focusing knob, you can then adjust the focus on the right eyepiece only. From that point on, you only need to use the central focus knob again.
Performance
Performance-wise, these binoculars passed almost every test with flying colors. Focusing was sharp, with stars appearing circular (and not distorted) when out of focus. Generally, the image quality was excellent, with the binoculars producing a view of the Pleiades star cluster rivaling any through a small telescope. That said, there was some very slight color aberration around the disc of the Moon.
The binoculars produce an angular field of view of 3.7 degrees but it feels a lot wider than that. The stars showed a decent amount of color, with little to no noticeable distortion toward the edge.
So what can you see? The Moon, as you might expect, is stunning, with the shadows along the terminator (the line that divides the night from the sunlit side) standing out quite nicely.2 Larger craters are also visible; for example, Copernicus and Tycho shouldn't be a problem at all.
The four brightest moons of Jupiter are another easy target, but you won't see anything on the planet itself.3 Similarly, you might notice that Saturn is a little elongated, but a magnification of 20x is still too low to see the rings for what they really are.4
Besides these targets, there are innumerable double stars (for example, Mizar & Alcor and Algieba in Leo) and larger, brighter star clusters like M41 and M44 show up very nicely. M42, the Great Orion Nebula, is a wonderful sight, with at least three of the Trapezium stars being visible at its center.5
If you live under dark skies, you may also be able to bag a few galaxies, as these binoculars can theoretically show objects up to about magnitude 12.
Target Audience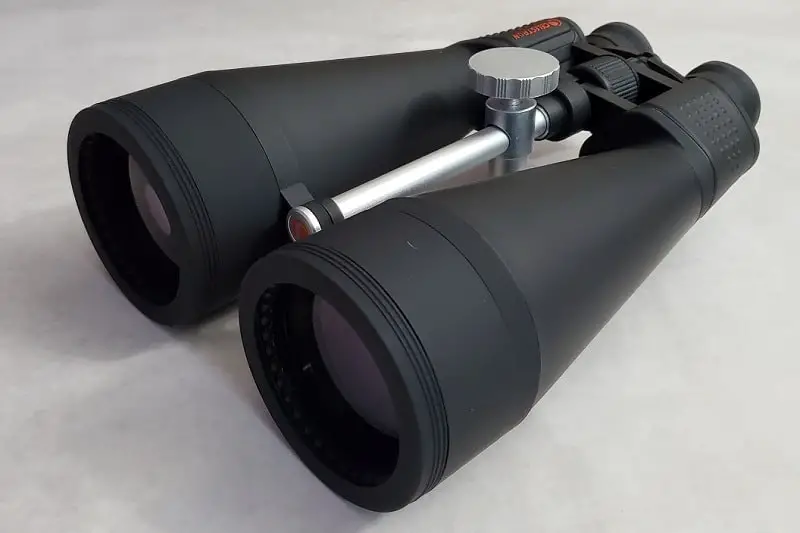 While these are great binoculars for astronomy (after all, that's what they're designed for) they're not really suited for more terrestrial activities, such as birding, hunting, or even whale watching.
For starters, they have a close focus distance of 108 feet, so you won't be able to focus the view on anything nearer. Secondly, these binoculars are a little too heavy to be easily carried around and used, as you would with smaller binoculars. They're simply not designed to be taken on hikes or hunting trips.
It's also worth knowing that these are not the best binoculars for beginners. With a magnification of 20x, you'll only be able to see roughly 3.7 degrees of sky at a time. If you're unfamiliar with the sky, this can make finding and identifying targets a little tricky, as you're looking at a much smaller area of the sky than you might otherwise be used to.
All that being said, more experienced observers will find these an excellent addition to their equipment and won't be disappointed with the views they provide.
Specifications
Type: Porro Prism
Magnification: 20x
Aperture: 80mm (3.15")
Prism Type: BaK-4
Lens Coatings: Multi-Coated
Angular Field of View: 3.7 degrees
Close Focus: 108 feet
Exit Pupil: 4mm (0.15")
Eye Relief: 18mm (0.71")
Diopter Range: -4 to +8
Interpupillary Distance (IPD) Range: 56mm to 72mm (2.20" to 2.83")
Weight: 4.7 pounds
Dimensions: 228mm x 120mm x 325mm (9.0" x 4.7" x 12.8")
Limited lifetime warranty
What We Liked
Stars appeared sharp and colorful
Generous eye relief for spectacle wearers
Smooth focusing mechanism
Tripod mount provided
BaK-4 prisms
Water-resistant
What We Didn't Like
A tripod is required for any prolonged use
Attached tripod mount cannot be removed
Focus wheel and hinges are a little stiff
The print in the user manual is small
Multi-coated lenses rather than fully multi-coated
Final Verdict
Overall, although Celestron's SkyMaster 20×80 binoculars may not be for beginners or for kids, they're an excellent choice for serious skywatchers, especially if you're looking for something with a little more kick than your average 10x50s. These binoculars provide views that rival a small telescope and, as such, are well worth every penny.
Recommended Accessories
Celestron Ultima Pan Tilt Head Tripod – holding binoculars can be tiring, especially if they're heavy. This tripod can be extended to nearly 67″ (1.7 meters) and includes a carrying case. You'll also need a Tripod Adapter to attach your binoculars.
Celestron PowerTank Glow 5000 – a red flashlight is essential if you're using star charts and books as it will protect your night vision. The PowerTank has three brightness levels and a USB port to charge your smartphone or tablet.
Celestron Lens Cleaning Kit – dust can get everywhere and it's important to keep the lens and eyepieces of your binoculars clean. This kit has everything you need to ensure you get the best views possible.
Stargazing With Binoculars – this great guide, by Robin Scagell and David Frydman, covers everything you need to get started in binocular astronomy. It not only highlights the best sights, but also provides advice on choosing binoculars.
The Cambridge Star Atlas – most astronomy books have basic charts to help you locate objects, so it's always a good idea to have a more detailed star atlas nearby. This one, by renowned stellar cartographer Wil Tirion, is one of the best.
If you're looking for additional resources on stargazing, we have a number of articles that you might find interesting.
First off, we've created guides on a variety of astronomy related topics, such as our guide to determining the proper how much does a good telescope cost, our guide to how do you use a telescope, our guide to beginner astronomy, and our guide on the how to buy your first telescope. We've also created a series of helpful guides, such as our list of fun facts about astronomy (which any kids or beginners will no doubt find interesting), and our breakdown of astronomy for kids.
We've also created a series of buying guides, including our guide to find the best astronomy tool for you, our guide to evaluating the best telescopes for beginners, and our guide to the best binoculars for astronomy.
In addition to those guides, we've also created a series of in-depth reviews of a variety of telescopes and astronomy binoculars. You can check them out before you buy to find out the best accessories, pros and cons for different models, and even to see what they look like unboxed. If you're considering buying a telescope we have a series of reviews that also serve as how to guides. You can get our series of guides to individual telescopes as well, including our review of the following telescopes and binoculars: our Celestron SkyMaster DX 8x56mm binocular review or our look at the Skymaster 15×70, Celestron Firstscope review, SkyGenius 10×50 Binoculars review, Celestron Travel Scope 80 Telescope review, Opticron Adventurer II 10×50 Binocular review, Orion Astronomy 15×70 Binoculars review, Orion XT6 Dobsonian Telescope review, Orion Scenix 7×50 Binocular review, Celestron ExploraScope 114AZ Telescope review, Zhumell Z100 Telescope review, and our Sky-Watcher Heritage 130 Telescope reviews, to really be able to dive into the different telescope and astronomy binocular models.
Article Sources
Moon and Back uses only high-quality sources, including peer-reviewed studies, to support the facts within our articles. Read our editorial process to learn more about how we fact-check and keep our content accurate, reliable, and trustworthy.