With a seemingly limitless selection of binoculars on the market, it can be confusing trying to pick the right ones. Should you choose roof prisms or the more traditional porro prisms? Which binoculars are best for both astronomy and daytime use?
Opticron, a family-owned British company with over fifty years of experience, have designed their products for a wide range of consumers, activities and environments. Their waterproof Adventurer II roof prism binoculars have specifically been designed to produce clear, bright views, whether you're gazing at the stars in the sky or staring at wildlife closer to the ground.
For more binoculars for stargazing tested and reviewed by an astronomy expert, check out our list of the best binoculars for astronomy.
Our Score for the Opticron Adventurer II 10×50 Binoculars

Learn More

Overall Expert Rating

What we like:
Lightweight, but with sharp views, these are binoculars perfect for almost any activity.

Weight
Magnification
Aperture
Ease of Use
Image Quality
All Photos Credit: Richard J. Bartlett
About the Opticron Adventurer II 10×50 Binoculars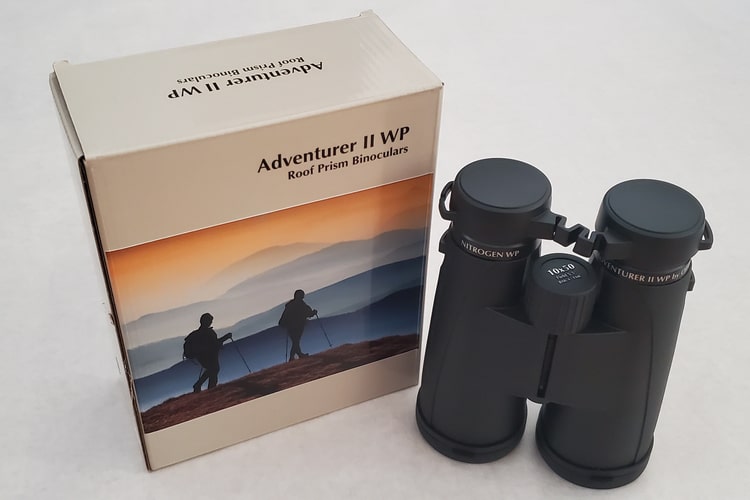 Packaging & Accessories
Many manufacturers tend to package their binoculars in a plain box, with little or no imagery or even any description. Opticron, however, has made an effort and ship the Adventurer II 10×50 binoculars in attractive packaging.
While this isn't an issue for many, it indicates the company gives care and attention to all the different facets of their product and not just the binoculars themselves.
It's also a fairly solid box that should protect the binoculars well while they're in transit, so if you're considering these as a gift, you can rest assured they should reach the recipient intact.
Included with the binoculars are a canvas carrying bag and strap, a strap for the binoculars themselves, caps for the eyepieces and lenses, a cleaning cloth and instructions.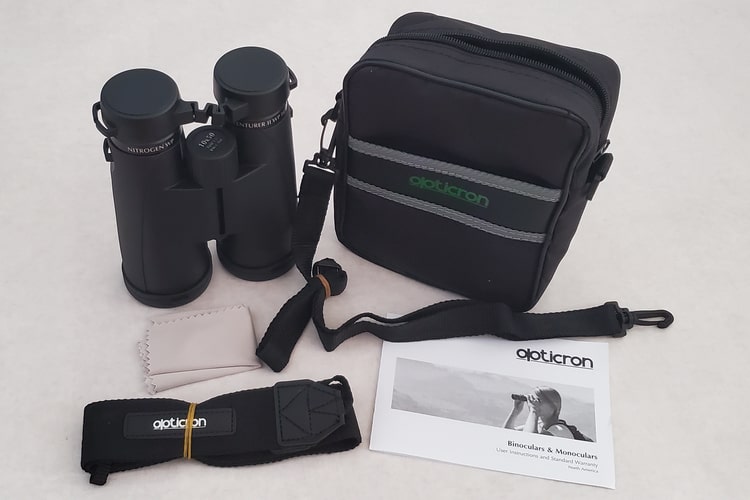 The branded soft canvas bag is of slightly better quality than most. More specifically, the interior is thinly padded, providing a little more protection that's often missing from other manufacturers. There's also a pocket at the front and a loop on the back.
The case strap is a standard narrow canvas strap with plastic clips. Likewise, the cleaning cloth is the same standard cloth you'd expect to get from your eye doctor for your glasses.
The individual lens covers have loops that fit over the ends of each barrel, allowing the covers to remain attached to the binoculars while in use. The eyepiece covers are connected to one another by way of a rubber connecting bridge and you'll find a loop on the edge of the left cover to thread the strap through.
(Incidentally, Opticron refer to the eyepiece covers as "rainguards", so be aware of that if you're expecting a different accessory.)
The instruction booklet is a relatively small, folded card and contains generic instructions for their binocular and monocular range. For example, there's a short paragraph regarding cold weather and the risk of the equipment steaming up. However, since the Adventurer II 10×50 binoculars are waterproof and filled with dry nitrogen, this isn't actually a problem and the applicable instructions can be ignored.
That said, most of the content was relevant and the instructions were written in a clear and easy-to-understand manner.
Quality & Durability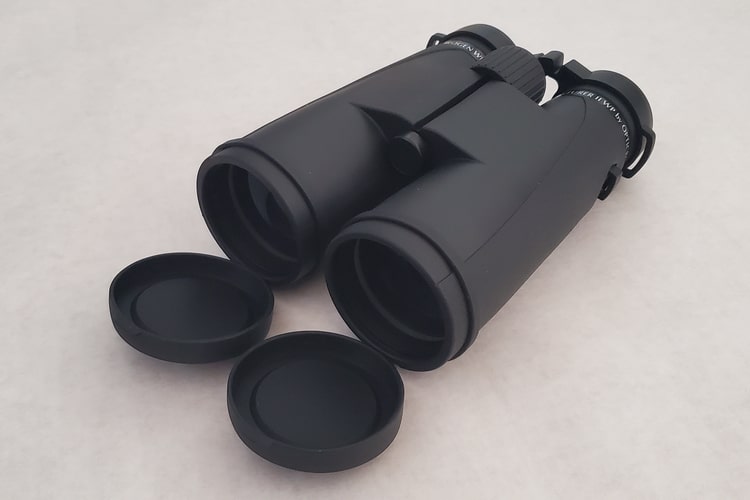 Given that Opticron has made the production of binoculars their specialty, it should come as no surprise that these are clearly well designed and manufactured.
They look and feel sleek while also having a reassuringly solid feel that inspires confidence in the quality of the product. The only potential downside to the look and feel of the binoculars is that the body hasn't been molded to ensure a better grip, but this is arguably a minor point.
On the plus side, the lenses are fully multi-coated, so both surfaces have been coated multiple times to reduce light loss and glare. In comparison, the prisms are multi-coated (ie, not fully multi-coated), which means only one of the surfaces has been coated.
The prisms themselves the better quality BaK-4 prisms, as opposed to the BK-7 prisms you might find in inferior quality binoculars. The exit pupils were both sharp and circular with no visible signs of clipping.
Being roof prism binoculars, these have a more slender design than their traditional porro prism cousins. Roof prisms are designed to be more compact, but it's worth noting there might be a slight loss of image quality 1 due to the configuration of the prisms themselves.
As for the prisms, the binoculars use the better quality BaK-4 prisms,2 as opposed to the BK-7 prisms you might find in inferior quality binoculars. The exit pupils were both sharp and circular with no visible signs of clipping.
As mentioned earlier, the Opticron Adventurer II 10×50 binoculars are waterproof, so if you're planning to use them outside during the day, there's no need to be concerned about rain or any other water damage. Since these binoculars have also been filled with dry nitrogen, you needn't worry about any moisture or condensation forming on the inside either.
Ease of Use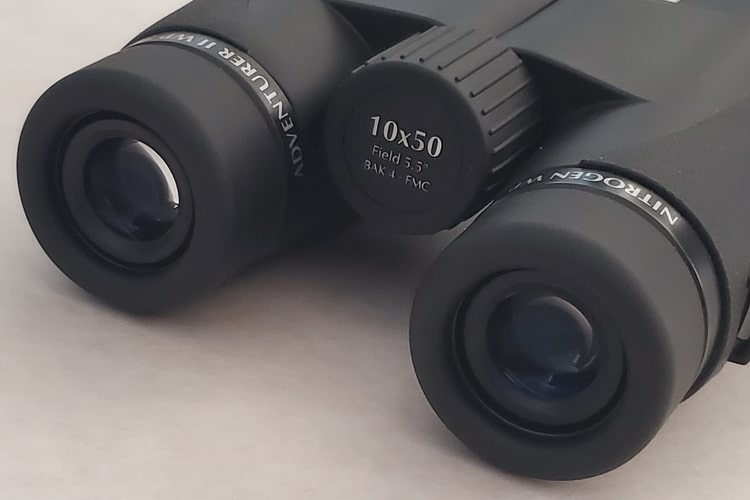 Probably one of the first things you'll notice is the weight of the binoculars – or rather, the lack of it. Most 10×50 binoculars weigh about two and quarter pounds, but these weigh half a pound less. 
This means it's not necessary to use a tripod (unlike, for example, larger 20×80 binoculars) but there is a tripod adapter socket at the end of the central focuser. However, being roof prism binoculars, there's not much space between the two barrels. This makes it tricky to unscrew the cover over the socket and even harder to replace it again.
(You'll also need to buy a tripod adapter that's specifically designed to fit roof prism binoculars. )
Many binoculars still have the traditional rubber eyecups but Opticron have included the more modern twist-type eyecups on the Adventurer II. These are easier to use than their rubber counterparts as it's easy to twist the cups into position as needed.
Eye relief, the distance you can hold the eyepieces away from your eyes and still see the whole field of view, is 17mm, which is about average for binoculars. This is important if you wear glasses, as you obviously won't be able to hold the binoculars directly up to your eyes. 
This appeared to work quite well in tests, and while there was definitely a slight reduction in the field of view it shouldn't negatively impact your experience too much.
The interpupillary distance (IPD) is the distance between the pupils of your eyes. When it comes to binoculars, this is the distance you can adjust the two halves so that they're comfortable for your own eyes.
The Adventurer II binoculars have an IPD range of 57mm to 73mm, which is probably about average and fine for many users (although they may not be best suited for younger children.)
When it comes to the two halves themselves, the central hinge movement is smooth, if a little stiff, but that's not uncommon and it's certainly better than being too loose. 
The central focuser, however, not only moves smoothly but also easily and you should have no problem in being able to fine-tune your focus with just one or two fingers.
Finally, you'll find the diopter adjustment on the right eyepiece and, like the central hinge, it moves stiffly. However, since the diopter allows you to tweak the focus to compensate for the differences between your eyes, you probably won't need to adjust it very often.
Performance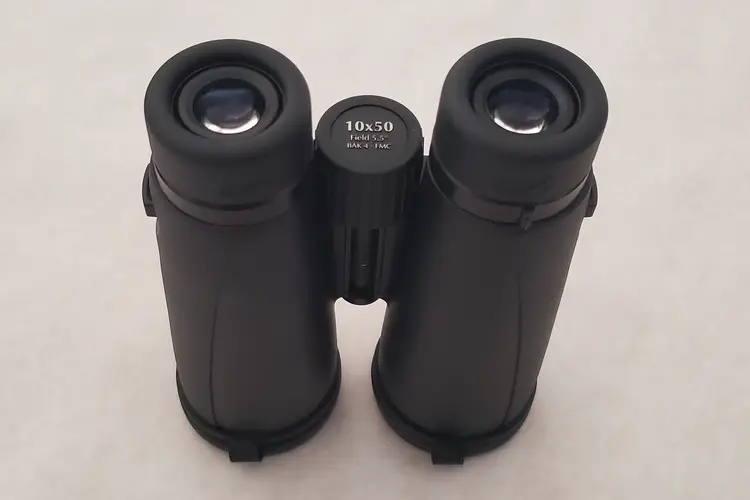 There's no doubt these binoculars are well-made, but testing produced some interesting results.
Let's start with the positive. Being lightweight, many users will be able to hold them quite steadily without too much shake, and your chances of getting arm fatigue are minimized as a result.
The color was good, with the leaves on a tree appearing a deep green, and stars appearing sharp when in focus. Out of focus, the discs of the stars were circular, as they should be, and not distorted.
The angular field of view is 5.5 degrees, nearly a full degree less than most other 10×50 binoculars. On the face of it, this might seem like a bad thing, but the reality was quite the opposite as objects appeared larger than they would otherwise. 
The Moon in particular was sharp, clearly defined, and showed a lot of detail, making it easy to pick out craters and identify features. For example, both Copernicus and Sinus Iridum were easily visible on the 9 day old Moon.
There was a slight difference when comparing the view through the Adventurer II and the Orion Explorer 10×50 binoculars. There's less glare in the Adventurer II, and while the Explorer appeared to have less chromatic aberration, the view of the Moon through the Adventurer II seemed sharper and with a little more contrast. 
The difference was subtle, so other users might not have the same experience. There was an almost three-dimensional quality to the image that's lacking in other binoculars. A similar effect was noted during daytime use, as the clarity made it seem as though you could almost reach out and touch the object you were observing.
On the negative side, there was a small amount of chromatic aberration3 around high contrast objects, such as the Moon or dark green hills against a bright blue sky. While this isn't an uncommon effect with binoculars, it should still be noted.
Roof prism binoculars are designed to be compact and lightweight, but the trade-off is that the image is not quite as good as traditional porro prism binoculars. That said, as these binoculars utilize BaK-4 prisms and have fully multicoated optics, the view is probably the best you'll get for under $200.
Similarly, there was a little distortion near the edge of the field of view; straight lines appeared slightly curved and the image was a little out of focus. Again, this is common with binoculars, and both the aberration and distortion are minimal and shouldn't interfere with your enjoyment of the equipment.
Target Audience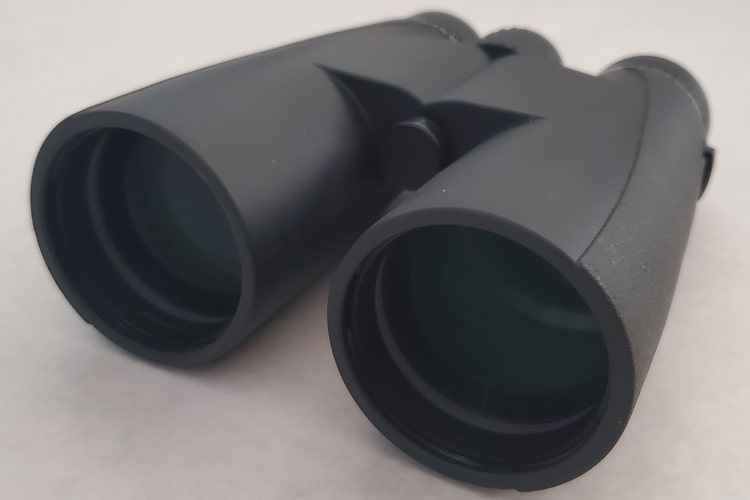 Being lightweight, and with a close focus of just three meters (9.8 feet), almost anyone can use these for almost any activity, making them a good choice for both the amateur astronomer and the outdoor enthusiast. For example, since they're also compact and waterproof, they're ideal for hunting and camping trips.
Anyone just beginning their journey into astronomy will have no problem using these binoculars either. They're light enough to allow you to steadily hold them up to the sky for several minutes at a time and provide a large enough field of view to make star hopping easy.
The magnification is too low for serious study of the planets (although you'll be able to see the four largest moons of Jupiter) but star clusters and nebulae will show up nicely and there are many double stars to be seen. Not to mention, of course, there's always the Moon!
Specifications
Type: Roof Prism
Magnification: 10x
Aperture: 50mm (1.97")
Prism Type: BaK-4
Lens Coatings: Fully Multi-Coated
Angular Field of View: 5.5 degrees
Close Focus: 9.8 feet
Exit Pupil: 5mm (0.20")
Eye Relief: 17mm (0.67")
Diopter Range: 5.0
Interpupillary Distance (IPD) Range: 57mm to 73mm (2.24" to 2.87")
Weight: 1.7 pounds
Dimensions: 162mm x 133mm x 57mm (6.4" x 5.2" x 2.2")
Standard 2 year warranty
What We Liked
Sharp, clear image

Good for both astronomy and terrestrial activities

Lightweight

BaK-4 prisms

Waterproof
What We Didn't Like
Some chromatic aberration

Generic instructions
Cover for tripod adapter socket is difficult to remove and replace
Final Verdict
With a price tag of almost $160 (at the time of writing), these aren't the cheapest on the market – but they're not the most expensive either. Cheaper binoculars may be fine if you're not sure if you're going to spend more time and money with astronomy, but you'll most likely get a lower quality product and a lesser experience as a result.
The Opticron Adventurer II 10×50 binoculars, however, are versatile, well built, and will provide a lot of enjoyment in whatever capacity you choose to use them. As such, they're not so much a purchase but more of an investment that'll grow and pay dividends over time.
Recommended Accessories
Celestron Ultima Pan Tilt Head Tripod – holding binoculars can be tiring, especially if they're heavy. This tripod can be extended to nearly 67″ (1.7 meters) and includes a carrying case. You'll also need a Tripod Adapter to attach your binoculars.
Celestron PowerTank Glow 5000 – a red flashlight is essential if you're using star charts and books as it will protect your night vision. The PowerTank has three brightness levels and a USB port to charge your smartphone or tablet.
Celestron Lens Cleaning Kit – dust can get everywhere and it's important to keep the lens and eyepieces of your binoculars clean. This kit has everything you need to ensure you get the best views possible.
Stargazing With Binoculars – this great guide, by Robin Scagell and David Frydman, covers everything you need to get started in binocular astronomy. It not only highlights the best sights, but also provides advice on choosing binoculars.
The Cambridge Star Atlas – most astronomy books have basic charts to help you locate objects, so it's always a good idea to have a more detailed star atlas nearby. This one, by renowned stellar cartographer Wil Tirion, is one of the best.
If you're looking for additional resources on astronomy, we have a number of articles that you might find interesting.
First off, we've created guides on a variety of astronomy related topics, such as our guide to the cost of a telescope, our answer to the question of how do you use a telescope, our beginners guide to astronomy, and our guide on thetype of telescope a beginner should buy. We've also created a series of helpful guides, such as our list of astronomy fun facts (which any kids or beginners will no doubt find interesting), and our breakdown of stargazing for kids.
We've also created a series of buying guides, including our overview of the best astronomy tool and our guide to finding the best telescope for beginners.
In addition to those guides, we've also created a series of in-depth reviews of a variety of telescopes and astronomy binoculars. You can check them out before you buy to find out the best accessories, pros and cons for different models, and even to see what they look like unboxed. If you're considering buying a telescope we have a series of reviews that also serve as how to guides. You can get our series of guides to individual telescopes as well, including our review of: the Celestron Firstscope telescopes review, SkyGenius 10×50 Binocular review, Orion Astronomy 15×70 Binocular Review, Orion XT6 Dobsonian Telescopes review, Orion Scenix 7×50 Binocular review, Celestron ExploraScope 114AZ Telescopes review, Zhumell Z100 Telescopes review, Sky-Watcher Heritage 130 Telescopes review, Celestron Travel Scope 80 Telescopes review, and the Celestron SkyMaster 20×80 Binocular review to really be able to dive into the different telescope and astronomy binocular models.
Article Sources
Moon and Back uses only high-quality sources, including peer-reviewed studies, to support the facts within our articles. Read our editorial process to learn more about how we fact-check and keep our content accurate, reliable, and trustworthy.
B&H Photo The BH Binocular Buying Guide. BHphotovideo.com. Accessed June 25, 2021.
Celestron What is the difference between BaK-4, BK-7 and K9 glass? Celestron.com. Published May 30 2020. Accessed June 25, 2021.
Scott Jones What No One Told You About Quality Binoculars topbinocular.com. Published August 18th, 2019. Accessed June 25, 2021.