Astronomy binoculars are a must-have item for anyone with a passion for outdoor activities like stargazing. They can also come in handy when sightseeing, watching sporting events, attending concerts, and more.
Our astronomy expert, Richard J. Bartlett, reviewed dozens of binoculars for stargazing to identify the best of the best, based on factors such as magnification, aperture, field of view (FOV), and value for the money. After careful consideration, he chose the Celestron SkyMaster 20×80 as his top pick. The well-constructed binoculars are specifically designed for astronomy and deliver sharp focusing and excellent image quality. Other features that helped these binoculars stand out from the pack include generous eye relief for spectacle wearers and an included tripod mount. Read how he chose the top 5.
If you're interested in observing the night sky, you may also want check out our articles about getting started with stargazing and how to get your kids in on the astronomy fun.
Our Astronomy Expert's Top 4 Astronomy Binoculars
Here are the top picks from our astronomy expert. Compare the ratings and features of different models.
*Ratings are on a scale of 1 to 5 and based on reviews, feedback, and opinions of actual customers
Who Should Buy Astronomy Binoculars?
Astronomy beginners –

Binoculars are a good choice for stargazers who are

just learning about the night sky and who want to discover more. They're also an excellent choice for exploring the Moon.

Stargazers who want portable equipment –

Unlike a telescope, binoculars are often relatively small and light, making them a great choice for anyone planning to observe the night sky while on the go.
Who Should Not Buy Astronomy Binoculars?
Anyone who wants to seriously observe the planets –

Unfortunately, most binoculars lack the power necessary to show the planets as anything more than points of light.

Anyone who wants to observe galaxies –

While binoculars can be great for star clusters, multiple stars and nebulae, galaxies are often too small and faint. However, it can be a fun challenge to track them down!
Research Tips (from an Astronomy Expert)
As an astronomy expert, I often get asked how to choose the best binoculars for stargazing. Here are some tips and best practices to consider when making a buying decision. Be sure to do adequate research on the product you are considering purchasing to look for key features and ask your friends and family (especially your fellow stargazers) if they have any recommendations on the best astronomy binoculars for your specific needs.
Check the magnification and aperture – The numbers separated by an "X" on binoculars show magnification and aperture.1 The first number is the magnification, while the second number is the aperture measured in millimeters. The aperture is the width of the objective lenses. These are the lenses that are pointed up toward the sky. For example, 10×50 binoculars have a magnification of 10x and objective lenses 50mm in diameter. The larger the objective lenses, the more light the binoculars can gather.2 As a result, you'll see more and fainter objects and greater detail. For example, while 10×50 binoculars are common, you can also buy 20×50's, but these won't add a lot to the observing experience. Your target will simply appear twice as large. However, use 20×80's and you'll not only see your target twice as large, but you'll also see more.
Consider the field of view (FOV) – The field of view, or FOV, is the area (measured in degrees or feet) that can be seen when looking through binoculars.3 The greater the magnification, the lower the FOV. Binoculars with a wide FOV are ideal for activities like birdwatching where you need to spot things without moving the binoculars around. By comparison, astronomers like to appreciate the entire view and prefer binoculars that can provide both a higher magnification and a wide FOV.
Exit pupil diameter is important for low-light conditions – The exit pupil is the bright circle that can be seen in the middle of each eyepiece when binoculars are held at arm's length.4 The diameter of the exit pupil can be calculated by dividing the objective lens diameter by the magnification. The larger the exit pupil diameter, the brighter the image.5 This is an important consideration if you'll be using your binoculars in low-light conditions.
Choose astronomy binoculars that are a comfortable weight – The weight of binoculars is usually measured in pounds. It's a good idea to choose binoculars that are lightweight enough to be held for long periods of time. However, some sacrifices may need to be made as binoculars with larger objective lenses will be heavier.
If you wear glasses, consider eye relief – Eye relief is a measurement of the distance from the eyepiece to where the exit pupil is formed. If you wear glasses, longer eye relief is preferable as you'll be able to hold the binoculars a small distance from your glasses without losing any of the image produced.6
How Much Do They Cost?
Between $40 and $400
For most binoculars for stargazing, you can expect to pay between $40-$400 and still get a high-quality product. That being said, the price of astronomy binoculars varies widely based on a number of factors. Binoculars at the lower end of that price range are made with low-cost materials and components to keep the price down. By comparison, more expensive binoculars are made with high-quality materials, precision optics, and all-metal components. Very high-end astronomy binoculars can cost $3,000 or more. Models of this price are built to exacting standards using the latest technologies and the highest quality materials and components. As a general hobbyist, it's not necessary to spend top dollar on binoculars. Mid-priced models should deliver all the functionality you need for hobbies such as astronomy.
Our Methodology: Why Trust Moon and Back
As an astronomy expert, I've spoken with many astronomers, birdwatchers, hunters, and other hobbyists about the best binoculars for stargazing on the market. Many of these products were chosen based on my professional experience as a binoculars expert combined with product feature considerations. I personally tested my top picks and other binoculars to find the best of the best based on magnification, aperture, field of view (FOV), exit pupil, weight, and eye relief. The other two criteria (price and lens coatings) were subjectively taken into account and generally used as a tie-breaker. For example, if two binoculars scored almost the same, I might have chosen one product over another due to its price and quality of the lenses. My final four picks are ones I'd personally recommend to anyone in the market for binoculars. – Richard J. Bartlett
The Best Binoculars for Stargazing: Full Reviews
My top pick of the astronomy binoculars I looked at is the Celestron SkyMaster 20×80. As you'd expect from Celestron, one of the leading manufacturers of astronomical equipment, these are very well-constructed binoculars. Performance-wise, these binoculars passed almost every test with flying colors. Focusing was sharp, with stars appearing circular (and not distorted) when out of focus. Generally, the image quality was excellent, with the binoculars producing a view of the Pleiades star cluster rivaling any through a small telescope. In technical tests, the exit pupils appeared sharp and circular, with no visible clipping, and the aperture test yielded the full 80mm, so you're certainly getting the full field of view.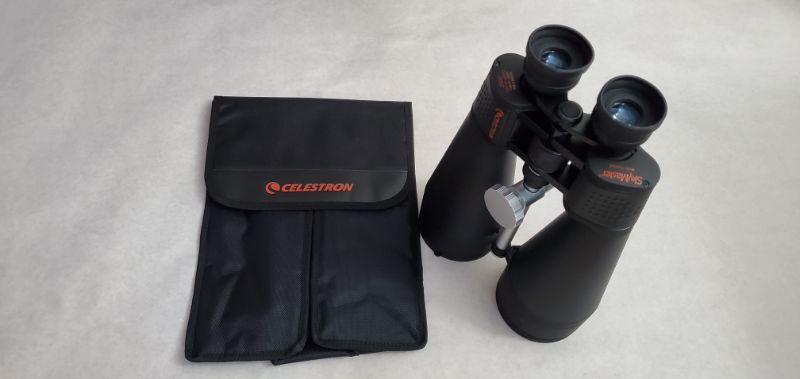 You'll also have no problem using these if you wear spectacles. With a generous 18mm eye relief, you can comfortably hold the binoculars that distance from your eyes and still be able to see the entire field of view. It's also worth knowing that these are not the best binoculars for beginners. With a magnification of 20x, you'll only be able to see roughly 3.7 degrees of sky at a time. If you're unfamiliar with the sky, this can make finding and identifying targets a little tricky, as you're looking at a much smaller area of the sky than you might otherwise be used to. Overall, although Celestron's SkyMaster 20×80 binoculars may not be for beginners, they're an excellent choice for serious skywatchers, especially if you're looking for something with a little more kick than your average 10x50s. These binoculars provide views that rival a small telescope and, as such, are well worth every penny.
For more on the Celestron SkyMaster 20×80 Binoculars, check out our in-depth review.
Pros
Stars appeared sharp and colorful
Generous eye relief for spectacle wearers
Smooth focusing mechanism
Tripod mount provided
BaK-4 prisms
Water-resistant
Cons
A tripod is required for any prolonged use
Attached tripod mount cannot be removed
Focus wheel and hinges are a little stiff
Multi-coated lenses rather than fully multi-coated
SkyGenius 10×50
The SkyGenius 10×50 are durable, budget-friendly astronomy binoculars that offer clear and brilliant vision.
If you're looking for high-quality astronomy binoculars on a budget, check out the SkyGenius 10×50. These functional and reliable binoculars are a great choice for activities such as amateur astronomy, and they're also useful for birdwatching, sightseeing, and hunting. They feature 10x magnification, a 50mm aperture, and multi-coated lenses.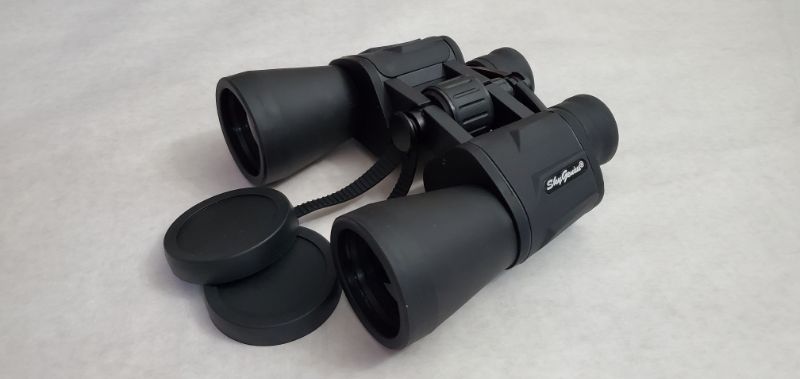 Other key features of these wallet-friendly binoculars for stargazing include a 6.2-degree field of view, a diopter system that compensates for differences between your two eyes, and adjustable eye relief. The binoculars delivered good image quality, and focusing was sharp. Stars appeared sharp when focused, and the focusing mechanism was very smooth. Clocking in at just 1.8 pounds, the binoculars are also lightweight and comfortable to use.
For more on the SkyGenius 10×50 Binoculars, check out our in-depth review.
Pros
Large field of view
Sharp images and good color
Very smooth focusing mechanism
Cons
No markings to help set the interpupillary distance (IPD)
Prisms are not as good quality as other binoculars
Orion Scenix 7×50
These lightweight 7×50 binoculars are perfect for amateur astronomy and scenic daytime viewing.
The Orion Scenix 7×50 are lightweight and portable astronomy binoculars that deliver sharp images on demand. They feature 7x magnification, a 50mm aperture, a wide 7.1-degree field of view, and multi-coated lenses. These specifications ensure the binoculars are ideal for a wide range of activities such as amateur astronomy, birdwatching, and viewing live events.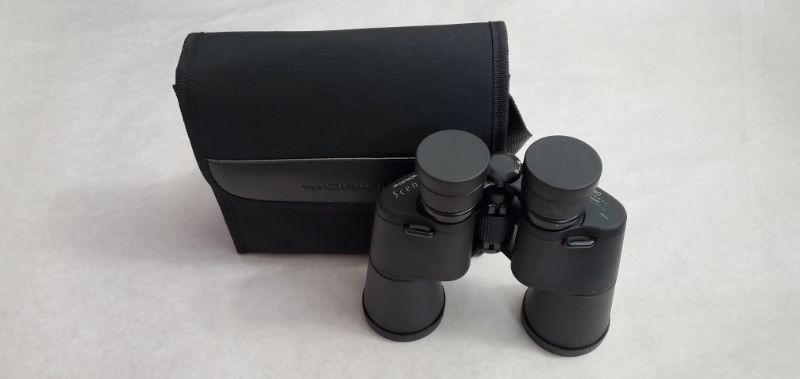 The binoculars performed well in our tests, delivering excellent image quality with very little distortion at the edge of the field of view. They also proved to be good for stargazing, with stars appearing sharp in focus and only a little distorted when out of focus. Overall, these binoculars are a great everyday piece of kit and perform very well for the price.
For more on the Orion Scenix 7×50 Binoculars, check out our in-depth review.
Pros
Lightweight and portable
Focus can be adjusted with one finger
Sharp image quality
Cons
Interpupillary distance (IPD) is a little limited
Diopter adjustment feels slightly stiff
Generic instruction sheet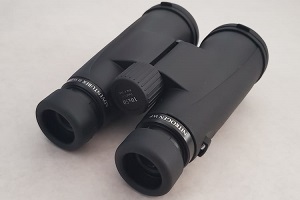 Opticron Adventurer II 10×50 Binoculars
Designed to produce clear, bright views, the Opticron Adventurer II Binoculars are an excellent choice if you're looking for 10×50 binoculars.
The Opticron Adventurer II 10×50 Binoculars are roof prism binoculars that are lightweight and feature fully multi-coated lenses, BaK-4 prisms, and a close focus of 9.8 feet (3 meters), making them suitable for amateur astronomers and outdoor enthusiasts alike. They come with a quality canvas carrying case with a thinly padded interior for added protection and a standard case strap for easy portability.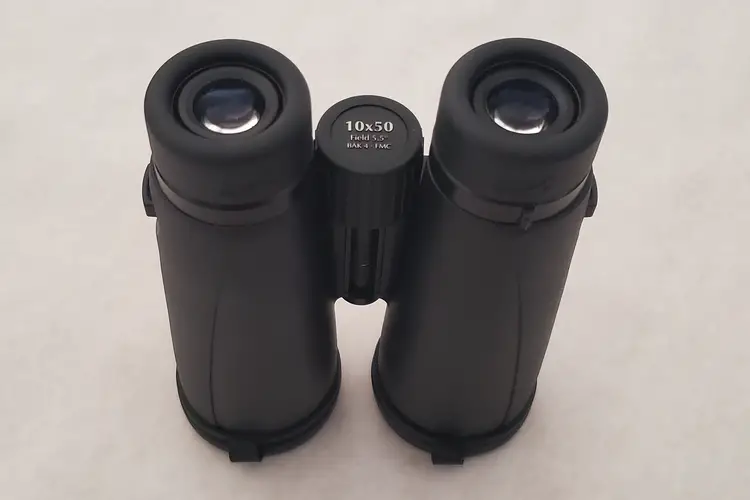 These binoculars are also waterproof, so you don't need to worry about using them outdoors in rainy conditions. They've also been filled with dry nitrogen, which prevents moisture and condensation from forming on the inside. Weighing about half a pound less compared to most binoculars (which typically weigh about 2.25 pounds), you don't need to mount them on a tripod to use them comfortably. In tests, the central focuser moves smoothly and is easy to adjust with one or two fingers. The eye relief is 17mm (the distance you can hold the eyepieces away from your eyes while still seeing the full field of view), which is helpful for users who wear glasses. In testing, there was a slight reduction in the field of view but it didn't have a significant negative impact on the experience. With an IPD range of 57mm to 73mm, they're suitable for most users, although they may not be the best choice for younger children.
For more on the Opticron Adventurer II 10×50 Binoculars, check out our in-depth review.
Pros
Lightweight
Waterproof
BaK-4 prisms
Sharp, clear images
Cons
Some chromatic aberration
Instructions are somewhat generic
Tripod adapter socket cover difficult to remove/replace
If you're looking for binoculars designed for viewing the cosmos, the Orion Astronomy 15×70 binoculars are an excellent choice. The robust and powerful binoculars feature large 70mm objective lenses and 15x magnification. They also come complete with high-quality BAK-4 porro prisms and fully multi-coated optics. These binoculars will allow you to see the craters of the moon and hundreds of deep-sky objects.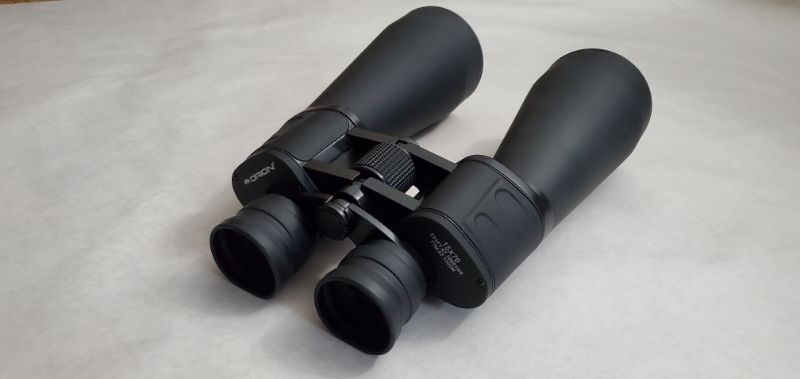 Other key features of these astronomy binoculars include a wide field of view and generous eye relief. A tripod mount is also provided for mounted viewing during extended stargazing sessions. The binoculars performed well during testing. Images were crisp and stars appeared circular when out of focus. Overall, these binoculars are ideal for astronomy and terrestrial daytime viewing.
For more on the Orion Astronomy 15×70 Binoculars, check out our in-depth review.
Pros
Nice wide view
Smooth and easy focus on both main focus and diopter
Tripod mount provided
Cons
Stiff hinge
Large and heavy build
Generic instructions
Frequently Asked Questions
Which is the best magnification for binoculars?
This depends on what you plan to use the binoculars for, but binoculars with 7x to 10x magnification are suitable for most situations. Binoculars with magnification at the lower end of this range are ideal for hobbies like birdwatching and viewing sporting events. If you're into hunting, astronomy, or other hobbies that require long-range observation, choose binoculars with 10x magnification or higher. Less powerful binoculars with 3x to 5x magnification can also be a good option if you enjoy going to the theater or opera.
Can you see planets with binoculars?
Yes – you can even see them with the naked eye! However, binoculars aren't powerful enough to show them as anything more than bright, star-like points of light.
Astronomy binoculars offer a wide field of view that can give you a glimpse into the cosmos. With the right astronomy binoculars, you can see star clusters, planets, and more.
What are the best binoculars for long-distance viewing?
Binoculars with at least 10x magnification are best for long-distance viewing. If you have a
passion for stargazing
, it's also worth considering more powerful binoculars with 15x to 20x magnification as they will allow you to view deep sky objects in greater detail.
7
Are expensive binoculars worth it?
This is a difficult question to answer, as it depends on a number of different factors. Expensive binoculars are made with the finest quality components and materials. They are also designed using the latest cutting-edge technology. When deciding whether high-end binoculars are worth investing in, ask yourself questions like how often you'll use them, what you'll use them for, and how far your budget will stretch.
Which binocular is best for astronomy?
If you're new to binocular astronomy, 10×50 binoculars are a good choice. They provide a solid combination of both magnification (10x) and aperture (50mm), thereby allowing you to track down and enjoy a multitude of different deep sky objects. They're also light enough to be taken hiking or camping or even whale-watching at the beach.
Are binoculars better than telescopes for astronomy?
There's no clear yes/no answer to this question. Binoculars are easy to use, don't require any set-up, are lightweight and can be taken outside or relocated at a moment's notice. However, they lack the power to show many objects in detail, so if you're looking for wow-worthy views of the planets, star clusters and galaxies, it's best to invest in a telescope.
Which binoculars are best for Moon watching?
Almost any! The Moon is the second-most brightest object in the sky (after the Sun), so you won't need a lot of aperture to observe it. That's because the larger the aperture, the more light the binoculars (or telescope) can gather, but you won't need this with the Moon. However, you'll want a magnification of 10x or more so you can properly enjoy all the features the Moon has to offer. Binoculars with magnifications larger than 10x might require a tripod, so otherwise a good set of 10×50 or 10×40 binoculars will work just fine.
Can you see Saturn's rings with binoculars?
Yes and no – when Saturn is closest to the Earth and the rings are fully open, you may be able to see that Saturn appears slightly elongated in 10×50 binoculars, but you won't be able to see anything of the rings themselves. However, almost any telescope will be able to show the rings for what they are.
If you're looking for additional resources on stargazing, we have a number of articles that you might find interesting.
First off, we've created guides on a variety of astronomy related topics, such as our guide to determining how much a telescope should cost, our guide to how to use a telescope, our beginner's guide to astronomy, and our guide on how to buy your first telescope. We've also created a series of helpful guides for kids, such as our list of astronomy facts (which any kids or beginners will no doubt find interesting), and our breakdown of astronomy for kids.
We've also created a series of buying guides, including our guide to find the best astronomy tools for you, our guide to evaluating the best telescopes for beginners, and our guide to the best astronomy binoculars (which you're reading now).
In addition to those guides, we've also created a series of in-depth reviews of a variety of telescopes and astronomy binoculars. You can check them out before you buy to find out the best accessories, pros and cons for different models, and even to see what they look like unboxed. If you're considering buying a telescope we have a series of reviews that also serve as how to guides. You can get our series of guides to individual telescopes as well, including our review of the following telescopes and binoculars: our Celestron Firstscope review, Celestron Travel Scope 80 Telescope Review, SkyGenius 10×50 Binoculars review, Celestron Travel Scope 80 Telescope review, Opticron Adventurer II 10×50 Binocular review, Orion Astronomy 15×70 Binoculars review, Orion XT6 Dobsonian Telescope review, Orion Scenix 7×50 Binocular review, Celestron ExploraScope 114AZ Telescope review, Zhumell Z100 Telescope review, and our Sky-Watcher Heritage 130 Telescope reviews, to really be able to dive into the different telescope and astronomy binocular models.
Article Sources
Moon and Back uses only high-quality sources, including peer-reviewed studies, to support the facts within our articles. Read our editorial process to learn more about how we fact-check and keep our content accurate, reliable, and trustworthy.