Orion Telescopes & Binoculars were founded in 1975 and have built and maintained a reputation for affordable quality equipment. While many of their products are also suitable for general outdoor activities, it's their astronomical binoculars and telescopes that form the bedrock of their reputation. Will the Orion Astronomy 15×70 Binoculars live up to the standard set by their predecessors?
For more binoculars for stargazing tested and reviewed by an astronomy expert, check out our list of the best astronomy binoculars.
Our Score for the Astronomy 15×70 Binoculars

Learn More

Overall Expert Rating

What we like:
Sharp, clear images with very little glare.

Weight
Magnification
Aperture
Ease of Use
Image Quality
All Photos Credit: Richard J. Bartlett
About the Astronomy 15×70 Binoculars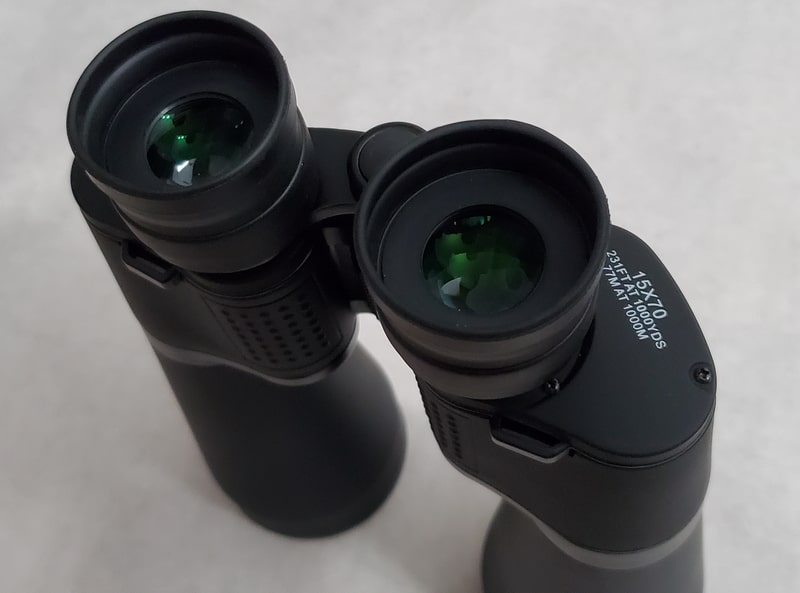 Packaging & Accessories
Arriving in a box measuring 14.0 x 11.6 x 6.7 inches (35.5 x 29.5 x 17.0 cm) and weighing 4.5 pounds (2.0 kg) you immediately know these binoculars are not your regular 10x50s. The packaging itself is simply a black box with no exterior text or imagery, which is a shame because it really feels somewhat underwhelming as a result.
The box is made of reasonably thick card, but you might want to consider using a larger, stronger box and additional padding if you plan on shipping these out to anyone.
Inside you'll find a foam crate containing the binoculars themselves. This provides a decent amount of protection with the provided canvas carry bag sliding between the crate and the edge of the box. The binoculars fit quite snugly within the foam crate and should be well protected while in-transit. 
Besides the aforementioned canvas carry bag, you'll also find a neck strap for the binoculars, a cleaning cloth, an instruction sheet and a tripod adapter. The eyepieces and lenses also have covers.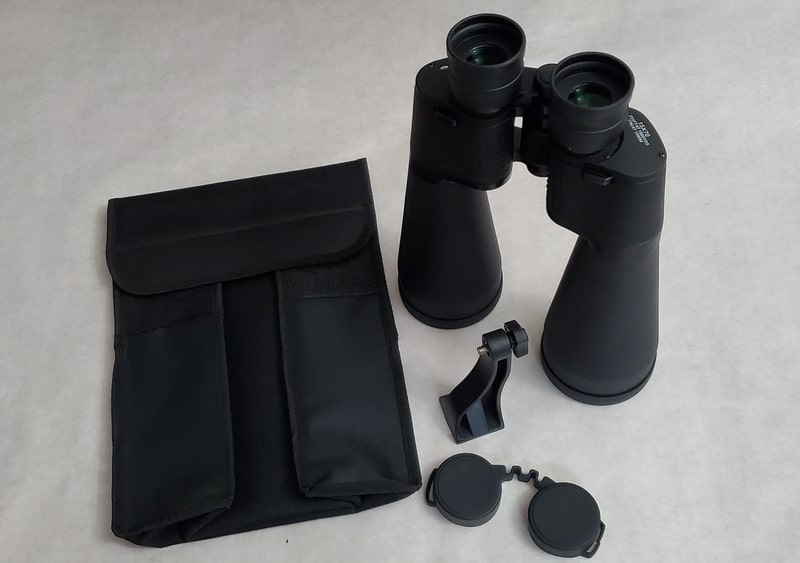 The canvas carry bag is, of course, soft and while there's a thin, padded lining on the inside, it's best not to completely rely on the bag for impact protection. The carry bag isn't branded, there are no pockets anywhere and the straps for the binoculars and the case are pretty standard.
The instruction sheet has instructions in six languages but is a generic sheet that lacks information specific to these binoculars.
Lastly, there are rubber covers for both the eyepieces and lenses. The eyepiece covers have a bridge connecting the two and a loop to thread the strap through, which should help to prevent them from getting lost.
Quality & Durability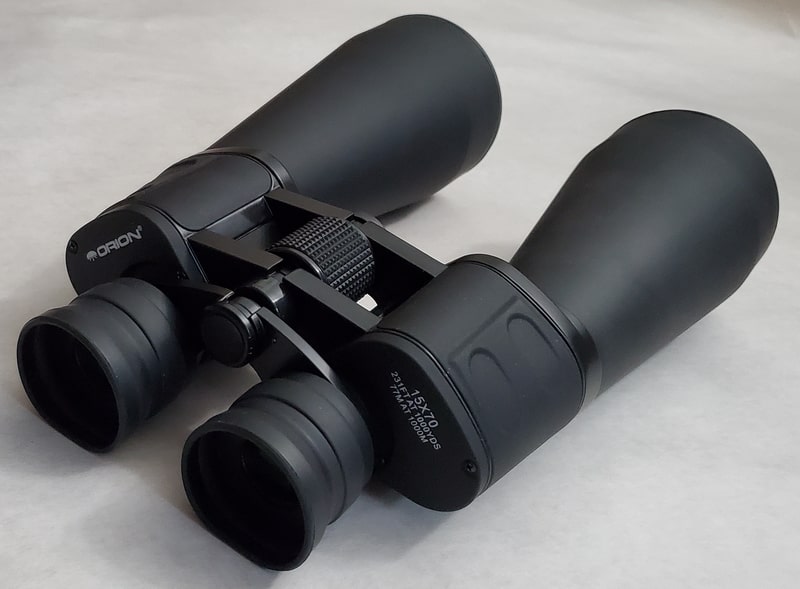 Given Orion's reputation for quality, it's no surprise that these binoculars feel both solid and durable. You'll immediately notice their weight; at 3.1 pounds, these are about 50% heavier than regular 10x50s, but that's to be expected for binoculars this size. In fact, these are lighter than most other binoculars of the same magnification and aperture.
The body has been molded a little to allow for greater grip and the central focus wheel is textured to prevent your fingers from slipping as you focus. Despite their size and weight, being traditional porro prism1 binoculars means they can be easily lifted by one of the long barrels at the narrow end, where it connects to the body of the binoculars.
If you were to disassemble the binoculars (not recommended!) you'll find BaK-4 prisms rather than the BK-7 prisms2 found in lower-priced binoculars. Being better quality, you'll find the image quality to be better too, with reduced refraction around bright objects (eg the Moon) or objects with a high contrast against the background (eg, dark hills against a bright sky.)
As you'd expect with BaK-4 prisms, the exit pupils were sharp and circular, with no visible signs of clipping.
Similarly, the lenses are fully multi-coated,3 which means every surface has been coated multiple times with anti-reflective compounds to reduce light loss and increase brightness and contrast.
These binoculars are not waterproof, and there's no indication they might be water-resistant either. However, Orion provides a one year warranty and there's also a satisfaction guarantee.
Ease of Use

Given their weight, it's a good idea to consider attaching these binoculars to a tripod for greater comfort while observing. Otherwise, you could find yourself suffering from arm fatigue if you use them for extended periods of time.
Fortunately, there's a tripod adapter included and it's easy enough to attach this to the binoculars in preparation for tripod use. The binoculars can then be mounted to a standard photographic tripod, but be aware that if you want to observe objects high in the sky, you'll probably need to also purchase a parellelogram mount too.
These 15×70 binoculars come equipped with the standard rubber eyecups and 18mm of eye relief – that's the distance you can hold the binoculars away from your eyes and still see the full field of view. The eye relief here is a little more than average and should be enough if you wear eyeglasses.
Generally, these binoculars performed well in this regard. If you do wear glasses, you might notice a little loss of field of view, but not enough to detract from your observing experience. The bigger problem was rolling down the eyecups, as the rubber is quite thick and inflexible. This makes it difficult to roll the eyecups down all the way.
The interpupillary distance (IPD) is the distance between the pupils of your eyes. The Orion Astronomy 15×70 binoculars have an IPD range of 56mm to 72mm, which is a good range for adults and teenagers but might not work so well for younger children.
The IPD can be adjusted by moving the two binocular barrels. The movement of the central hinge is smooth, but very stiff. This movement may become easier with use, but in the meantime your biceps will get a workout!
The central focuser isn't quite as stiff and moves smoothly enough. I had no problem moving it with just one or two fingers, making it possible to fine-tune your focus as you observe.
Finally, the diopter adjustment can be found on the right eyepiece, and also moves smoothly. There are + 0 – symbols on the side of the eyepiece and a white dot on the body of the binocular, allowing you to make a note of its position in case you need to adjust it again.
Performance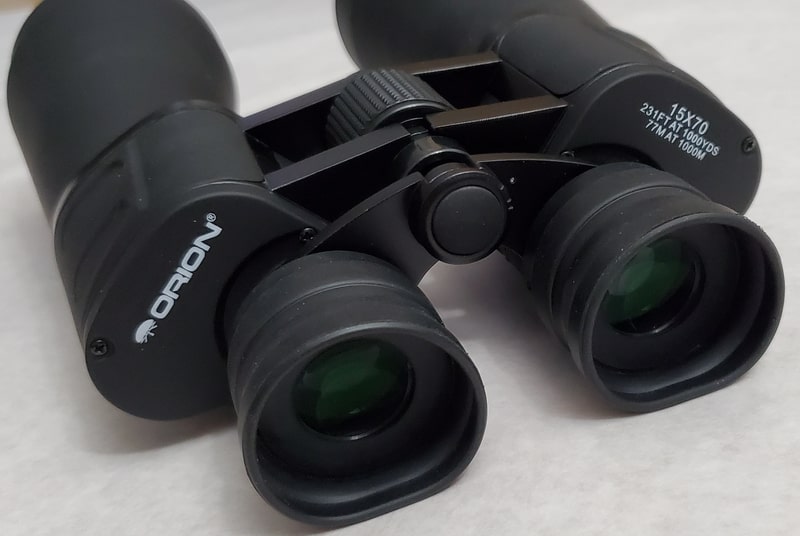 If you've used Orion's products before, then you won't be disappointed with these. With a magnification of 15x and an aperture of 70mm, it's like looking through two low-powered small telescopes.
Views were sharp, with stars appearing as pinpoints when focused and as circular discs, with no visible distortion, when out of focus.
Similarly, there was very little distortion around the edge of the field of view, with only some slight chromatic aberration around the Moon and other high-contrast objects. There was also very little glare from the nearly full Moon.
The Moon itself looked great, with a lot of detail being visible. Besides being able to spot the prominent craters, such as Tycho and Copernicus, I was also able to easily identify smaller craters, like Kepler, Aristarchus, Menelaus and Manilius.
The angular field of view is 4.4 degrees and provides an excellent view of the Pleiades, but you'll find it a little too restrictive for the neighboring Hyades cluster. The Orion Nebula was also outstanding, with three of the Trapezium stars being easily seen and a stream of stars to the north and south forming the Sword of Orion.
The moons of Jupiter and a multitude of double and multiple stars will also be visible, not to mention the disc of Venus when the planet is largest and near its half or crescent phase.
The binoculars also performed well on terrestrial objects. For example, blossoms on a tree were clear and colorful, with a clarity that almost made you feel as though you weren't using binoculars at all.
If there's a downside, then it would be the weight. Although you can hold the binoculars up to your eyes, like any other binoculars, and although they're comparatively light compared to similar binoculars, prolonged use will most likely cause some arm fatigue. It's therefore a good idea to invest in at least a tripod.
The included adapter will work with any standard photographic tripod, but be sure to check if the tripod is capable of supporting a payload of at least 3.5 pounds. You'll notice, however, that the tripod itself might cause problems if you want to view objects near their zenith, but a parallelogram binocular mount can resolve that.
Target Audience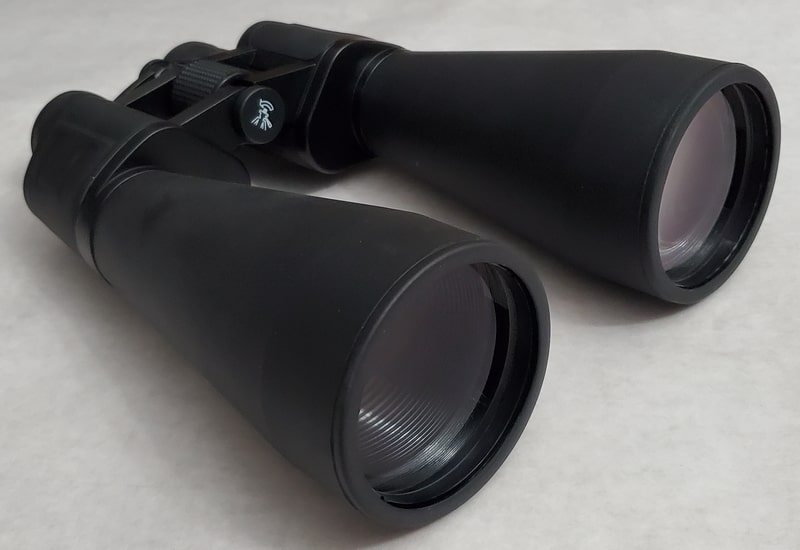 In theory, with a near focus of thirty feet (9.1 meters) you can use these for daytime activities as well as astronomy, but their weight and physical dimensions could limit their application. For example, they're not the best choice if you wanted to take them hiking, but if you're staying put in one spot (especially if you're using a tripod), they're still a viable option.
Similarly, the weight could pose a problem for younger children, and while they could be used by anyone of any experience for astronomy, newcomers to the hobby might be better off with a smaller magnification and aperture. 
With a magnification of 15x and an angular field of view of 4.4 degrees, you'll be looking at a much smaller area of the sky than with your naked eye. Consequently, anyone not familiar with the stars and constellations could potentially become lost while trying to track down their intended target.
That said, experienced observers looking for an inexpensive, quality binocular, with a little more magnification and aperture than regular 10×50's, will definitely appreciate what Orion's Astronomy 15×70 Binoculars have to offer.
Specifications
Type: Porro Prism

Magnification: 15x

Aperture: 70mm (2.76")

Prism Type: BaK-4

Lens Coatings: Fully Multi-coated

Angular Field of View: 4.4 degrees

Close Focus: 30 feet

Exit Pupil: 4.7mm (0.19")

Eye Relief: 18mm (0.71")

Diopter Range: Unknown

Interpupillary Distance (IPD) Range: 56mm to 72mm (2.20" to 2.84")

Weight: 3.1 pounds

Dimensions: 279mm x 203mm x 89mm (11.0" x 8.0" x 3.5")

One Year Warranty
What We Liked
Sharp, clear image

Very little glare

Tripod adapter included

Fully multi-coated optics

BaK-4 prisms
What We Didn't Like
Stiff hinge between the two barrels

Tripod may be necessary for prolonged use

Rubber eyecups that are difficult to fold down
Final Verdict
With many other 15×70 binoculars costing upwards of $150, the Orion Astronomy 15×70 binoculars can save you a lot of money – without compromising anything in terms of quality. While probably not the best choice for birding, hunting and hiking, they're ideal for intermediate or experienced observers wishing to get a closer, more in-depth look at the night sky.
Throw in Orion's reputation for quality, and you can be assured of owning binoculars that can deliver both outstanding views and years of enjoyment.
Recommended Accessories
Orion TriTech II Field Tripod – holding binoculars can be tiring, especially if they're heavy. This tripod can be extended to 68″ (1.7 meters) and includes a carrying case. You'll also need a Tripod Adapter to attach your binoculars.
Orion RedBeam II LED Flashlight – a red flashlight is essential if you're using star charts and books as it will protect your night vision. The brightness of the beam can be adjusted to suit your needs and it includes a replaceable 9-volt battery.
Celestron Lens Cleaning Kit – dust can get everywhere and it's important to keep the lens and eyepieces of your binoculars clean. This kit has everything you need to ensure you get the best views possible.
Stargazing With Binoculars – this great guide, by Robin Scagell and David Frydman, covers everything you need to get started in binocular astronomy. It not only highlights the best sights, but also provides advice on choosing binoculars.
The Cambridge Star Atlas – most astronomy books have basic charts to help you locate objects, so it's always a good idea to have a more detailed star atlas nearby. This one, by renowned stellar cartographer Wil Tirion, is one of the best.
If you're looking for additional resources on stargazing, we have a number of articles that you might find interesting.
First off, we've created guides on a variety of areas within astronomy such as our guide to find out the how much does a telescope cost, our walk through of how to use a telescope, our astronomy for beginners guide, and our guide on how to buy your first telescope. We've also created a series of helpful guides, such as our list of astronomy facts (which any kids or beginners will no doubt find interesting), and our breakdown of astronomy for kids.
We've also created a series of buying guides, including our overview of the best astronomy tools and our guide to finding the best telescope for beginners..
In addition to those guides, we've also created a series of in-depth reviews of a variety of telescopes and astronomy binoculars. You can check them out before you buy to find out the best accessories, pros and cons for different models, and even to see what they look like unboxed. If you're considering buying a telescope we have a series of reviews that also serve as how to guides. You can get our series of guides to individual telescopes as well, including: the Celestron Firstscope telescope review, SkyGenius 10×50 Binoculars review,
Orion XT6 Dobsonian Telescope review, Orion Scenix 7×50 Binoculars review, Celestron ExploraScope 114AZ Telescope rview, Zhumell Z100 Telescope review, Sky-Watcher Heritage 130 Telescope review, Opticron Adventurer II 10×50 Binoculars review, Celestron Travel Scope 80 Telescope review, and the Celestron SkyMaster 20×80 Binoculars review to really be able to dive into the different telescope and astronomy binocular models.
Article Sources
Moon and Back uses only high-quality sources, including peer-reviewed studies, to support the facts within our articles. Read our editorial process to learn more about how we fact-check and keep our content accurate, reliable, and trustworthy.
Sparks R. Porro Prism vs Roof Prism Binoculars: Which is Best? opticsmag.com. Published January 9, 2021. Accessed June 8, 2021.
What is the difference between BaK-4, BK-7 and K9 glass? celestron.com. Published May 30, 2020. Accessed June 8, 2021.
Sosensky S. What you need to know about lens coatings birdwatchingdaily.com. Published October 2, 2018. Accessed June 8, 2021.