One of the great things about binoculars is their versatility. Being much smaller and lighter than a telescope, you can take them anywhere and use them for a multitude of different activities, such as birding and astronomy.
Orion, one of the world's leading manufacturers of optical equipment, have specifically designed their Scenix range of binoculars to be used during the day and night – but how well does it stand up to our testing?
For more binoculars for stargazing tested and reviewed by an astronomy expert, check out our list of the best astronomy binoculars.
Our Score for the Orion Scenix 7×50 Binoculars

Learn More

Overall Expert Rating

What we like:
Lightweight and great for all kinds of activities.

Weight
Magnification
Aperture
Ease of Use
Image Quality
All Photos Credit: Richard J. Bartlett
About the Scenix 7×50 Binoculars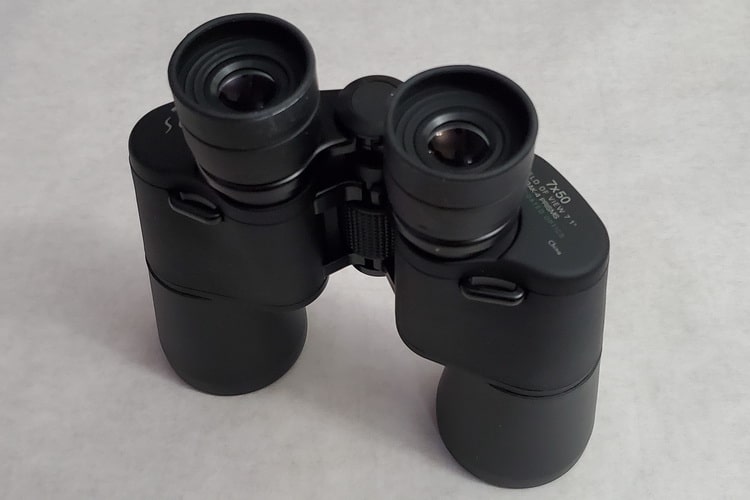 Packaging & Accessories
As is fairly common now, the packaging is disappointingly bland and non-descript. The binoculars come in a plain, white box, which is great if you want to keep the contents a secret, but otherwise not very exciting. 
If you're looking to ship these, it might be useful to know that the box measures 8.5 x 8.25 x 3.5 inches, with the total weight being 2.8 pounds. Be sure to pack the box carefully inside something larger and sturdier, as the box containing the binoculars will be easily damaged if it is shipped as-is.
In terms of accessories, Scenix 7×50 binoculars come with four separate lens caps as well as instructions, a canvas carrying case, a neck strap, a soft cleaning cloth, and a certificate for the limited two-year warranty.
The canvas case is fine for carrying the binoculars, but it isn't designed to protect them if the case should be dropped. However, it does have a pocket at the front, which makes for a convenient place to store the instructions and cleaning cloth.
The cloth is pretty standard – the type that comes with a pair of spectacles – and the instructions are printed on a single, folded sheet. The instructions themselves are generic so you'll see features discussed (such as twist-lock eyecups) that aren't a part of your binoculars.
The text includes phrases like "some Orion binoculars" and "most Orion binoculars" but you'll need to figure out which features apply to the binoculars you're holding.
Also, confusingly, the instruction sheet has a one-year warranty certificate printed on the back, which contradicts the separate two-year warranty included in the package. (The specs on their product page lists a two-year warranty.)
The binocular strap is a branded Orion strap and is of better quality than the typical narrow strap that's normally provided.
Each eyepiece and lens has its own cap; they're not connected in any way and don't have loops to feed the strap through. That being the case, you'll want to make sure you put the caps somewhere safe when you remove them, as they could be easily lost. They do, however, fit snugly and won't easily slip off in the case or when removing the binoculars for use.
Quality & Durability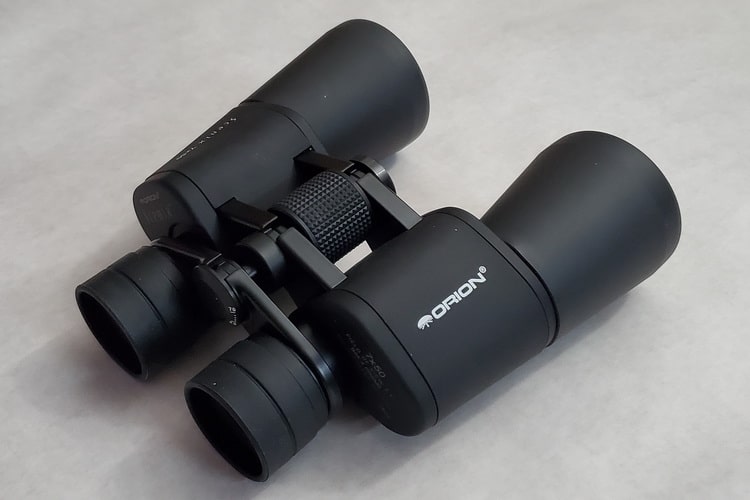 Orion is a reputable, well-established company, and their products are typically well made and respected within the astronomical community. As such, these binoculars are good quality, but it's worth remembering that you get what you pay for.
More specifically, these binoculars have multi-coated optics, rather than the fully multi-coated lenses you might expect in more expensive binoculars. Multi-coated means the lenses have been coated several times on at least one surface, whereas fully multi-coated means all glass surfaces have been coated multiple times.1
You'll lose less light with fully multi-coated lenses, but the chances are you may not notice the difference.
Binoculars use prisms to direct the incoming light to your eye, with two kinds in common usage: BK7 and BaK-4. Of the two, BaK-4 prisms are better quality,2 which is what Orion has built into these binoculars.
The Scenix 7×50 binoculars also have an exit pupil of 7.1mm – much better than the average 4.8mm you might expect from other binoculars. A larger exit pupil means you should get a brighter image, but there's one test you should always perform first.
If you hold the binoculars at arm's length up to the light, you should see two circular discs of light through the eyepieces. These are the exit pupils. They should appear perfectly circular, but there was some slight clipping on the edge nearest the center hinge.
The good news is that this is not uncommon in mid-priced binoculars and the slight cuts shouldn't affect the view too much.
Some manufacturers might short-change their customers on the aperture by providing smaller lenses than promised. It should come as no surprise that this isn't the case with Orion, as these binoculars projected an image the full 50mm in diameter.
One last thing to bear in mind: while the included instruction sheet talks about waterproof binoculars, Orion's product page states that the Scenix 7×50 binoculars are not waterproof. It also makes no mention of them being water-resistant either, so it should be assumed that these binoculars are not waterproof at all.
It's always a good idea to keep binoculars away from water, but if you want to be extra cautious, keep the binoculars out of the rain too.
Ease of Use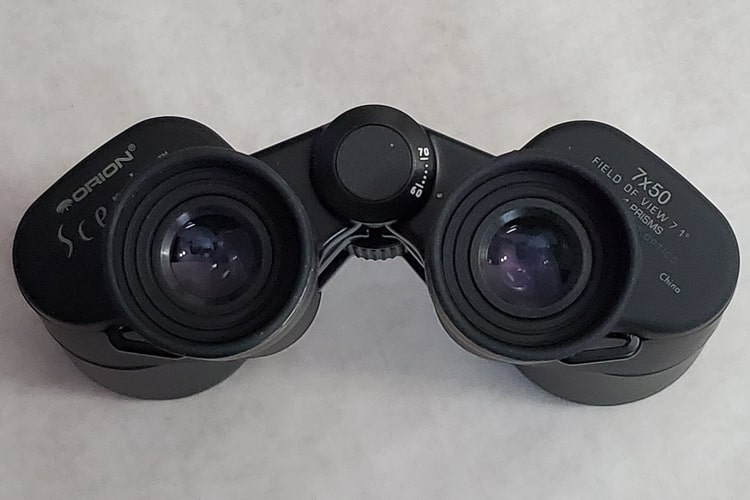 Weighing in at 1.8 pounds, these binoculars are lightweight enough to be comfortably used for an extended period of time, while still feeling solid and sturdy. If you want a little more convenience, you can attach the binoculars to a tripod, and while the adapter isn't included, many tripods will include a universal adapter you can use.
Eye relief for the Scenix 7×50 binoculars is an excellent 20mm, making these a good choice for anyone wearing glasses. This means you can hold the eyepieces about 20mm away from your eyes and still be able to see the full field of view. (Many other binoculars will average an eye relief of about 17mm in comparison.)
The eyecups are the traditional rubber roll-down type. The rubber is fairly thick and sturdy, which is fine if you want to leave the cups up, but it can be a little tricky to actually roll them down. Measuring 40mm (1.57 inches) in diameter, you should be able to replace these with your own if you'd prefer.
The central hinge moves smoothly and not too stiffly, allowing you to adjust the binoculars to best fit your eyes. The distance between the two halves (called the Interpupillary Distance, or IPD) can be set between 59mm and 72mm. The smaller distance, 59mm, is a little less than average, so if your eyes are close-set or children are using the binoculars they might not fit as well as they could.
The central focuser moved smoothly and wasn't too stiff; you should easily be able to fine-tune your focus using just one finger while observing. As is typical in many binoculars, the diopter3 can be adjusted via the right eyepiece, and like the central focuser, this moved smoothly and easily too.
However, neither Orion's website or the instructions specify the diopter range and there are no values marked on the eyepiece itself.
Performance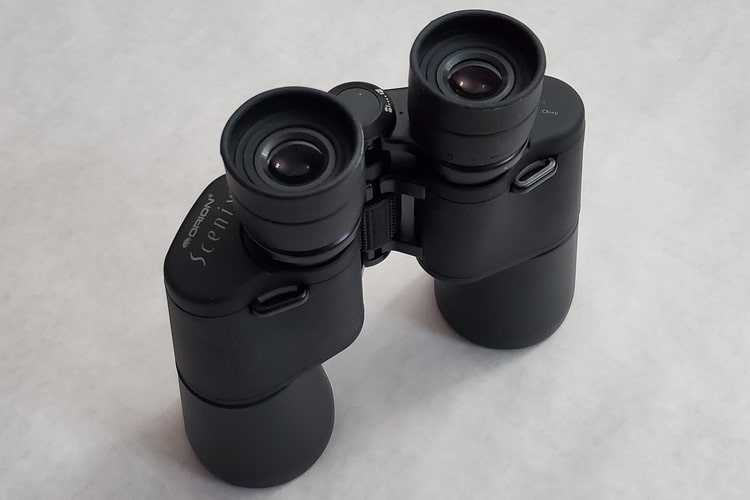 Generally speaking, the Scenix 7×50 binoculars worked very well in the field. With an angular field of view of slightly more than seven degrees, these are a good choice for enjoying conjunctions between the Moon and planets – not to mention large star clusters like the Hyades and Pleiades.
If you wear glasses, you'll find the entire field of view is visible with little or no distortion along the edges. The Moon looked great, with no noticeable chromatic aberration, while stars appeared sharp when the binoculars were properly focused. 
(Curiously, stars appeared slightly distorted when out of focus. More specifically, out of focus stars appeared circular, but with the star itself appearing on the edge of the circle and not at the center. However, this did not seem to have an impact on the in-focus image.)
Astronomically, these are best suited to observing the Moon and locating brighter deep sky objects. While the Moon was sharp, with a good contrast between the darkened and sunlit portions of the lunar surface, these aren't the right binoculars for observing the planets.
Due to the small apparent size of the planets, you won't see them as anything more than starlike points of light, although sharp-sighted observers may notice that Saturn appears slightly elongated due to its rings. You should also be able to see the four largest moons of Jupiter on either side of the planet.
Larger star clusters (such as the Hyades, Pleiades and the Beehive) look fine, but most will only appear as dim misty patches under suburban skies. The same is true of most nebulae and galaxies, although the Orion Nebula is always a good target for binocular observers. 
That said, if you want to learn and explore the night sky before diving in with a telescope, or use binoculars to help you locate and identify objects before turning a telescope toward them, these binoculars are more than up to the challenge.
Target Audience
Given their size and weight, the Scenix 7×50 binoculars can be used by almost anyone (although they might be a little large and heavy for younger children.) They're light enough to be taken anywhere and can be used for other activities, such as birding or whale watching. With a close focus of just 14 feet, these are ideal binoculars for observing objects both near and far.
Astronomically, although a magnification of 7x isn't the best option for getting the most out of the night sky, these are a fine choice for the beginner or the casual observer. They're particularly suited to anyone who wants to enjoy the Moon, especially when there's a planet nearby.
Specifications
Type: Porro Prism
Magnification: 7x
Aperture: 50mm (1.97")
Prism Type: BaK-4
Lens Coatings: Multi-Coated
Angular Field of View: 7.1 degrees
Close Focus: 4.3 meters (14 feet)
Exit Pupil: 7.1mm (0.28")
Eye Relief: 20mm (0.79")
Diopter Range: Unknown
Interpupillary Distance (IPD) Range: 59mm to 72mm (2.32" to 2.83")
Weight: 1.8 pounds
Dimensions: 178mm x 168mm x 64mm (7.0" x 6.6" x 2.5")
Warranty: Two Year
What We Liked
Lightweight

Very good image quality

Excellent eye relief

Great for other activities

Can be used by almost anyone
What We Didn't Like
Generic instruction booklet

A little on the expensive side

Slightly clipped exit pupils
Final Verdict
Generally speaking, you can't go far wrong with Orion products and the Scenix 7×50 binoculars are no exception. While the low magnification might be a disadvantage to anyone looking to do some serious deep sky observing, they're a great choice for beginners and for anyone looking to use them for daytime terrestrial activities. That said, at $99.99 (at the time of writing) they might be considered a little expensive for some, but the price also reflects the quality of the product.
Recommended Accessories
Orion TriTech II Field Tripod – holding binoculars can be tiring, especially if they're heavy. This tripod can be extended to 68″ (1.7 meters) and includes a carrying case. You'll also need a Tripod Adapter to attach your binoculars.
Orion RedBeam II LED Flashlight – a red flashlight is essential if you're using star charts and books as it will protect your night vision. The brightness of the beam can be adjusted to suit your needs and it includes a replaceable 9-volt battery.
Celestron Lens Cleaning Kit – dust can get everywhere and it's important to keep the lens and eyepieces of your binoculars clean. This kit has everything you need to ensure you get the best views possible.
Stargazing With Binoculars – this great guide, by Robin Scagell and David Frydman, covers everything you need to get started in binocular astronomy. It not only highlights the best sights, but also provides advice on choosing binoculars.
The Cambridge Star Atlas – most astronomy books have basic charts to help you locate objects, so it's always a good idea to have a more detailed star atlas nearby. This one, by renowned stellar cartographer Wil Tirion, is one of the best.
If you're looking for additional resources on stargazing, we have a number of articles that you might find interesting.
First off, we've created guides on a variety of areas within astronomy such as our guide to find out the cost of a telescope to see the planets, our walk through of how to use telescopes, our beginners guide to astronomy and our guide on buying your first telescope. We've also created a series of helpful guides, such as our list of interesting facts about astronomy (which any kids or beginners will no doubt find interesting), and our breakdown of kids astronomy.
We've also created a series of buying guides, including our overview of the how to use astronomy tools and our guide to finding the top telescope for beginners..
In addition to those guides, we've also created a series of in-depth reviews of a variety of telescopes and astronomy binoculars. You can check them out before you buy to find out the best accessories, pros and cons for different models, and even to see what they look like unboxed. If you're considering buying a telescope we have a series of reviews that also serve as how to guides. You can get our series of guides to individual telescopes as well, including reviews of: the Celestron Firstscope telescope, SkyGenius 10×50 Binoculars,
Orion XT6 Dobsonian Telescope, Celestron ExploraScope 114AZ Telescope, Zhumell Z100 Telescope, Sky-Watcher Heritage 130 Telescope, Orion Astronomy 15×70 Binoculars, Opticron Adventurer II 10×50 Binoculars, Celestron Travel Scope 80 Telescope, and the Celestron SkyMaster 20×80 Binoculars to really be able to dive into the different telescope and astronomy binocular models.
Article Sources
Moon and Back uses only high-quality sources, including peer-reviewed studies, to support the facts within our articles. Read our editorial process to learn more about how we fact-check and keep our content accurate, reliable, and trustworthy.
Sosensky S. What you need to know about lens coatings. birdwatchingdaily.com. Updated October 2, 2018. Accessed June 23, 2021.
Adam BAK-4 vs BK-7 Prism – Which is Best? binocularsguides.com. Published May 3, 2019. Accessed June 23, 2021.
Diane and Michael Porter Binocular Tuneup The Diopter Adjustment birdwatching.com. Published 2006. Accessed June 23, 2021.