Sky-Watcher was founded in 1999 with the goal of producing a high-quality instrument at an affordable price. Their Heritage 130 Tabletop Dobsonian telescope has been designed to combine portability with aperture, while still providing views that wow. We put it through the wringer to see how well it fared.
Our Score for the Sky-Watcher Heritage 130 Telescope

Learn More

Overall Expert Rating

What we like:
Great views and very easy to use!.

Ease of Assembly
Ease of Use
Image Quality
Accessories
Value for Money
All Photos Credit: Richard J. Bartlett
About the Sky-Watcher Heritage 130 Telescope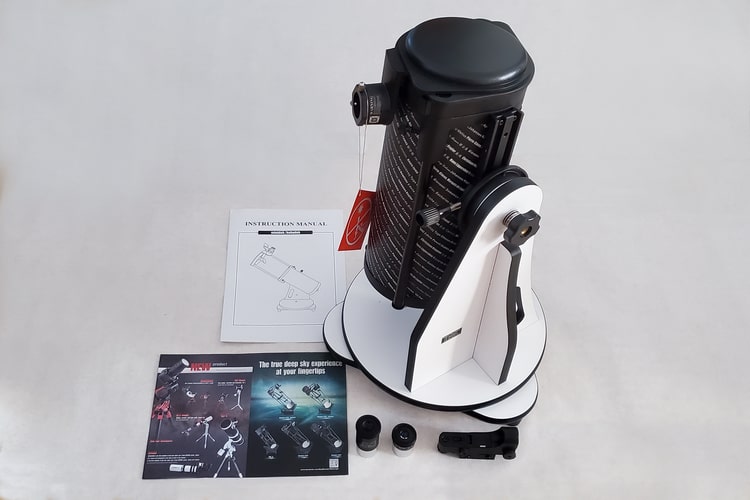 Packaging & Accessories
Like most manufacturers, Sky-Watcher ships the Heritage 130 in a plain, thick cardboard box, with nothing on the outside to hint at what's within. Weighing 17.6 pounds (8kg) and with no handles on the box, it's a little on the heavy side (especially for its size) and might require two people to lift and carry.
The scope itself is protected by thick foam padding at the top and bottom and is wrapped in a plastic bag. Something to note is that you may have difficulty removing it from the packaging as it's packed inside pretty tightly.
You might even need someone to help you, as it first required lying the box on its side and then gently pulling the telescope out. You'll then need to remove the packaging from the base before removing the bag wrapped around the telescope.
Finally, you'll need to remove the foam at the base of the telescope. You can do this by turning the dovetail locking screw that holds the telescope tube in place; this will loosen the tube enough to slide it in the bracket and remove the foam that cushions it against the base.
If you're familiar with telescopes then none of this should pose a problem, but anyone for whom this is their first scope might find it useful to have some directions included from the manufacturer.
The accessories can be found in a brown cardboard box, with two white boxes holding the included eyepieces. The white boxes themselves are quite flimsy, but since the eyepieces are also in plastic bags and have caps to protect the optics, this isn't too much of a problem.
Both eyepieces have 1.25" barrels. One has a focal length of 25mm, for a magnification of 26x, while the other is 10mm and provides a magnification of 65x.
Besides these two eyepieces, you'll also find an instruction booklet and a standard red dot finderscope, but there's no Barlow lens, accessory tray, filters or free software.
Quality & Durability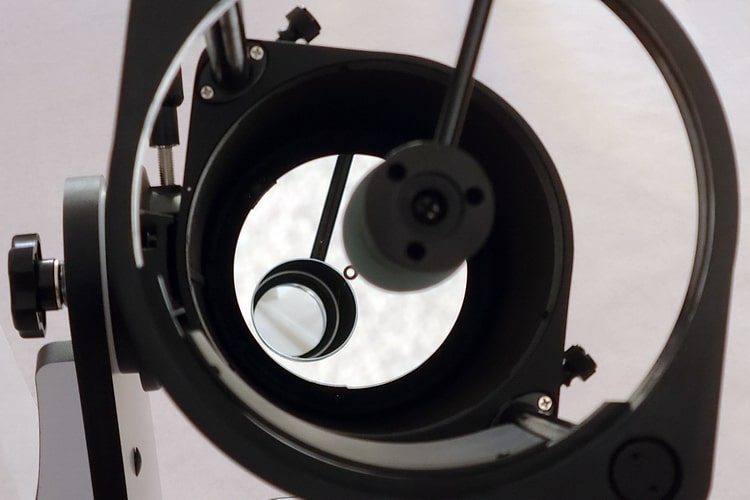 Since this is a relatively small Dobsonian, the telescope comes as almost completely pre-assembled and there's very little work to be done. Realistically, the only thing you'll need to install is the finderscope.
The assembly instructions are clear and not overly detailed or confusing, with a diagram to accompany each step of the process.
There's then a page to explain how to operate your telescope, including instructions on how to align the finderscope. Perhaps the only thing missing here is a note to say it's best to align the finderscope using a terrestrial object during the day.
(Aligning the telescope at night, for example by using the Moon or a bright star or planet, can be a little frustrating as the target will appear to move through the finderscope and eyepiece as it rises and sets in the sky.)
The pages following the finder alignment instructions contain some additional information that could be useful for anyone new to the hobby. More specifically, there's a page with some basic calculations for your telescope (for example, how to calculate magnification), a page that covers how to observe the sky and several pages explaining how to care for your telescope.
Assembling the Scope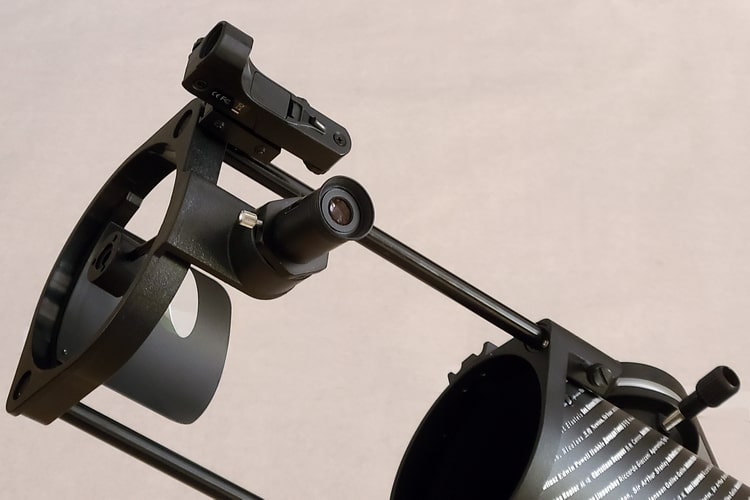 Maybe it's due to its weight, but as soon as you remove the Heritage 130 from its box, you get the impression that this is a pretty sturdy scope. This is an "open truss" Dobsonian, meaning that rather than having a long telescope tube, the secondary mirror, focuser and finder are located on vanes attached to the main tube.
In this particular case, the telescope is also described as being collapsible; in other words, the vanes can be extended and then retracted. This has a number of benefits for observers:
You can get a longer focal length (and higher magnifications) without a longer telescope tube
The telescope is compact when the vanes are retracted, allowing for greater portability
The open truss design allows for a shorter cool-down time
The secondary mirror is easily accessible in case of cleaning and maintenance
The only drawback is that the secondary mirror seems a little exposed and susceptible to potential knocks, bumps and even damage, but as long as you're careful, this shouldn't be an issue.
The mirrors appeared to be in good alignment, with no collimation necessary after transit. There are the standard screws at the bottom of the telescope tube if collimation is necessary at some point in the future.
The primary mirror itself is parabolic, as opposed to the standard spheroid mirrors that telescopes in this price range are typically built with. Parabolic mirrors are of better quality, as they don't require any additional lenses or mirrors to focus the image. As a result, parabolic mirrors should produce sharper views.
According to the product page on Sky-Watcher's website, "each mirror is constructed of durable borosilicate glass with a quartz overcoat before we add our signature Radiant™ Aluminum Quartz (RAQ™)." Given the proprietary nature of the coating, it's impossible to know what the Radiant Aluminum Quartz is or how it compares to other coatings from other manufacturers.
The focuser is a little different too. The majority of telescopes have a focuser that moves in and out of the telescope tube by turning knobs on the side of the focuser barrel. The Heritage 130 is different in that it has a helical focuser. There are no knobs, but rather the barrel is hexagonally shaped at the end, allowing you to turn it clockwise or counter-clockwise in order to focus the view.
One thing to watch for is that turning it too far will cause the barrel and eyepiece to become completely detached, but it's easily reattached again.
Incidentally, all Sky-Watcher products come with a two-year limited warranty. You won't find this information in the instruction manual, or even on the telescope product page on their site. If you need to review it, you'll find it at https://www.skywatcherusa.com/pages/warranty-information
Ease of Use
The Heritage 130 is designed to be portable, and while that's certainly the case, it's worth noting that the telescope weighs ten pounds, or roughly 4.5 kilograms. There's a handle carved into the base, but you'll probably still need to use both hands to carry it from one location to another.
That said, when the vanes are retracted it's only about two feet tall, from the bottom of the base to the top of the telescope, so it's easy enough to carry and won't require a second person to help you.
As with all Dobsonians, using the telescope couldn't be easier. You only have to place it on a flat surface and then turn it toward whatever you want to see. It's also possible to easily move the telescope, so if you're observing from your backyard and a tree or building is obstructing your view, you can simply move the telescope to a better vantage point.
The vanes are extended and retracted by loosening the two knobs located at the top of the telescope tube. One of them is found next to the finderscope, which means you could easily move the finder out of alignment if you accidentally knock it as you're tightening or loosening the knob.
With that in mind, I found it best not to tighten that particular screw when retracting the vanes. Realistically, you shouldn't need to tighten both as one seems to be sufficient to hold the vanes in place.
There are some good tips and advice in the user manual, especially if this is your first telescope. For example, there are tips regarding the need to refocus due to changes in temperature or the scope not being adequately cooled, and making sure to keep both eyes open when sighting your target with the finder.
The instructions also advise you to tighten the tension control knob on the base so that the scope stays in place but allows for movement. Personally, I found that this wasn't always necessary; the tension control knob will prevent the telescope tube from moving vertically, but it was never so loose that the tube moved anyway.
If you've never used a helical focuser before, you might find it a little odd at first, but the movement was smooth. Again, use caution not to turn it too much as the focuser barrel could fall out if it is extended too far.
In practice, this shouldn't happen as the image will continue to blur as the focuser is turned. In other words, there's no reason to keep turning it in the same direction if the view is getting worse.
Performance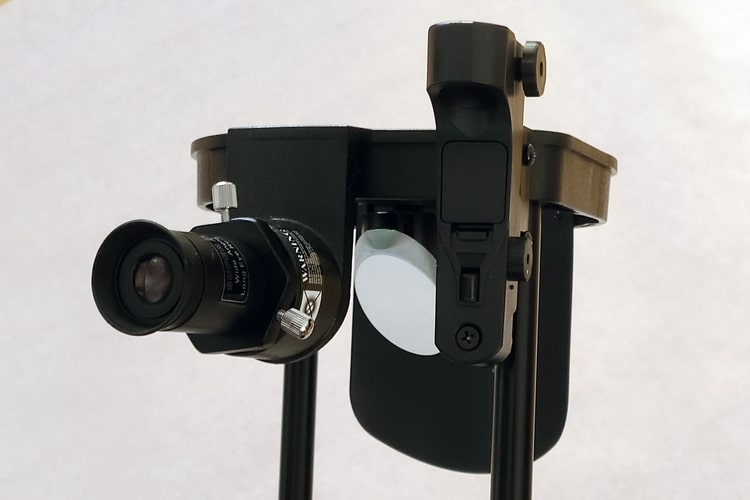 In general, the Heritage 130 performs very well. The tension knob doesn't shake the telescope tube too much when locking it into place and, similarly, does a very good job of keeping the tube from moving.
The focuser is very smooth, with no signs of shaking with the 25mm (26x) eyepiece. As with all telescopes, the shaking increases as you increase the magnification, but compared to other scopes, the Heritage 130 seemed better than most.
Both eyepieces provided a decently wide field of view; however, it's not known exactly how many degrees the apparent field of view is, especially since the eyepiece specifications aren't listed on Sky-Watcher's website.
Comparing them to other eyepieces, it seems as though the apparent field of view of both was around 60 degrees – much better than the regular eyepieces you might receive from other manufacturers.
First light (when a telescope is taken outside and used for the first time) was under suburban skies with excellent transparency and above-average seeing. Altair, the brightest star in the constellation Aquila the Eagle, appeared sharp, with many faint stars scattered within the same field of view.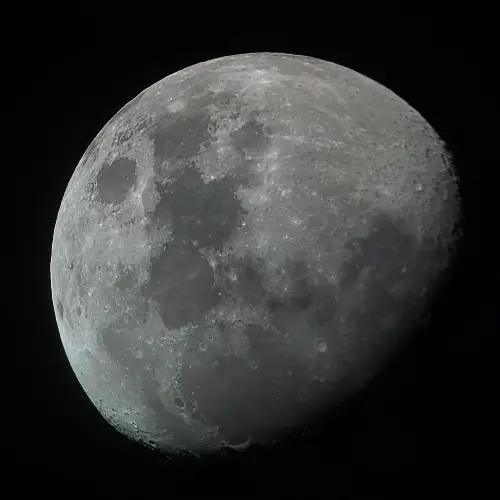 The Moon, as you might expect, looked great, with a decent amount of contrast, some fine, sharp details and very little chromatic aberration on the lunar limb. In fact, if you're not looking for it, you might not notice it at all.
The image to the right was taken on Thursday September 16th, 2021 with the supplied 25mm (26x) eyepiece, a Celestron neutral density lunar filter and a Samsung Galaxy S20+ cellphone held up to the eyepiece. The image has been cropped and adjusted for brightness but has not been altered in any other way.
Both Jupiter and Saturn also looked great, with Saturn appearing a pleasant yellow and the rings clearly visible for what they are. Cassini's Division, the largest gap between the rings, was barely visible at 65x but Saturn's largest moon, Titan, could easily be seen at 26x.
In comparison, at 26x Jupiter's four largest moons appeared surprisingly bright, with the planet being visible as a small white disc and the northern equatorial belt seen as a faint band across its center. Increasing the magnification to 65x reduced the glare from the planet and showed the belt more clearly, with two much fainter belts becoming apparent in the planet's southern hemisphere.
In terms of star clusters, Ptolemy's Cluster (Messier 7, in Scorpius) looked fine at both 26x and 65x. This cluster, in particular, demonstrated two advantages of using eyepieces with a wider apparent field of view:
They're more aesthetically pleasing, as many targets won't occupy the entire field of view, allowing for background stars to fill the remaining space.
As objects rise and set, they appear to move across the field of view before leaving it completely. This means the observer has to move the scope to keep the object visible. With a larger field of view, objects remain visible for longer, resulting in fewer adjustments.
At 26x, the cluster sits comfortably in the field of view, with a lot of faint stars appearing behind the brighter stars that form the cluster. The entire cluster could still be seen at 65x, with the field of view allowing a decent amount of time for the cluster to be observed before it drifted out of sight.
Messier 22, the largest and brightest globular cluster in Sagittarius, was easily visible with direct vision and appeared fairly large and uniformly gray at 26x. Some resolution throughout the cluster seemed possible with averted vision, which became much more apparent at 65x.
Lastly, Albireo, the famous double star in Cygnus the Swan, was easily split at 26x with a clear gap between the two stars. Both stars could be sharply focused, with the primary appearing gold and the secondary a sky blue.
Incidentally, Albireo wasn't far from the zenith at the time of observation. Unlike other telescope types, a Dobsonian can be tilted towards objects almost overhead – a big plus for anyone who's found themselves frustrated by this limitation before or contorted themselves into an uncomfortable posture to get the best view.
Target Audience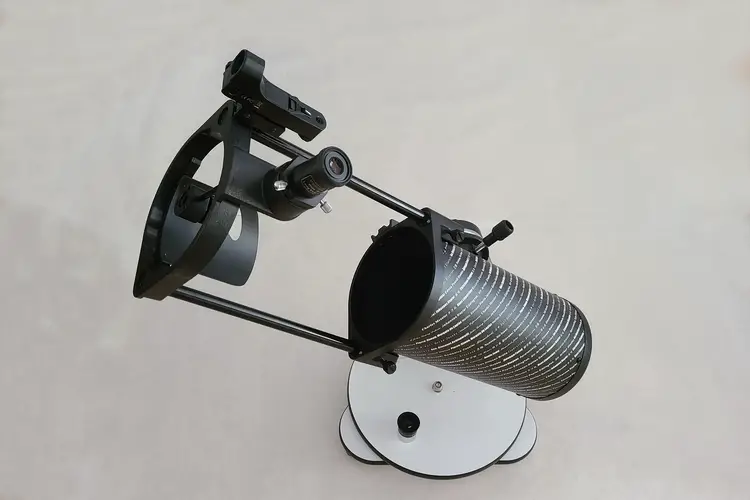 It wouldn't necessarily be true to say the Heritage 130 has been designed with beginners in mind. It's clearly been designed with everyone in mind. Whether this is your first scope or you're looking for something small to take outside on a whim (or even to a dark sky site away from home), the Heritage 130 is up to the challenge.
That said, this is a particularly good choice for families who are just starting out on their astronomical adventure together, as it's easy enough for anyone of any age to use and enjoy. Its compact design and Dobsonian base provides it the versatility for it to be placed on a table, giving younger observers the opportunity to use the scope in a way that may not be possible with a telescope on a regular tripod mount.
Specifications
Type: Newtonian Reflector

Mount Type: Alt-Azimuth

Base: Dobsonian

Computerized or Manual: Manual

Aperture: 130mm (5.1")

Focal Length: 650mm (25.6")

Focal Ratio: f/5

Included Eyepieces: 2

Eyepiece 1: 25mm (26x)

Eyepiece 2: 10mm (65x)

Finderscope: Red dot

Highest Useful Magnification: 256x

Lowest Useful Magnification: 18x

Limiting Stellar Magnitude: 13.1

Resolution (Dawes): 0.8 arc-seconds

Optical Coatings: 94% aluminum

Optical Tube Length: 635mm (25.0")

Mount Height: 440mm (17.3")

Total Weight (Assembled): 20.0 pounds (9.1 kg)

Warranty: Two Year Limited Warranty
What We Liked
Compact and portable design

Very little assembly required

Very easy to use

Sharp, wow-worthy views

Wide field-of-view eyepieces
What We Didn't Like
Lacking accessories

A little on the heavy side
Final Verdict
Overall, the Sky-Watcher Heritage 130 is an outstanding scope and great value for the price. Beginners will find it a breeze and a delight to use, while more experienced observers will love its compact, portable design and its high-quality optics. If you're looking for something easy-to-use that everyone will enjoy, at an affordable price that fits well within the budget of most families, then this is the scope for you.
Recommended Accessories
If you're looking for additional general resources on astronomy, we have a number of articles that you might find interesting.
First off, we've created guides on a variety of stargazing areas such as our guide to the proper telescope cost, our walk through of how to use a telescope to see the moon, our for beginner astronomy guide on determining the how to buy your first telescope. We've also created a series of helpful guides, such as our list of cool facts about astronomy (which any kids or beginners will no doubt find interesting), and our breakdown of astronomy gifts for kids.
We've also created a series of buying guides, including our guide to finding the best tools of astronomy, guide to finding the best telescopes for beginners, and the best binoculars for astronomy.
In addition to those guides, we've also created a series of in-depth reviews of a variety of telescopes and astronomy binoculars. You can check them out before you buy to find out the best accessories, pros and cons for different models, and even to see what they look like unboxed. If you're considering buying a telescope we have a series of reviews that also serve as how to guides. You can get our reviews for a variety of astronomy tools: the Celestron Firstscope telescope & accessories, the Orion XT6 Dobsonian Telescope & accessories, the Zhumell Z100 Telescope & accessories, the Celestron ExploraScope 114AZ Telescope & accessories, the SkyGenius 10×50 Binoculars & accessories, the Orion Scenix 7×50 Binoculars & accessories, the Orion Astronomy 15×70 Binoculars & accessories, the Opticron Adventurer II 10×50 Binoculars & accessories, the Celestron Travel Scope 80 Telescope & accessories, and the Celestron SkyMaster 20×80 Binoculars & accessories to really be able to dive into the different telescope and astronomy binocular models.