If you're just getting started in astronomy, you may have been advised to get acquainted with binoculars before making the big leap to a telescope.1 With most amateur astronomers preferring a magnification of at least 10x, it's a good idea to start with an inexpensive option that can also be used for other daytime activities. Are the SkyGenius 10×50 binoculars up to the challenge?
For more binoculars for stargazing tested and reviewed by an astronomy expert, check out our top astronomy binoculars.
Our Score for the SkyGenius 10×50 Binoculars

Learn More

Overall Expert Rating

What we like:
Easy to use and great value for money

Weight
Magnification
Aperture
Ease of Use
Image Quality
All Photos Credit: Richard J. Bartlett
About the SkyGenius 10×50 Binoculars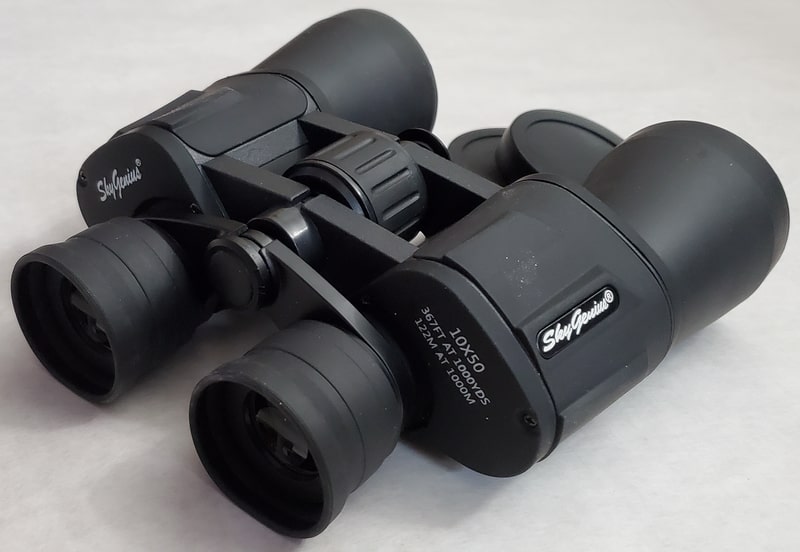 Packaging & Accessories
While some companies spend a little time and effort packing their binoculars in an attractive box, others choose a more simplistic, or functional approach. SkyGenius falls into the latter category, as the exterior packaging is simply a brown box with black print and a basic image of the binoculars on the front.
The box itself, however, is reasonably thick and is actually sturdier than some of the pricier binoculars on the market. If you're looking to ship these, the packaging should hold up pretty well and protect the binoculars while in-transit.
Open the box and you'll find the binoculars in their canvas carry case, which, in turn, is inside a plastic bubble container. Being well padded, this would seem to do a very good job of providing an extra layer of protection that many other manufacturers neglect.
In terms of accessories, you'll find the afore-mentioned canvas carry case, a strap for the binoculars, a cleaning cloth, an instruction booklet and covers for the eyepieces and lenses.
The canvas carry case is pretty basic. There's no branding anywhere to identify it as a SkyGenius case and no pockets on the front or back for any accessories. The strap is pre-attached and, again, is just the standard, basic strap. Don't expect a lot of protection if the case is dropped!
The same can be said for the strap that's provided for the binoculars themselves. It's fairly narrow and thin, and, as is typical, you'll need to attach the strap yourself.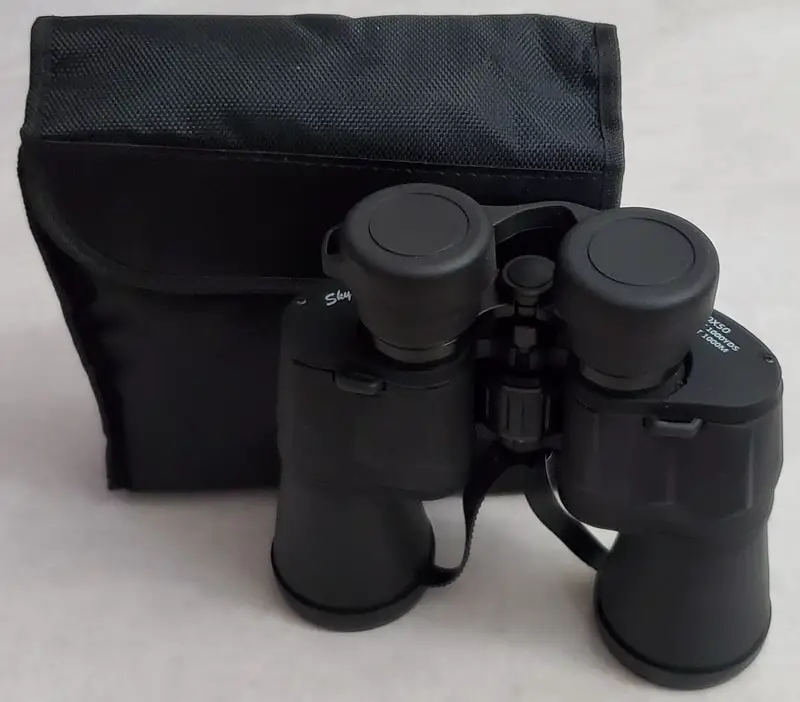 The cleaning cloth is another standard accessory and is about the same size and type as the kind you'd get with a new pair of eyeglasses.
The instruction booklet is small, rectangular and folds out horizontally. While it is specifically written for this particular model (as opposed to being a generic booklet that attempts to cover several different models) it was clearly written by someone for whom English is not their first language.
To be fair, the instructions are understandable, just a little confusing and garbled in places. Here are some examples:
"Adjust the barrels until getting a single circular field"

"How to tie the strap? (Do it as the photo)"
And this gem:
"Your binoculars will be provided with years of trouble-free service if it receives the normal care you would give any fine optical instruction."
It's (arguably) a minor point but it may require a little thought to fully decipher what the intended meaning should be.
Lastly, the eyepiece covers are connected and have a loop to thread the strap through, so you have less chance of losing them. Similarly, the lens covers both have a strap that connect them to the binoculars at the end of the central focuser; a useful addition that should prevent either one from being lost.
Quality & Durability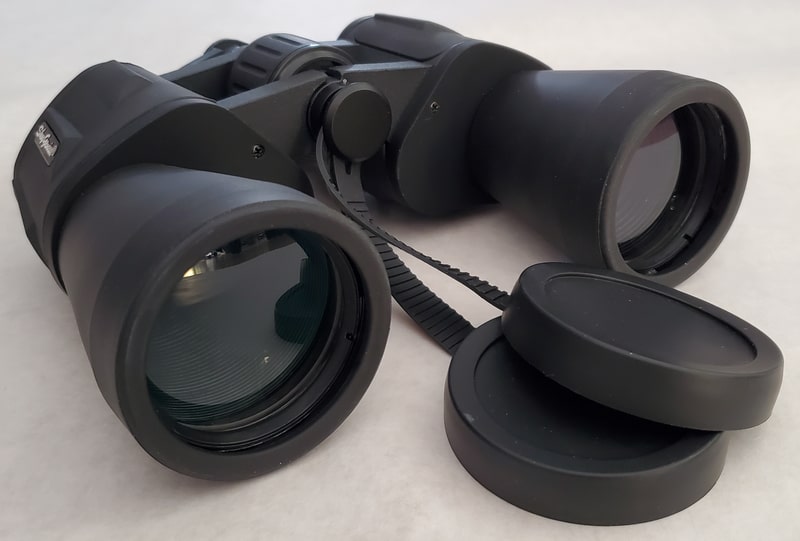 The first thing you'll probably notice when you hold these binoculars is their weight. At 1.8 pounds, they're on the lighter side, with most other 10×50 binoculars weighing about half a pound more. While lightweight, the construction feels reasonably solid.
There appears to be some confusion about the coatings applied to the optics. As many binocular aficionados know, there are a number of anti-reflective coatings that can be applied to the optics:
Coated optics – at least one optical element has had a single layer applied to at least one surface

Fully Coated – all optical elements have had a single layer applied to all surfaces

Multi-Coated – at least one optical element has had multiple layers applied to at least one surface

Fully Multi-Coated – all optical elements have had multiple layers applied to all surfaces
The product page on the SkyGenius website describes the optics as multi-coated, meaning that at least one optical element (either the prisms or the lenses) has had multiple layers applied to at least one surface.
However, scroll down to the specifications and it has a very clear Yes next to "Fully Multicoated lenses and prisms"- which is better than multi-coated. The instruction booklet provided no other information but the product description on Amazon mentions "multi-layer coating."
An email to SkyGenius for clarification went unanswered, so we can only assume the optics are multi-coated and not fully multi-coated, as stated in the specs on the product page.
On a related side note, the product page states the lenses are "oil-phobic, scratch proof and fingerprint resistant," although none of these claims were tested for this review. (Incidentally, the eyecups are the standard rubber fold-down variety, rather than the more modern twist type.)
You should also be aware that the prisms are BK-7and not the better quality BaK-4, which are typically found in astronomical binoculars. As a result, when you hold the binoculars up to the light at arm's length you'll notice the exit pupils aren't quite circular, with both halves showing some slight clipping on the edge nearest the hinge.
Similarly, projecting light through the lenses produced an aperture image that measured 50mm, but there was significant clipping that resulted in a square image, rather than a circular one.
In theory, these optical issues – the coatings, prisms, exit pupils and clipping – will typically cause a slightly dimmer image and some quality concerns.
Finally, as with most inexpensive binoculars, the SkyGenius 10x50s are not waterproof and there's no mention of them being water-resistant either. That being the case, you'll not only need to keep them away from water, but also keep them out of the rain too.
Ease of Use
The lightweight nature of the binoculars means you'll be able to use them for longer periods of time without getting muscle fatigue in your arms. Besides the obvious comfort factor, it also means that, unlike larger binoculars (such as the Celestron SkyMaster 20x80s) you won't need a tripod to enjoy them.
If, however, you wanted to use a tripod, there's an interface located at the lens end of the central focuser. There was no problem attaching the binoculars to a standard camera tripod, but you'll need to buy an adapter as one is not provided.
The focuser itself moves smoothly and can be easily moved with one or two fingers for fine-tuning while observing. The diopter adjustment ring on the right eyepiece allows you to tweak the focus to compensate for the differences between your eyes. Markings on the diopter adjustment can be used for reference if you need to change it.
The central hinge allowed the two barrels to also move smoothly, with an interpupillary distance (IPD) range of 56mm to 74mm. The IPD is the distance, in millimeters, between the pupils of your eyes, and the range provided on these binoculars is better than most.  This should allow you to adjust the distance between the two barrels to suit your own eyes, providing for a more comfortable user experience.
Eye relief, the distance you can hold the binoculars from your eyes and still see the whole field of view, is 18mm. Again, like the IPD, this is a little better than average, so if you wear glasses you shouldn't have any problem getting the most out of these binoculars.
One other feature that's a nice touch is the molded body. More specifically, the two halves near the central focuser are molded to make it easier to hold the binoculars. Besides reducing the risk of the binoculars slipping out of your hands, this also makes it a little more comfortable for the user.
Unfortunately, one feature that's clearly designed for convenience also has a negative side effect. As mentioned earlier, both lens caps are attached to the end of the central focuser with straps. While this prevents them from being lost, when the binoculars are in use, the caps hang down and knock the user on the chin!
That said, since the straps attach to the binoculars via the tripod interface, you can unscrew them and remove the caps completely, but it can be a little inconvenient to go through this extra step whenever you want to use the binoculars.
Performance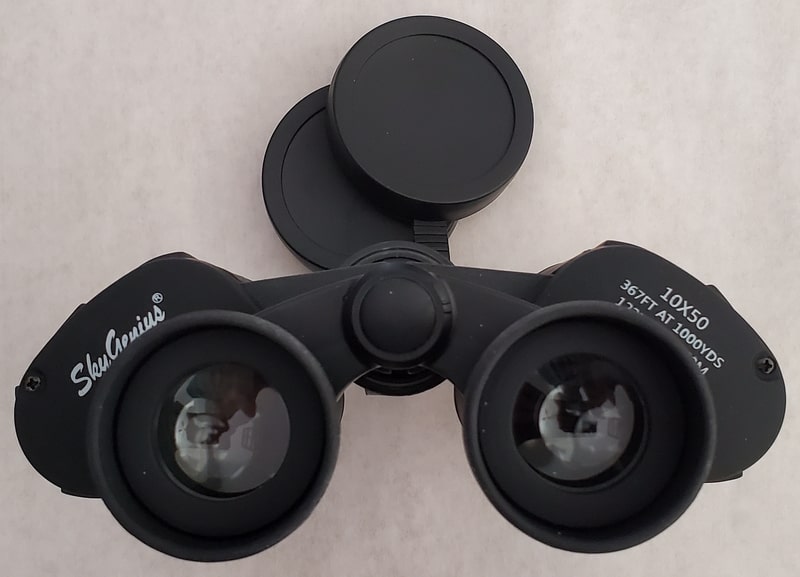 Surprisingly, despite the expected drop in image quality due to the prisms, coatings, exit pupils and clipping, the binoculars performed well. The image was sharp, with good color and very little distortion near the edge of the field of view.
Stars appeared as sharp points when focused but were elliptical when blurred and not circular as they should be. Similarly, there was a little chromatic aberration that resulted in a slight rainbow effect around the edge of the Moon.
You might notice the same effect around the edge of the field of view during daytime use and a hint of it being present along the edge of objects that are in sharp contrast to the background.
While this is most likely due to the use of BK7 prisms rather than the better quality BaK-4, this isn't altogether unexpected in inexpensive binoculars such as these.
On the plus side, the eye relief was excellent, with the entire field of view visible while wearing glasses. 
The angular field of view is a respectable 7.0 degrees, giving you plenty of room to enjoy a conjunction of the Moon and planets or a large star cluster, such as the Hyades or Pleiades.
You'll also find the binoculars work well with wider multiple stars, such as Algiieba, the "double double," Nu Draconis and, of course, Mizar and Alcor. The Moon also looks good and you should have no problem identifying the larger and brighter craters on its surface.
Target Audience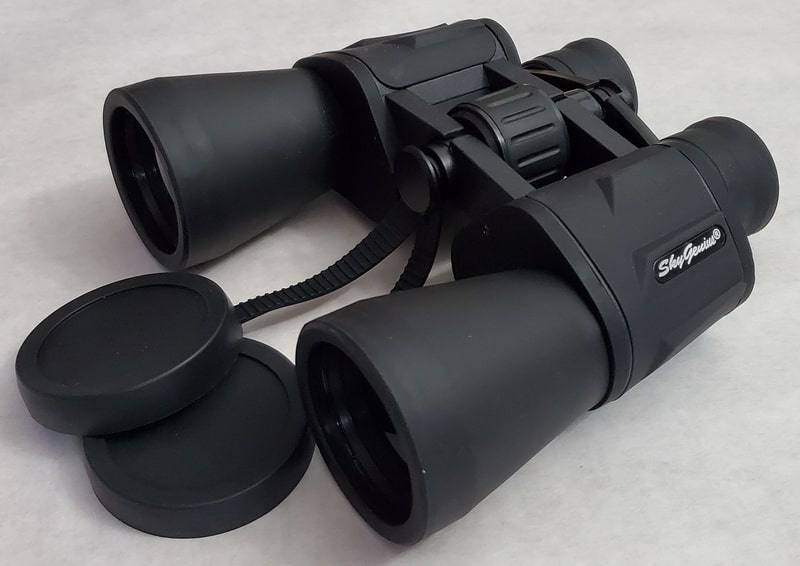 The great thing about the SkyGenius 10×50 binoculars is that almost anyone can use them. They're powerful enough for astronomy and, at this price point, are inexpensive enough to be good entry-level binoculars for anyone starting to learn more about the hobby.
While an excellent choice for beginners, budget-conscious experts can certainly make good use of them too. If you have younger astronomers, they have the ability to deliver some fine views and you won't be risking your expensive equipment in the process.
The short close-focus distance of 16.4 feet (5 meters) also means the binoculars can be used for terrestrial activities, such as birding. This, combined with their light weight, make them a great choice for hikers, and ideal for camping trips where you might need binoculars for both the day and the night.
Specifications
Type: Porro Prism
Magnification: 10x
Aperture: 50mm (1.97")
Prism Type: BK-7
Lens Coatings: Multi-Coated
Angular Field of View: 7.0 degrees
Close Focus: 16.4 feet
Exit Pupil: 5mm (0.20")
Eye Relief: 18mm (0.71")
Diopter Range: +/-4
Interpupillary Distance (IPD) Range: 56mm to 74mm (2.20" to 2.91")
Weight: 1.8 pounds
Dimensions: 191mm x 170mm x 102mm (7.5" x 6.7" x 4.0")
One Year warranty
What We Liked
Molded body to improve grip

Lightweight, allowing for more prolonged use

Good interpupillary distance

Focus and central hinge movement was smooth and easy

Good value for money
What We Didn't Like
The slightly confusing English in the instruction booklet

The contradictory information regarding the lens coatings

Slight chromatic aberration due to inferior prisms
Final Verdict
If you're looking for a set of inexpensive binoculars you can take anywhere and use for almost anything, then these might be the ones for you. It doesn't matter if you're a beginner or an expert or if you're looking to use them for astronomy or something more terrestrial, these binoculars are more than up to the task and present great value for money.
Recommended Accessories
Celestron Ultima Pan Tilt Head Tripod – holding binoculars can be tiring, especially if they're heavy. This tripod can be extended to nearly 67″ (1.7 meters) and includes a carrying case. You'll also need a Tripod Adapter to attach your binoculars.
Celestron PowerTank Glow 5000 – a red flashlight is essential if you're using star charts and books as it will protect your night vision. The PowerTank has three brightness levels and a USB port to charge your smartphone or tablet.
Celestron Lens Cleaning Kit – dust can get everywhere and it's important to keep the lens and eyepieces of your binoculars clean. This kit has everything you need to ensure you get the best views possible.
Stargazing With Binoculars – this great guide, by Robin Scagell and David Frydman, covers everything you need to get started in binocular astronomy. It not only highlights the best sights, but also provides advice on choosing binoculars.
The Cambridge Star Atlas – most astronomy books have basic charts to help you locate objects, so it's always a good idea to have a more detailed star atlas nearby. This one, by renowned stellar cartographer Wil Tirion, is one of the best.
If you're looking for additional resources on astronomy, we have a number of articles that you might find interesting.
First off, we've created guides on a variety of stargazing areas such as our guide to find out how much a telescope costs, our walk through of how to use a reflector telescope, our astronomy basics for beginners and our guide on determining what you need to know before buying a telescope. We've also created a series of helpful guides, such as our list of cool astronomy facts (which any kids or beginners will no doubt find interesting), and our breakdown of astronomy activities for kids.
We've also created a series of buying guides, including our overview of the astronomy tools used to see the planets and our guide to finding a good telescope for beginners..
In addition to those guides, we've also created a series of in-depth reviews of a variety of telescopes and astronomy binoculars. You can check them out before you buy to find out the best accessories, pros and cons for different models, and even to see what they look like unboxed. If you're considering buying a telescope we have a series of reviews that also serve as how to guides. You can get our series of guides to individual telescopes as well, including reviews of: the Celestron Firstscope telescopes, Orion XT6 Dobsonian Telescopes, Celestron ExploraScope 114AZ Telescopes, Zhumell Z100 Telescopes, Sky-Watcher Heritage 130 Telescopes, Orion Scenix 7×50 Binocular, Orion Astronomy 15×70 Binocular, Opticron Adventurer II 10×50 Binocular, Celestron Travel Scope 80 Telescopes, and the Celestron SkyMaster 20×80 Binocular to really be able to dive into the different telescope and astronomy binocular models.
Article Sources
Moon and Back uses only high-quality sources, including peer-reviewed studies, to support the facts within our articles. Read our editorial process to learn more about how we fact-check and keep our content accurate, reliable, and trustworthy.
Laycock S. Is it better to use a telescope or binoculars to observe space? astronomy.com. Published October 30, 2020. Accessed June 11, 2021.