Many of the drones available today are relatively easy to control and can be flown by almost anyone. This makes it a fun activity for the whole family, but what if your kids want a drone for themselves? What are the best drones for kids?
Our drone expert, Richard J. Bartlett, reviewed dozens of drones for kids to identify the best of the best, based on factors such as ease-of-use, features, flight time and value for the money. After careful consideration, he chose the Holy Stone HS340 Drone (which you can find here) as his top pick. A fully-featured, inexpensive drone, it can be flown by almost anyone and comes equipped with an HD camera for shooting video and capturing images.
Holy Stone HS340
For an inexpensive, easy-to-fly drone the whole family can enjoy, go with the Holy Stone HS340.
Our Expert's Top 5 Drones for Kids
Here are the top picks from our expert. Compare the ratings and features of different models.
*Ratings are on a scale of 1 to 5 and based on reviews, feedback, and opinions of actual customers
Who Should Buy a Drone for Kids?
Parents whose kids enjoy remote control toys – If your kids like other RC toys, such as cars, then they'll love drones. Besides being able to fly, many of the drones come equipped with a camera, allowing your kids to capture video and images from the air.
Parents looking for a fun weekend activity – It's great to take the kids out at the weekend to burn off some energy, and flying a drone can help to keep them entertained. Just be sure to choose an area where you won't be bothering anyone else and can fly the drone safely. 

 

Anyone looking for an inexpensive gift idea – Despite what you might think, there are some good quality drones available for less than you might think, with all of the drones on the list being available for under $100.
Who Should Not Buy a Drone for Kids?
Anyone lacking the space to fly a drone – While there are a couple of options on our list that don't require a lot of space, it's a good idea to fly your drone outside – especially if you or your kids aren't experienced fliers. That way you can avoid breaking any valuable family heirlooms!
Anyone wanting a fully-featured drone – Since these drones are inexpensive and designed for families, beginners and kids, you'll find they lack some of the bells and whistles that you'd expect from a more professional drone. GPS, for example, is not featured on any of the drones listed here.
Anyone wanting to only buy one drone  – If you're looking to dive deeper into the hobby and want to invest in a single drone to meet your present and future needs, then these aren't the drones for you. These drones are designed for families and kids, which means you'll want to upgrade in the future.
Research Tips (from a Drone Expert)
As a drone expert, I often get asked how to choose the best drone for kids. Here are some tips and best practices to consider when making a buying decision. Be sure to do adequate research on the product you are considering purchasing to look for key features and ask your friends and family (especially your fellow drone enthusiasts) if they have any recommendations on the best drone for your specific needs.
The age of the child – This is important as some of the drones here are best suited to older kids (ie, 11 or older) while others are good for younger children. For example, the Snaptain S5C is a good choice for teenagers, while the Tomzon A31 "Flying Pig" Mini Drone is great for kids under 11.
Ease of use – All but one of the drones selected come with remote controls, and while the design and function of the controls is pretty standard, it might be a little tricky for younger children to get the hang of.
Batteries – It's worth remembering that many drone batteries will only last 10-15 minutes, so it's a good idea to choose a drone that's shipped with two or three batteries to keep you going. Also be aware of the charging time for each battery, especially since the batteries might need to be charged before you fly for the first time.
Drone size  – If you're buying the drone for a younger child, it's best to get a smaller drone as it will be better suited to their needs. Not only will it be easier for the child to handle, but it will also have fewer features, making it easier to fly too. Plus they may be able to fly the drone in their room, rather than outside.
How Much Do They Cost?
Between $20 and $100
For most drones for kids, you can expect to pay between $20-$100 and still get a high-quality product. That being said, the price of drones varies widely based on a number of factors. For example, drones with an HD camera are typically priced at the upper end of the scale, while those lacking a camera will be somewhere around the middle. Small drones that are best suited to young children will be near the bottom of the price range.
Our Methodology: Why Trust Moon and Back
As a drone expert, I've spoken with many other hobbyists about the best drones for kids on the market. Many of these products were chosen based on my professional experience as a drone expert combined with product feature considerations. I personally tested my top picks and other drones to find the best of the best based on features and functions, weight, batteries and camera quality. My final five picks are ones I'd personally recommend to anyone in the market for a drone. – Richard J. Bartlett
The Best Drones For Kids: Full Reviews
Holy Stone HS340
For an inexpensive, easy-to-fly drone the whole family can enjoy, go with the Holy Stone HS340.
My top pick of the drones I looked at is the Holy Stone HS340 Drone (which you can find here). This is a great choice for anyone looking for a drone that anyone can fly – regardless of their experience level. The age of the flier isn't too much of a concern either, as all but the youngest should have no problem understanding how the drone works. As with many other drones, it features Headless Mode, which should help to make it easier for younger and/or less experienced fliers to handle it.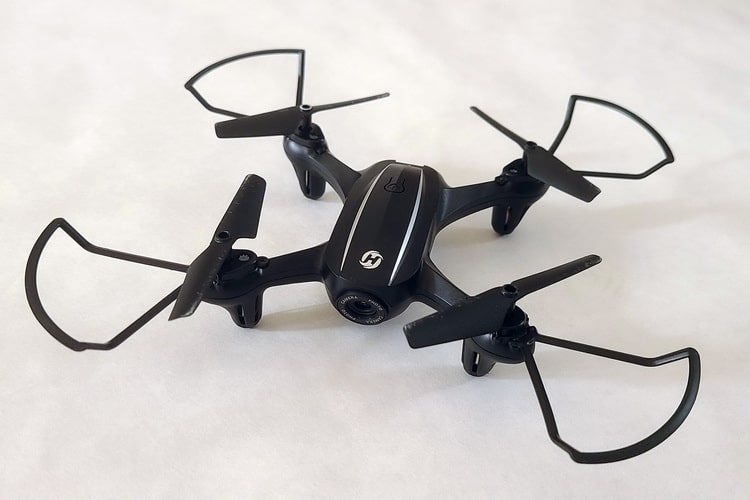 There's also an HD camera that can record video and images at a resolution of 1280 x 720 pixels, and while there's no auto-takeoff feature, it can be launched by gently tossing it into the air. Three speeds, flips, auto-land and the ability to automatically fly in a wide circle round out the available features. It may not be the all-singing, all-dancing drone of your dreams, but for the price it can't be beat.
For more on the Holy Stone HS340 drone, check out our in-depth review of the Holy Stone hs340 drone.
Pros
Easy to control
Good battery life
Good quality images and video
Headless mode is great for kids and beginners
Cons
Propeller guards came off easily
Cell phone adapter didn't work well
Camera is immovable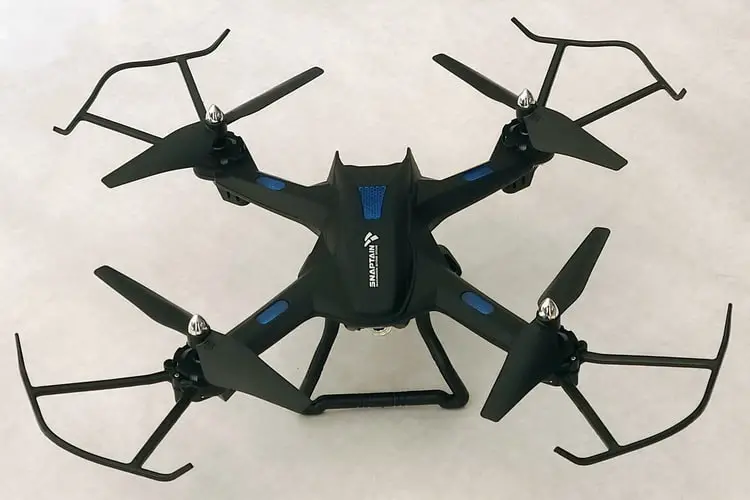 Snaptain S5C Drone
A feature packed drone that's capable of capturing hi-res images.
My pick for the drone with the best camera is the Snaptain S5C Drone. While the S5C records video in regular HD (1280 x 720 pixels) it has the edge over the other drones with a still image resolution of 2048 x 1152 pixels. Both video and images can be stored on the drone itself via a micro SD card (not supplied) or on your cell phone via the  drone's wi-fi network.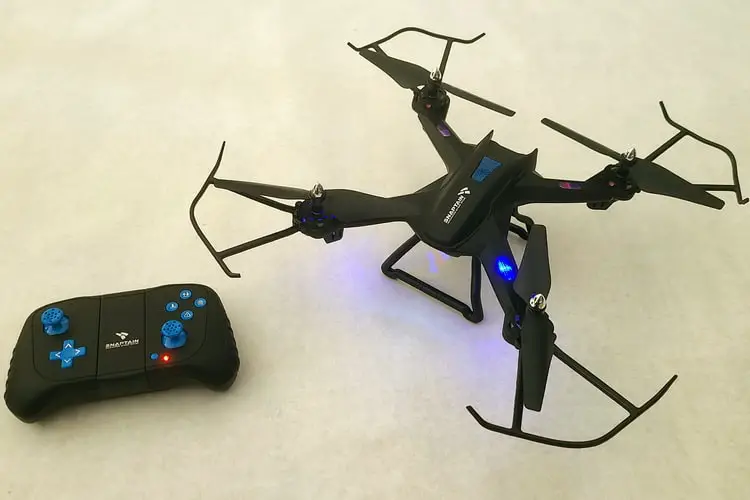 More than this, the Snaptain has a wide range of features that some of the other drones lacked – but you'll need to install the app to make use of them. For example, you can control the drone via hand gestures, with voice commands or by tilting your phone, and you can have the drone follow a path you draw on your cell phone's screen. If you own a VR headset, you can also enjoy a drone's eye view of your surroundings.
For more on the Snaptain S5C drone, check out our in-depth review of the Snaptain s5c drone.
Pros
Good quality images
Relatively easy to use
Hovers without too much drift
Nicely designed
Decent battery life
Cons
Propeller guard screws are fiddly
Skids, propeller guards and caps all fall off
Difficult to control with the app
Flying a drone outside can be great fun when the weather is fine, but sometimes the weather will confine your kids indoors. In these situations, a mini-drone can provide the perfect solution as its small enough to fly inside – and although you might worry about it breaking your favorite vase, the Holy Stone HS210 Mini-Drone (which you can find here) won't break the bank.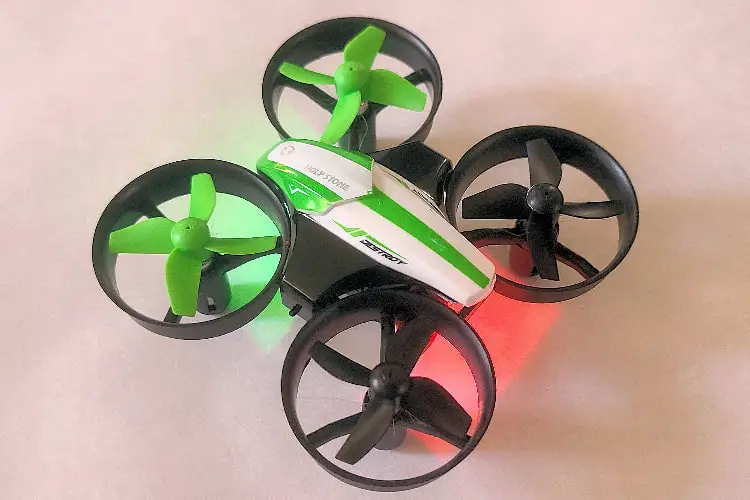 One of the great things about the HS210 is that there's no assembly required. Once the batteries are inserted into the drone and the controller, you only need to pair them both and you're ready to fly. There are three batteries included, each providing 7-8 minutes of flight time for a total of nearly 24 minutes. That, plus the short recharge time of 30 minutes, makes this a great choice for impatient kids! This drone is short on features – it flies and it flips – but it's super easy to fly and should keep the kids quiet for a while.
For more on the Holy Stone HS210D drone, check out our in-depth review of the Holy Stone hs210d drone.
Pros
Great for indoor use
Easy for kids to use
USB battery charger
Three rechargeable batteries provided
Cons
Left button soon stopped working
Batteries are difficult to remove
Drifts backward and to the side
If you're looking for a small, no-frills drone for the kids, then look no further than the Tomzon A31 Mini-Drone (which you can find here). This fun little drone is small enough to be flown in the house and is very easy to control, making it accessible to almost anyone in the house. It comes with two batteries, each lasting about 8-10 minutes, giving kids nearly 20 minutes of flying time.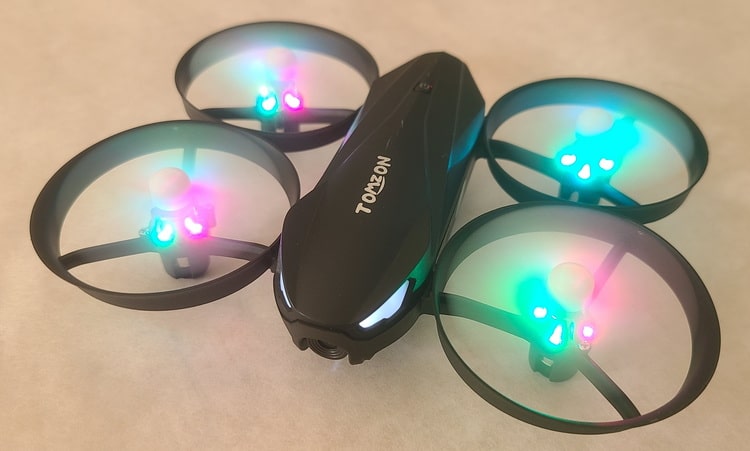 While it lacks the features of larger drones, such as control via a smartphone app and trajectory flight, it has the other basics, such as headless mode, flips, one-key takeoff and landing  and even a one-key return. Curiously, although the drone clearly has a camera at the front, it's non-functioning and there's no documentation anywhere that states if or how it can be activated. Chances are your kids might not care too much, as the lights change
For more on the Tomzon A31 drone, check out our in-depth review of Tomzon A31 drone.
Pros
No assembly required
Two batteries included
Very easy to use
Fun color-changing lights
Cons
Long charge time for short flying time
Non-functioning camera
All the drones featured so far are flown with the use of a remote control, which is fine for slightly older kids and adults, but what about the younger members of your family? If you're looking for something that kids under the age of 10 can enjoy, you can't go wrong with the DEERC UFO Mini-Drone (which you can find here). While it lacks the fancy features of the other drones (such as a camera) it's a fun flying toy that can keep your kids entertained indoors on a rainy day.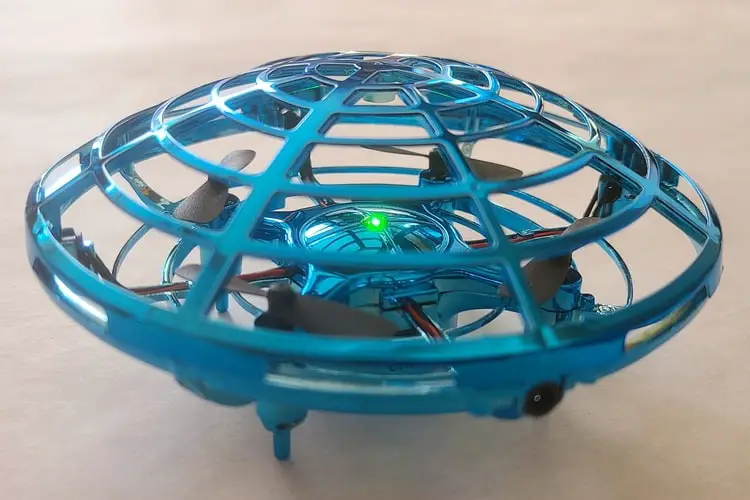 In fact, this is one drone that's designed to be used exclusively indoors. For one thing, it's too light to be flown outside, as almost any breeze will blow it away, but it's small enough that it can be flown indoors without too much trouble. It can be launched with a gentle push of the hand and is then controlled by moving your hands near it. Kids will have a ton of fun chasing it around their room and it's fun for the parents to play along too.
For more on the DEERC UFO Mini-Drone, check out our in-depth review of the DEERC UFO mini drone.
Pros
No assembly required
No controls to learn
Fun for younger kids
Decent flight time
Good value for money
Cons
Tricky to control
Tendency to drift upwards
Lack of features
Frequently Asked Questions
What's the recommended age to fly a drone?
Most of the drones listed here can be flown by kids of about 8 years old or older, but the DEERC UFO Mini-Drone can be used by kids of any age. If your child is on the younger side, they might find a regular drone a little hard to control, but as the UFO doesn't require a remote control it can be easily flown by anyone.
Can the drones be flown indoors?
Generally speaking, the majority of regular-sized drones shouldn't be flown indoors. They're usually too large and can potentially cause damage if there's a collision with another object. However, a mini-drone is small, light and is often safe to be flown indoors, if the proper precautions are taken. For example, it's a good idea to close the doors and relocate anything that could be potentially broken by an impact.
Are drones for kids really just toys?
It could be argued that the mini-drones are more toys than anything else, however, the larger drones discussed here have many of the same features you'll find in drones aimed at more experienced users. For example, regular drones will often have a camera, but the cameras in the smaller, less expensive models won't be of the same quality as those in more high-end models.
How long do the batteries last?
This will depend on the drone, with most lasting close to ten minutes and taking about an hour to charge. It's a good idea to find out how many batteries are supplied with the drone as this will obviously impact how long the drone can be flown for. Likewise, check to see if you can buy additional batteries online to avoid having your flying time cut short.
If you're looking for more information about drones, we've created a series of guides to the different drones available. You can check out our overviews of the best drones under $200.
Additionally, we have a series of in-depth product reviews of specific drones, including our: Holy Stone HS165 foldable drone review, Potensic d80 drone review, Holy Stone hs110d drone review, Holy Stone hs120d drone review, Holy Stone f181w drone review, and our Eachine e520 foldable drone review. Each of these guides will walk you through the different features, instructions, pricing, and pros and cons for each drone to help you find the best one for you.