Tomzon manufactures electronic toys for a wide age range of children and have a number of drones available for families to enjoy. There's one, however, that younger children can potentially fly, and with a cool name like "Flying Pig" and propellers that are lit with changing colors, the Tomzon A31 (available here) sounds hard to resist. So did Tomzon bring home the bacon or are they simply trying to make a silk purse from a sow's ear?
Our Score for the Tomzon A31 Flying Pig Mini-Drone

Learn More

Overall Expert Rating

What we like:
A fun, easy-to-fly drone for younger kids.

Getting Started
Batteries
Features
Ease of Use
Value for Money
All Photos Credit: Richard J. Bartlett
About the Tomzon A31 Flying Pig Mini-Drone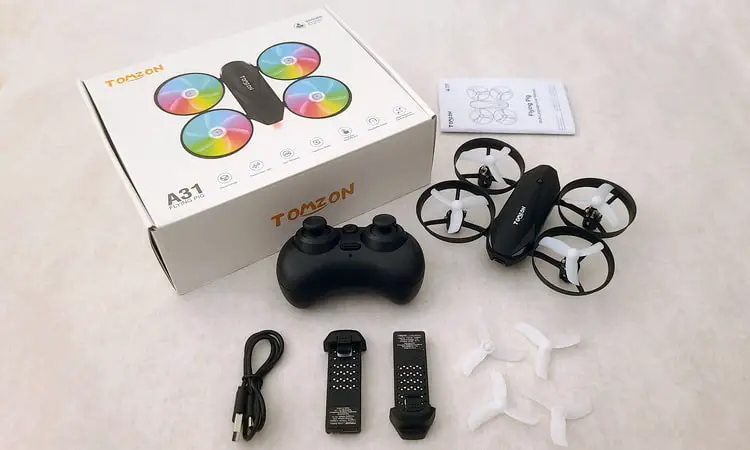 Packaging & Accessories
Given that this is a mini-drone, the packaging is fairly compact and lightweight. The box measures 9 x 7 x 3 inches and weighs just 14 ounces, making it an ideal size and weight for a birthday or holiday gift. Inside you'll find a thin foam layer covering the drone, controller and accessories that lie in the molded foam beneath. Each component fits in quite snugly and should be well protected during transit.
The contents of the box are as follows:
1 x Drone
1 x Controller
2 x Drone battery
1 x USB Type C charging cable
4 x Replacement propellers
Instructions
Although two batteries are provided, there's only one USB cable and there's no USB charger, so you'll need to plug the battery into a cell phone charger or a power strip with USB ports in order to charge it. Also, be sure to have three AAA batteries as you'll need those for the controller.
Assembly and Getting Started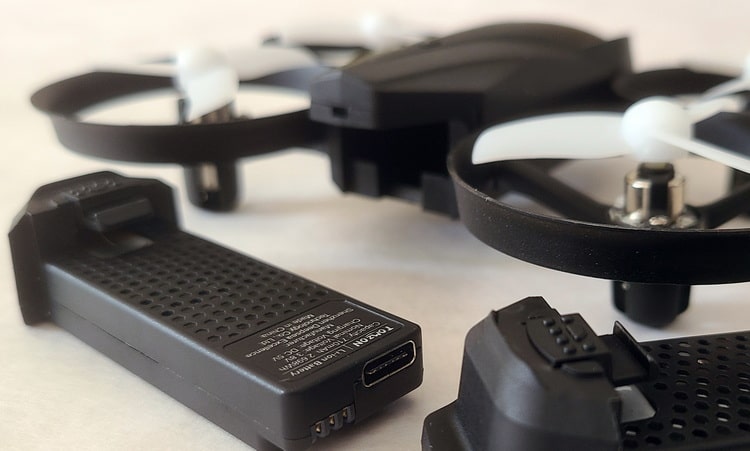 In essence, the drone comes fully assembled, as the propeller guards are already attached and the only thing you'll need to do is insert the batteries into the controller and the drone.
There are two rechargeable batteries provided, but only one USB Type C cable. If both your batteries need charging when you first go to use the drone, you'll either have to find another cable and wait an hour for both to charge, or else charge each one individually for a total of two hours. That's a long time if you've got kids who are anxious to see the drone in action!
Once you've got the batteries installed, the drone and controller can be powered on. The drone needs to be on a flat surface, as the gyros will need to calibrate. The drone and controller will then match frequencies and then you'll need to calibrate the drone itself. This is done by pushing both controller joysticks down and inward until the drone lights stop flashing. Lastly, you can start the rotors by pushing both joysticks down and outward at the same time.
At that point, you're ready to go.
Quality and Durability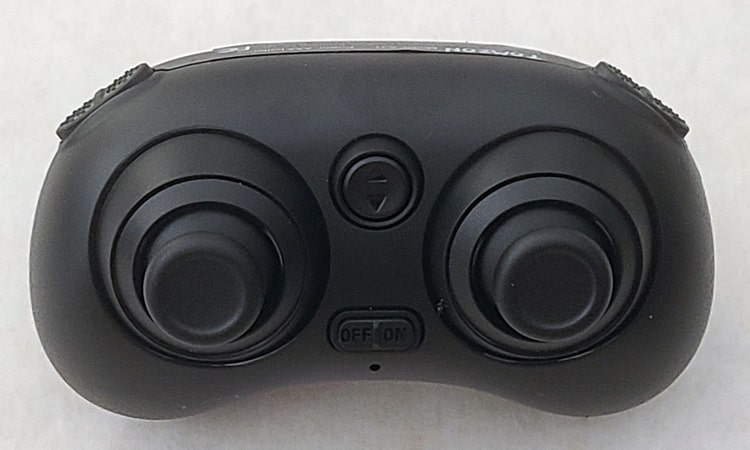 This is a small, inexpensive drone that's primarily meant for use by children; with that in mind, it should be noted that this isn't built to the highest possible standards – however, it should be up to the task for which it was designed.
Pretty much everything is plastic and lightweight. The controller is very small but a good size for children to easily hold and use. Being so lightweight, this isn't really a drone you can use outside (unless the air is absolutely still) as the slightest breeze will blow the drone away. If you intend to let younger children use it, it's best to do so in a room with few obstacles and under adult supervision.
Despite the plastic being thin, the guards do a surprisingly good job of protecting the propellers and the drone bounces gently off walls without too much trouble. The white propellers hide any scratches (whereas the black propellers on other drones will show the slightest mark) but the body of the drone can potentially be marked easily.
The odd thing about this drone is that there's clearly a camera at the front, and yet there's no mention of this anywhere on the packaging or in the instructions. There seem to be several Tomzon apps that could, theoretically, work with the drone but none of the ones tested seemed to do the job.
There's also no micro SD card slot anywhere on the drone's body and so the drone is incapable of recording video itself.
The existence of the non-functional camera is made all the more frustrating because it can be tilted up and down, and if there was a way to take photos or record video, it could probably capture some nice shots.
Performance and Ease of Use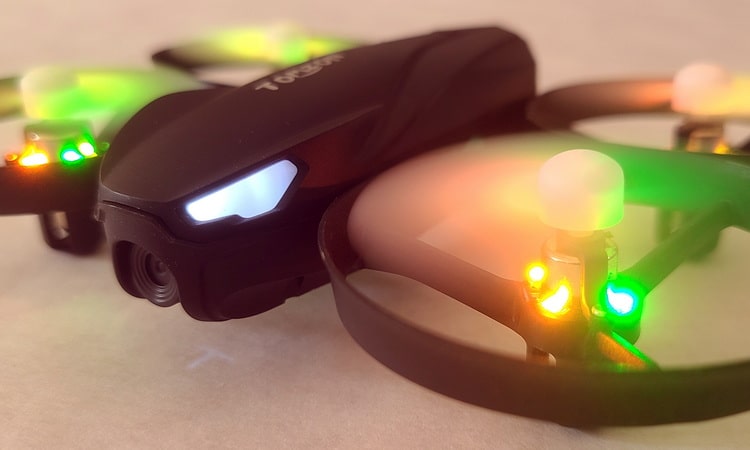 The controller might look small and simple, but the joysticks and buttons have several functions, depending on what you need the drone to do. For example, Headless Mode is activated by pushing the left joystick down with a short press, whereas One Key Return Mode is activated by long-pressing the left joystick down.
While this shouldn't be a problem for older operators, younger children may find this confusing and it may be best for them to stay with the basic features.
It's also worth noting that there's no way to alter the speed of the drone, and it tends to move pretty quickly. If the joysticks aren't moved gently, the done can suddenly move in an unintended way and the operator can easily lose control.
With this in mind, it's probably best for younger kids to only fly this drone inside and in a room where there aren't too many obstacles. For example, an empty garage could be a good choice.
Features & Functions
Gyro Calibration: No problems; the drone completed this successfully within just a few seconds. The lights flash rapidly and then blink on and off slowly, then it's completed.
Signal Connection: Since this happens automatically (and the drone functioned well afterward) it's safe to assume this was never an issue.
Drone Calibration: No issues; this was completed successfully every time and within a few seconds. The lights stop flashing when the drone is ready to fly.
Lock/Unlock the Drone: This will start and stop the drone's motors in readiness for flight and typically worked without any problems. However, there were a few occasions where the gesture had to be repeated several times for it to work. Also, younger kids may not fully understand how to make this work when first introduced to the drone, but the propellers can also be started by pushing the One Key Take-Off and Landing button. Lastly, if the propellers are started and the operator does nothing, the propellers will automatically shut off after about 8 seconds.
One Key Take-Off and Landing: This is easily done by pushing the circular button between the two joysticks. Pushing the button while the motors are inactive will cause the drone to start the propellers and lift about three feet up into the air. If the propellers are already running, then the drone will simply lift itself off the ground. Similarly, pushing the button while the drone is in flight will cause the drone to land gently on the ground.
Stunts: By pushing down the right joystick and then moving it either forward, backward, to the left or to the right, the drone will perform a 360-degree flip in that direction.
Headless Mode: This worked well; regardless of which direction the drone is facing, it will always move forward, backward, to the left and to the right in relation to the operator. This can be useful for beginners as they get used to the drone and its capabilities.
One Key Return: If anything, this worked a little too well, as activating this feature causes it to fly back toward you at top speed! Other than that, it worked just fine.
Trim: The drone can drift a lot and often needs a lot of trimming. Given how light it is, this isn't really a surprise, but younger children may find it difficult to control unless an adult trims it first.
Altitude Hold / Hover: Once the drone is properly trimmed, this worked surprisingly well, with very little drift in any direction.
Lights: There are lights underneath each propeller that change color as the drone flies, which is a fun feature for the kids and looks pretty cool in the dark. A bright red light is at the back of the drone, while two white headlights shine at the front, making it look and sound like an angry fly.
Emergency Stop: This is activated by pushing both buttons at the front simultaneously. The propellers then immediately stop and the drone drops to the ground. To avoid damage or injury, this should obviously only be used in an emergency.
Battery:  Each battery lasted about eight minutes, with the propeller lights flashing red when the battery was low. After that, the drone flies for about a minute before automatically landing.
Target Audience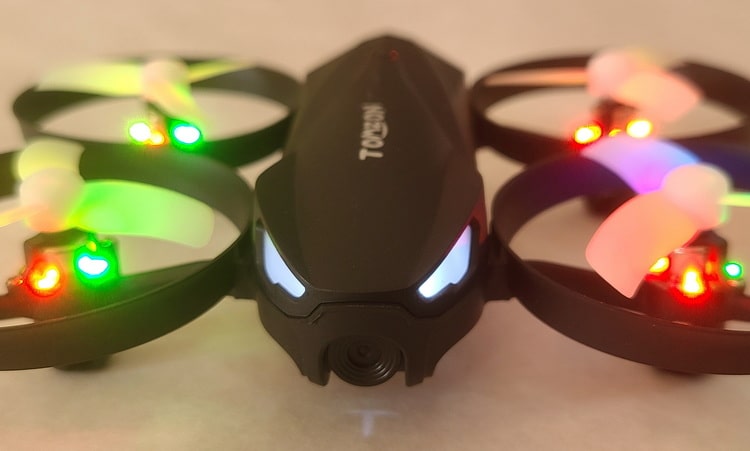 Although the packaging states this drone is only suitable for children 14 years old or over, this drone is clearly designed with younger kids in mind. Teens and preteens shouldn't have any problems flying it, and even younger children will probably be able to get the hang of the basic features with a little practice.
Adults may also get a kick out of it, but the lack of camera functionality will probably prove to be a little frustrating for some.
Specifications & Features
Specifications:
Weight: 2.4 ounces (68 grams)
Flight time per battery: 7 mins
Number of batteries supplied: 2
Battery charge time: 65 Minutes
Total flight time, out of the box: 14 mins
Maximum range: 328 feet (100 meters)
Features:
Headless mode: Yes
Manual return: Yes
Built-in FPV: No
Smartphone FPV: No
Auto Return: No
One key take off / land: Yes
Altitude hold: Yes
Point of interest / custom mode: No
Obstacle avoidance: No
Stunts: Yes
Colored LED Lights: Yes
What We Liked
No assembly required
Two batteries included
Very easy to use
Fun color-changing lights
What We Didn't Like
Long charge time for short flying time
Non-functioning camera
Final Verdict
As it goes, the Tomzon A31 (available here) isn't a bad drone, especially for younger kids who are looking for a fun drone of their own. Its lack of a camera (or at least, one that works) will be a little off-putting for some, but otherwise, this is a good choice for your kid's first drone. It may not be premium bacon, but it's no sow's ear either.  And besides, what kid doesn't want a drone called "the flying pig"?
If you're looking for more information about drones, we've created a series of guides to the different drones available. You can check out our overviews of the best best drone for kids and the best drone under $200.
Additionally, we have a series of in-depth product reviews of specific drones, including our review of: the Holy Stone HS165 foldable drone review, Eachine E520 Foldable Drone Review, Potensic d80 drone reviews, Tomzon a31 flying pig mini drone review, Snaptain s5c drone review, Holy Stone hs340 mini drone review, Holy Stone hs210 mini drone review, Holy Stone HS110D Drone Review, Holy Stone hs120d drone review, Holy Stone f181w drone review, and our DEERC UFO mini drone review. Each of these guides will walk you through the different features, instructions, pricing, and pros and cons for each drone to help you find the best one for you.