Flying a drone has become a hot hobby over the past few years, and the best drones under $200 can be flown by beginners and enjoyed by the whole family.
Our drone expert, Richard J. Bartlett, reviewed dozens of drones under $200 to identify the best of the best, based on factors such as ease-of-use, camera quality, flight time and value for the money. After careful consideration, he chose the Potensic D80 Drone (which you can find here) as his top pick. An easy-to-fly drone capable of flying far and high, it's equipped with GPS and a hi-definition camera. Each battery can also last for about 18 minutes, giving you ample time in the air.
Our Expert's Top 5 Drones for Under $200
Here are the top picks from our expert. Compare the ratings and features of different models.
*Ratings are on a scale of 1 to 5 and based on reviews, feedback, and opinions of actual customers
Who Should Buy a Drone for Under $200?
Beginners and intermediate fliers – If you're just getting into flying drones, it's probably a good idea not to spend too much money before you know if it's truly the right hobby for you.
Families looking for a fun activity –

Kids can be hard to entertain sometimes, but an inexpensive drone can be the perfect diversion on an otherwise dull Sunday. 

Model aircraft fliers – Anyone who's experienced enough to fly a model aircraft should have no problem flying a drone – and there's no need for a landing strip!
Who Should Not Buy a Drone for Under $200?
Anyone in a built-up area – It's not a good idea to fly your drone near your neighbors. They might not appreciate the noise (and potential invasion of privacy) and if your drone drops into their yard, you might not be able to get it back! It's best to fly your drone in a field, if possible.
Anyone in a no drone zone – The FAA has designated areas of the country where drones cannot be operated, some of which are temporary, while others are permanent. You can check out the most up-to-date list of restricted areas by installing the B4UFLY app on your phone.
Anyone who wants to shoot production quality video –

While the drones are capable of recording hi-definition images and video, their lightweight construction makes them susceptible to being blown by the wind, resulting in a potentially less-than-smooth video.

 
Research Tips (from a Drone Expert)
As a drone expert, I often get asked how to choose the best drone for under $200. Here are some tips and best practices to consider when making a buying decision. Be sure to do adequate research on the product you are considering purchasing to look for key features and ask your friends and family (especially your fellow drone enthusiasts) if they have any recommendations on the best drone for your specific needs.
Batteries – The drone won't fly and the controller won't work without batteries. In all probability, you'll need either 3 or 4 AA or AAA batteries for the controller, although there are a few that have pre-installed Li-ion batteries. The drone itself will come with either one or two rechargeable batteries, but check how long their charge should last. Ideally, you'll want a drone that comes with two batteries that each last ten minutes or more and take an hour or less to charge.
GPS capabilities  – This can be a really nice feature, especially if you're just getting started, as it will allow you to see the location of your drone via a smartphone app. Better yet, if you lose sight of your drone, the signal is lost or its batteries run down, a GPS-enabled drone should have the capability of returning to its starting point.
Getting started – If you're a beginner, you should definitely read the manual before flying, but you shouldn't have to wade through pages of unnecessary or confusing information or have to spend a lot of time assembling the drone. Not only is it annoying for you, but if you've got kids who are ready to fly, it can be very frustrating for them. Similarly, if you've flown drones before, you'll want to be up 'n running pretty quickly.
The weight of the drone – As mentioned earlier, drones under $200 tend to be lightweight, which can be problematic if there's a breeze. However, the FAA requires you to register any drone that weighs more than 0.55 pounds, so there's a potential upper limit on the weight if you want to avoid having to register.
Ease of use – Experienced fliers shouldn't have any problems operating the majority of drones, but if you're a beginner you'll want one that's easy to fly. This means having a controller that's easy to understand, with an intuitive but standard layout that makes flying the drone quick to master.
How Much Do They Cost?
Between $80 and $200
For most drones under $200, you can expect to pay between $80-$200 and still get a high-quality product. That being said, the price of drones varies widely based on a number of factors. For example, drones with both GPS and an HD camera are typically priced at the upper end of the scale, while those with just an HD camera will be somewhere around the middle. Drones lacking both those features will cost the least. GPS functionality is great if you'd like to capture images and video of landmarks, but if you're a beginner simply looking to capture video while flying, then a mid-priced model should do the trick.
Our Methodology: Why Trust Moon and Back
As a drone expert, I've spoken with many other hobbyists about the best drones under $200 on the market. Many of these products were chosen based on my professional experience as a drone expert combined with product feature considerations. I personally tested my top picks and other drones to find the best of the best based on features and functions, weight, batteries and camera quality. My final five picks are ones I'd personally recommend to anyone in the market for a drone. – Richard J. Bartlett
The Best Drones Under $200: Full Reviews
My top pick of the drones I looked at is the Potensic D80 Drone (which you can find here). The D80 may be best suited to fliers with a little more experience, but there's no reason why beginners looking for a good quality drone can't fly it too, as it's easy to control and has very little drift. It's also able to hold its altitude without too many issues, and with a maximum height of nearly 500 feet, it's capable of reaching heights other drones can only dream of.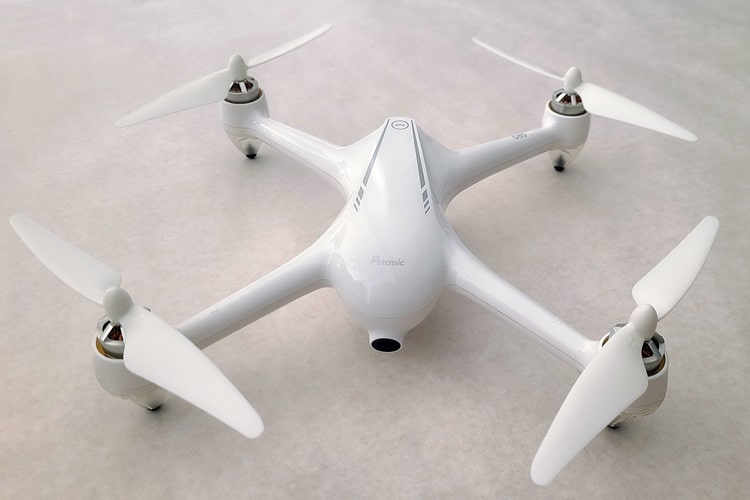 Throw in a high-resolution camera with a field-of-view of 120 degrees, GPS, a range of 2,600 feet and a flight time of 18 minutes per battery, and you have a drone that's more than capable of flying across the countryside and capturing some great shots of the scenery. You can also have the drone follow you or, if you'd prefer, set specific waypoints along a route you specify via the smartphone app.
For more on the Potnsic D80 drone, check out our in-depth review of the Potensic d80 drone.
Pros
Handles very nicely
Little drift
Easy to control
Good battery life
High resolution images and video
Cons
No trim
Long battery charge time
No propeller guards
No replacement propellers
Camera is fixed and cannot be moved
My pick for the drone with the best camera is the Holy Stone HS120D (which you can find here). With a resolution of 2048 x 1152 for both video and photos, this drone is capable of delivering hi-res results that won't leave you disappointed. Unlike many drones at this price point, you can adjust the angle of the camera while in-flight, allowing you to shoot video of both the ground below and the scenery around you.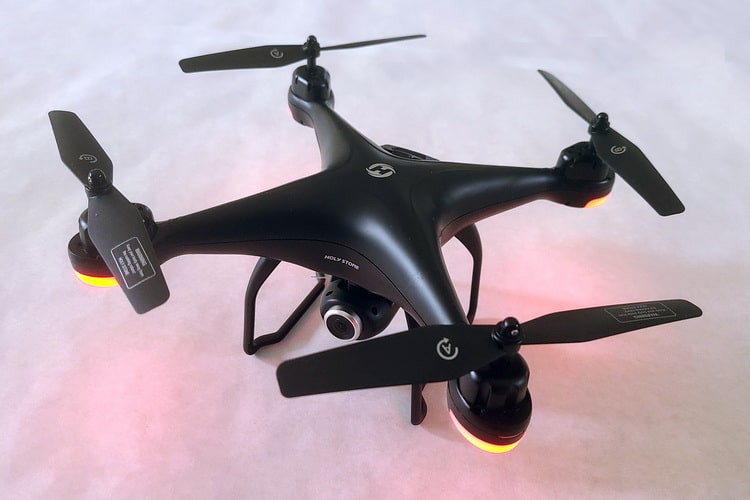 It's also a great option for beginners and comes packed with features, including built-in GPS with an automatic "return to home" functionality. Two batteries are included, each providing a flight time of 18 minutes, for a total flight time of 36 minutes, and with a range and height of nearly 1,000 feet (300 meters) you'll be able to properly explore your surroundings.  Lastly, as an added bonus, it comes with its own carry case, which makes it easy to transport the drone, controller and batteries to any location.
For more on the Holy Stone HS120D drone, check out our in-depth review of the Holy Stone hs120d.
Pros
Easy to use
Adjustable camera
Great battery life
Automatic Return to Home
Hovers very well
If you're looking for a quality, affordable drone that covers all the basics but you don't need GPS, consider the Holy Stone HS110D Drone (which you can find here). In essence, it's very similar to its big brother, the HS120D, but you'll notice its features are curtailed in comparison. For example, besides not having GPS, the batteries only last about ten minutes each and the range is about half that of the HS120D.
However, while there are other, less expensive drones available (check out the Eachine E520 mentioned below) the HS110D tends to beat the competition in terms of features. For example, it has two batteries for a total flying time of 20 minutes, there's very little assembly required, it has a decent range of nearly 500 feet and a maximum flying altitude of 400 feet. And even though the Eachine E520 has a slightly better camera, the HS110D can record video at a resolution of 1920 x 1080 pixels, which is more than enough for most people.
For more on the Holy Stone HS110D drone, check out our in-depth review of the Holy Stone HS110D drone.
Pros
Decent flight time
High res images and video
Very little assembly required
Budget-friendly
Cons
No way to charge the batteries separately
There was a lot of drift
Trimming was awkward
Easily blown by a light breeze
Holy Stone HS165
A fully-featured, easy-to-fly drone that's a perfect fit for any beginner's budget.
You might think that finding a good quality, fully-featured, inexpensive drone for a beginner is a tough task, but the Holy Stone HS165 (which you can find here), is more than up to the challenge. Like the other drones we tested, it requires only a little assembly, allowing you to get up 'n running within just a few minutes. It's easy to fly, with very little drift, and is capable of hovering at heights of nearly 400 feet.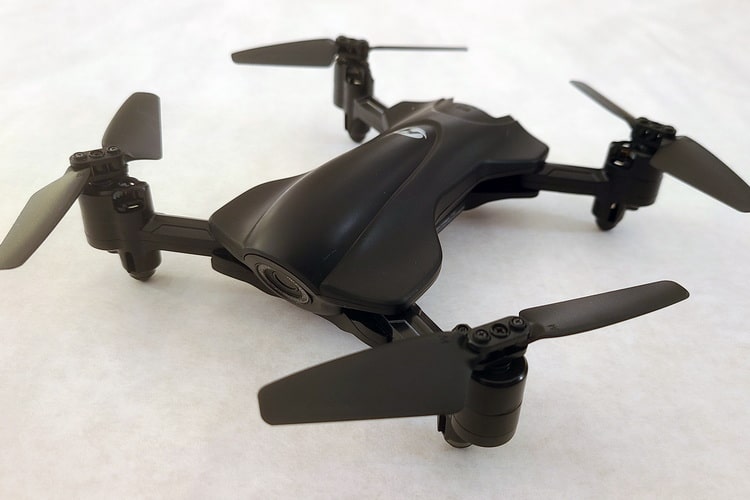 It also has a range of about 1,300 feet and built-in GPS, so once you've got the hang of it, you'll be able to set waypoints on a map and have the drone shoot video and capture images of local landmarks and scenery. The camera is fixed and cannot be moved, but is capable of capturing video at a maximum resolution of 2560 x 1440 pixels. Lastly, the HS165 folds neatly into a compact package and can be securely transported inside the supplied carry case.
For more on the Holy Stone HS165 drone, check out our in-depth review of the Holy Stone hs165 drone.
Pros
Easy to fly
Very little drift
Great carry case
Great resolution images and video
Two batteries with decent flying time
Cons
No propeller guards
Camera is fixed and cannot be moved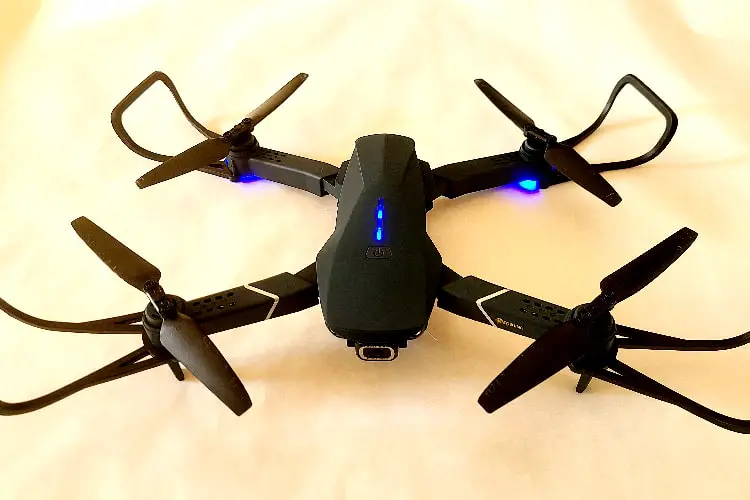 Eachine E520 Drone
With a camera capable of producing 4K video, you'll get a truly immersive experience from the Eachine E520.
The majority of drones on the market are capable of producing high-definition video, but there aren't many that have a camera capable of recording in 4K. Fortunately, the Eachine E520 drone does just that, which means it's not only great for shooting video, but if you have a VR headset you can have a truly immersive experience. Although it's not able to fly as high as some other drones, it can maintain a wi-fi signal for up to 230 feet, which should be high enough to give anyone vertigo.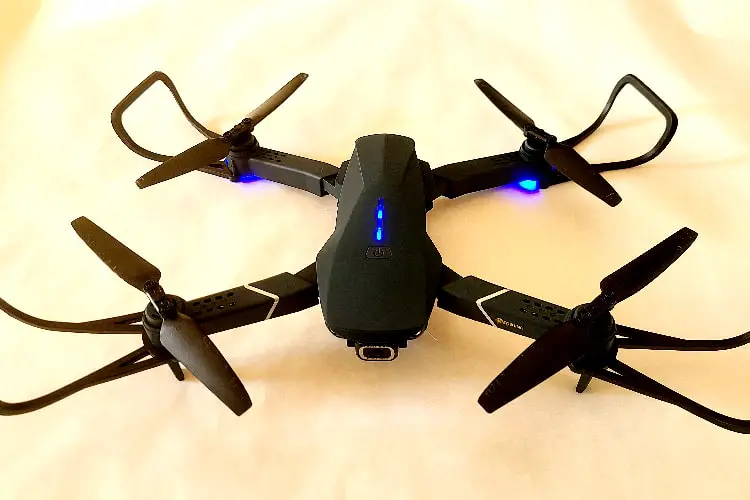 This inexpensive drone lacks the GPS of other, more costly drones, but comes with three batteries for a total flying time of nearly 50 minutes – more than the other drones reviewed here. It also has the standard features you'd expect (ie, headless mode, variable speed) and the camera can be manually tilted before flight to get shots of the ground. Lastly, the drone can be folded down to a compact size (small enough to fit into a large coat pocket) but there's no carry case provided.
Pros
High-quality video
Adjustable camera
Long flying time
Folds down to a compact size
Frequently Asked Questions
Will I need to register my drone?
This really depends on the weight of the drone. If it weighs more than 0.55 pounds, then you're required to register the drone with the FAA first. If you don't, you could face a fine of up to $27,500 from the FAA and criminal charges that could result in fines of up to $250,000 and three years in jail. The good news is that none of the drones recommended here require registration!
Where can I fly my drone?
Besides registration, the FAA also imposes some restrictions on where you can fly your drone. Some of these might be temporary, but others might be permanent. For example, you're prohibited from flying your drone within 3 miles of a major sporting event or stadium for one hour before, during and after the event. You're also prohibited from flying near airports or Emergency and Rescue operations. Lastly, be respectful of your neighbor's privacy by finding a nearby field or another open area where you won't be disturbing anyone.
How far can I fly my drone?
Like the drone's weight, this will vary from drone to drone, and while a more expensive drone could fly between 3 and 4 miles, the drones tested here have an average range of about 650 feet (200 meters or 0.1 miles.) Also bear in mind that the wi-fi signal for your drone also has a limited range, which will be less than the range for the drone itself. For this reason, if your drone has the capability of recording images and video directly onto a micro SD card, you'll get better results than if you record directly onto your Wi-Fi-connected cell phone.
How long do the batteries last?
Again, this will depend upon the drone. A high-end drone will utilize batteries that can provide about 20 minutes of flight time, but the less expensive models will have a shorter flying time of up to ten minutes. The drones tested here had an average flight time of about 13 minutes. Similarly, the charge time for each battery will vary too, but most batteries will take about an hour to charge.
If you're looking for more information about drones, we've created a series of guides to the different drones available. You can check out our overviews of the best drones for kids.
Additionally, we have a series of in-depth product reviews of specific drones, including our: Tomzon a31 flying pig mini drone review, Snaptain s5c drone review, Holy Stone hs340 mini drone review, Holy Stone hs210 mini drone review, Holy Stone f181w drone review, Eachine e520 foldable drone review, and our DEERC UFO mini drone review. Each of these guides will walk you through the different features, instructions, pricing, and pros and cons for each drone to help you find the best one for you.