Holy Stone has produced a wide range of drones that cater to an equally wide range of ages and experience levels. Both young children and adults, not to mention beginners and experts, can find a drone that's just right for them. The problem then, is knowing which option might be the best one for you – and is there one that's good for everyone? We tested the Holy Stone HS120D (which you can buy here) to find out if it fits the bill.
Our Score for the Holy Stone HS120D Drone

Learn More

Overall Expert Rating

What we like:
Feature packed and easy-to-use, this drone won't disappoint!

Getting Started
Batteries
Features
Ease of Use
Value for Money
All Photos Credit: Richard J. Bartlett
About the Holy Stone HS120D Drone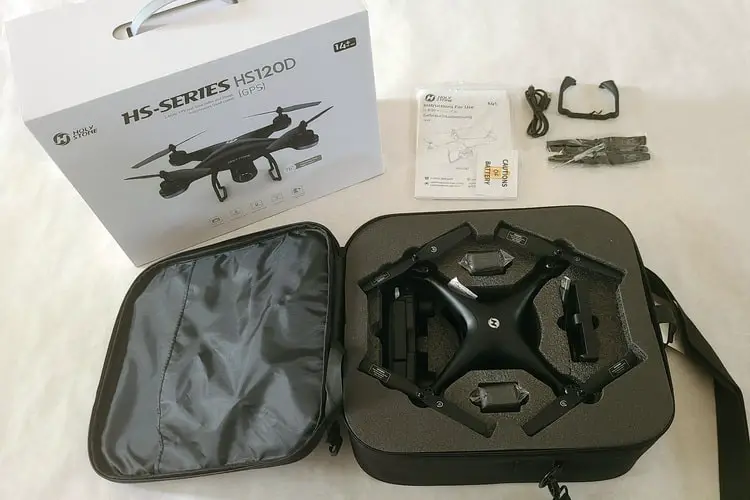 Packaging & Accessories
Holy Stone has a consistent style for their packaging that helps to maintain and identify their brand; if you're familiar with their products, you would probably know it's a Holy Stone just with a quick glance at the box.
Of course, the HS120D (available here) is no exception, as it arrives in the standard Holy Stone packaging that appears predominantly black and white, with a little splash of color where a cell phone is depicted.
It's a decent-sized box, measuring 15 x 12 x 3.5 inches (38.1 x 30.5 x 8.9 cm) and weighing 3.2 pounds, and  inside you'll find:
1 x Drone
1 x Controller
2 x Drone battery
1 x USB charger cable for controller
1 x Dual battery charger for drone batteries
4 x Replacement propeller blades
4 x Replacement propeller spacer rings
4 x Replacement propeller screws
4 x Replacement propeller gears
4 x Replacement propeller caps
2 x Replacement landing skids
1 x Mini wrench
1 x Mini screwdriver
Instruction booklet
One of the great things about this drone is that it comes with its own carry case, and while it's not hard, it should provide plenty of protection for your drone. The drone, controller, and batteries are packed snugly into the molded foam interior, and a thin foam cover and a strap help to keep everything safe.
Lastly, there's also a pocket on the inside for the spare parts and instruction manual.
Assembly and Getting Started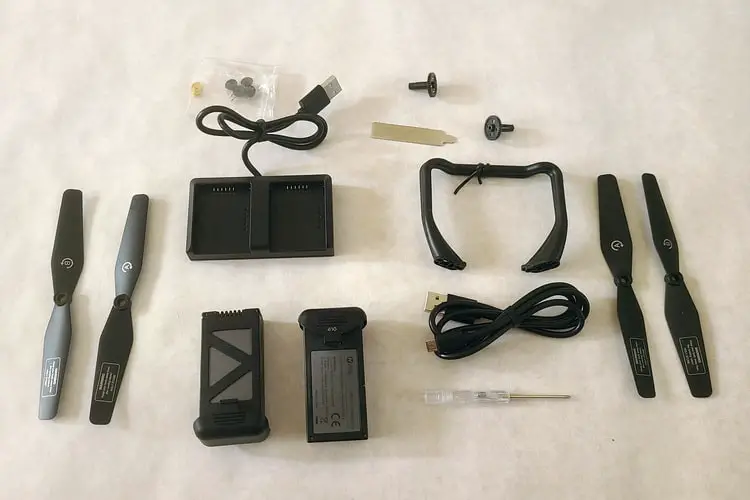 As with many of Holy Stone's other drones, there's really very little assembly required before you can start to fly. The propellers and landing skids are already installed and both the drone batteries and the controller battery had a charge. One of the drone batteries was also pre-installed in the drone itself.
In essence, then, you're ready to fly almost as soon as you open the box, which is sure to please anyone in your household who can't wait to get started.
If you do find yourself needing to charge the batteries, the drone batteries will take roughly two hours, while the controller battery will take about half that time.
The instruction book is a little more than 90 pages long but includes three languages, with English taking up the first 35 pages or so.
As with other drones, you'll need to pair the drone and the controller every time you turn it on. This is done by pushing the left joystick up and down until you hear the controller beep once and the lights on the drone turn solid.
Since the drone uses GPS, you'll next need to calibrate the compass. Simultaneously pushing both joysticks inwards and upwards will cause the drone lights to flash rapidly; you then need to rotate the drone around its horizontal and vertical axes until its lights turn solid again.
Next, you should calibrate the gyro by pushing both controller joysticks upwards and outwards simultaneously until the lights blink slowly and the drone's camera turns once.
Lastly, again, since the drone has GPS, it will need to establish a connection with the satellites; otherwise, it won't be able to use that feature.
It might sound like a lot, but realistically the whole process takes less than a few minutes.
At this point, you're ready to go. You can use the basic features of the drone through the controller,  but if you want to take advantage of some of the more advanced features, you'll need to install the HS GPS V1 app. (It's also a good idea to use the app if you want to take photos and record video, as you won't be able to see what the drone is recording otherwise.)
There's a QR code inside the instruction book that will take you to either the Apple or Google Play store where you can download and install the app you need.
When the drone is powered on, it will transmit its own wi-fi signal your phone will need to connect to; otherwise, the app will be useless. You can either fly the drone with the controller and simply use the cell phone for taking photos and video (this option is best for beginners), or else you can control the drone via the app.
It's worth mentioning that the camera has a micro SD card slot, allowing you to record video onboard the drone. This produces a better quality video as it's not subject to interference like a Wi-Fi signal.
Quality and Durability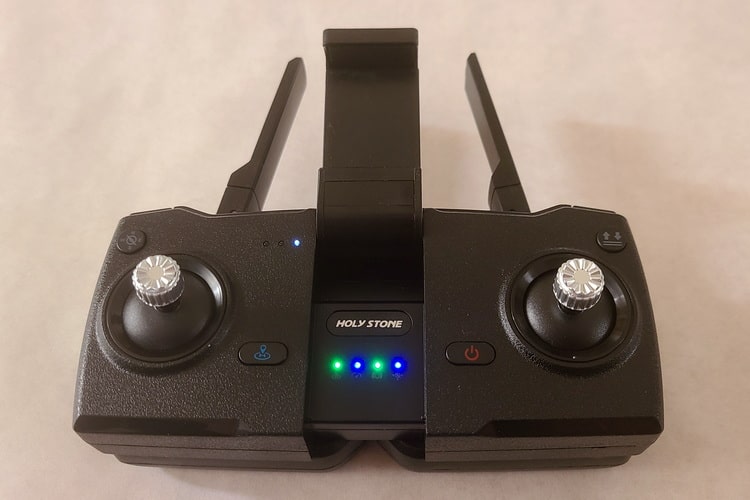 Generally speaking, the drone and controller don't feel too flimsy or breakable; the controller in particular has a decent weight to it, thanks to its built-in rechargeable battery.
The controls are slightly different from most other Holy Stone drones; for example, the takeoff/land button is in the top right corner (whereas it's normally below or to the side of the joystick) and it's a similar story for the GPS/Headless mode in the top left. Also, the speed control is actually a dial and the trim control is a secondary function of the camera button, while the video function has its own button.
There are four lights that can be found under the foldable cell phone holder; from left to right, they provide indications for the following functions:
Return to Home
Speed
Photo/Video
Headless Mode
The cell phone holder itself does a good job of holding your phone in place, but like other Holy Stone controllers, there's no lip to help prevent your phone from popping out.
The drone is lightweight but feels solid enough, with the one main area of concern being the lack of propeller guards. While this isn't necessarily a big issue for a more experienced operator, beginners may find the propellers could be scratched or damaged if the drone hits a solid obstacle.
The landing skids are secured reasonably well, unlike some other drones where the skids will immediately start falling off. That said, they could potentially be knocked off and lost if the drone crashes into an obstacle or hits the ground too hard.
The drone battery slots into the back of the drone with a reassuring click, with little or no danger of it becoming detached if the drone should crash. It's also easily removed again.
Performance and Ease of Use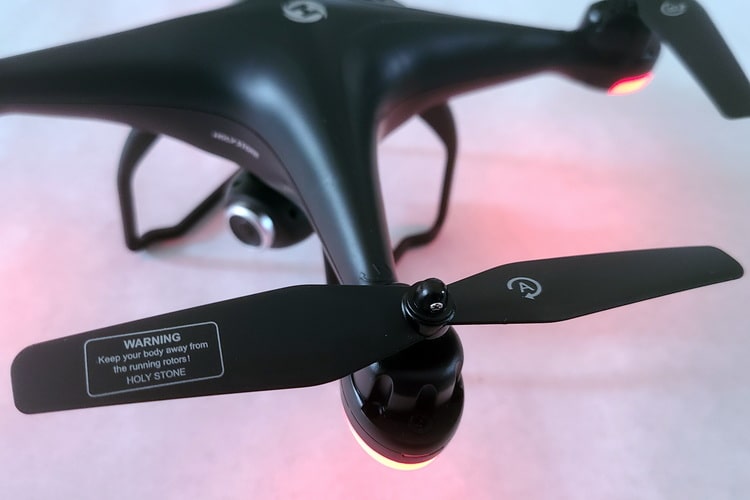 Before you fly, you must be sure to pair and calibrate the drone. Once this is done, you'll need to unlock the motors by pushing both joysticks down and inward simultaneously, which will start the rotors.
Battery flight time was very good. In theory, each battery should last about 18 minutes; the drone was tested for about 45 minutes (with intermittent flying) and the battery did not need to be changed at all.
Features & Functions
The functions listed below can be performed through either the controller or the app (although you'll probably find it easier to fly the drone with your controller rather than your cell phone).
Pairing and Calibration: Pairing wasn't a problem at all and only needed to be done once, before the initial flight. The gyro calibration was also simple but it's important to perform the calibration if you crash the drone, or even at frequent intervals. If the drone isn't calibrated, it won't fly properly and will be difficult to control.
One Key Take-Off and Landing: Worked well; the drone lifts off to an altitude of about three feet and will gently land from any altitude (although it can be slow and is often best aided by manually bringing the drone lower via the controller).
Emergency Stop: Simultaneously stops all the rotors and causes the drone to fall from the sky. As implied, this should only be used in an emergency!
Trim: Worked well, although as long as the gyros are calibrated there wasn't much need for it.
Headless Mode: Good for beginners, this allows the drone to fly in a simple left/right and forward/backward motion. It may be best to practice this in an area that's sheltered from the wind, as it can be confusing if the drone is blown in one direction.
Photos and Videos: Can be stored on either the drone via a micro SD card for better quality or on your cell phone via the drone's Wi-Fi network and the app. Photos are in JPEG while videos are MP4 and both are 2048 x 1152 when recorded onboard with a micro SD card. The video is 1280 x 720 when stored on your cell phone. The nice thing about the camera was that it could be adjusted by up to 75 degrees in-flight via the controller, allowing you to get better shots of the ground.
Altitude Hold / Hover: The drone was able to hover and hold its position very well. Even when the drone was higher than 50 feet in the air, it was still able to remain in place.
Return to Home: Did a good job of bringing the drone back to its starting position, although you'll need to land the drone yourself. There are three modes: Smart Return causes the drone to return when you push the button. Low Battery Return will bring the drone back if the battery is low and, finally Fail Safe Return will fly the drone back if the signal between the drone and the controller is lost.
The following features and functions can be performed exclusively through the app and are better suited to advanced users:
Gesture Mode: Allows you to control the drone via hand gestures.
Voice Commands: The drone can also be controlled through a limited number of voice commands.
VR Mode: If you have a VR headset, you can watch the video from the drone in real-time.
Voice Recording:  If you're recording video, this feature also allows you to record your voice as the drone is being flown.
TapFly: Set waypoints on the map and the drone will follow the route.
Follow Me: There are two modes here; either the drone can follow the operator by flying at a distance from them or the drone can remain stationary but turn to face whichever direction the operator is standing.
One other noteworthy app function is Beginner's Mode. This will restrict the distance and altitude of the drone to help beginners to maintain control. You should be able to change the default settings via the app, but in practice, those settings were not saved and it defaulted back to the original settings.
The app also has controls to fly the drone and provides useful data, such as historical data on flights, the GPS signal strength, the battery levels of both the drone and the controller (neither of which were an issue), the drone status, its distance and height (in meters) and its speed in meters per second.
Target Audience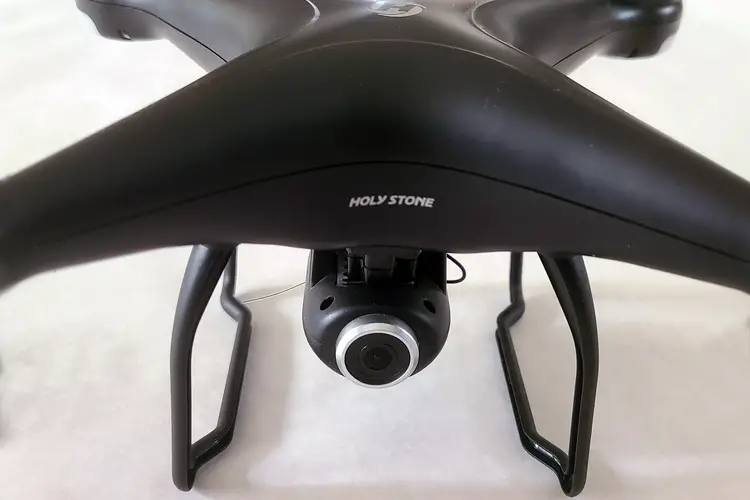 Holy Stone is clearly aiming this at both beginners and intermediate users as there's something here for both. Beginners will appreciate how easy it is to fly and to perform the basic functions, while more experienced operators will enjoy the more advanced features, such as the TapFly and Follow Me modes. It's not really suitable for small children, but older kids are sure to have a blast.
Specifications & Features
Specifications:
Weight: 0.5 pounds
Flight time per battery: 18 mins
Number of batteries supplied: 2
Battery charge time: 1 Hour each
Total flight time, out of the box: 36 mins
Maximum range: 984 feet (300 meters)
Maximum height: 984 feet (300 meters)
Features:
Headless mode: Yes
Manual return: Yes
Smartphone FPV: Yes
Auto Return: Yes
One key takeoff/land: Yes
Altitude hold: Yes
Point of interest/custom mode: Yes
Obstacle avoidance: No
Stunts: No
Colored LED Lights: Yes
GPS Enabled: Yes
Follow Me mode: Yes
What We Liked
Easy to use
Adjustable camera
Great battery life
Automatic Return to Home
Hovers very well
What We Didn't Like
Final Verdict
There's a lot to like and not a lot to dislike with the HS120D Drone (available here). Holy Stone has gone all-out to give buyers a drone that's packed full of the features experienced flyer love, yet still easy enough to use that even beginners should have no problem with making the most of it.
If you're looking for more information about drones, we've created a series of guides to the different drones available. You can check out our overviews of how to find the best the best kids drone and the best $200 drone (or less).
Additionally, we have a series of in-depth product reviews of specific drones, including our: Holy Stone HS165 foldable drone review & instructions, Potensic d80 drone review & instructions, Tomzon a31 flying pig mini drone review & instructions, Snaptain s5c drone review & instructions, Holy Stone hs340 mini drone review & instructions, Holy Stone hs210 mini drone review & instructions, Holy Stone hs110d drone review & instructions, Holy Stone f181w drone review & instructions, Eachine e520 foldable drone review & instructions, and our DEERC UFO mini drone review & instructions. Each of these guides will walk you through the different features, instructions, pricing, and pros and cons for each drone to help you find the best one for you.