DEERC produces a wide range of products and toys for an equally wide audience. From RC cars, drones and robots to tents and play toys, DEERC primarily cater to children but there are plenty of options for adults to enjoy too. One of these is the DEERC UFO Mini-Drone, a small hand-held drone that's aimed at younger children but can be used by anyone of any age. So is this simply a toy for small children or is this a drone for everyone?
Our Score for the DEERC UFO Mini-Drone

Learn More

Overall Expert Rating

What we like:
A fun, inexpensive drone that younger kids can enjoy.

Getting Started
Batteries
Features
Ease of Use
Value for Money
All Photos Credit: Richard J. Bartlett
About the DEERC UFO Mini-Drone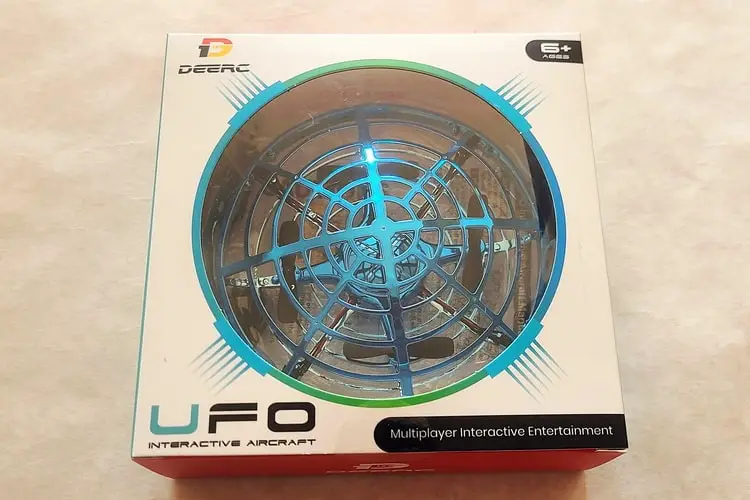 Packaging & Accessories
Being a mini-drone, it comes packaged in a pretty small box, measuring 5.75 x 2.25 x 5.5 inches and weighing just 3 ounces. With that in mind, it could make for a neat little birthday gift or stocking stuffer, especially given that the packaging itself is attractively designed. It's not, however, made from the sturdiest of card and could potentially become easily damaged.
You'll find the following items inside:
1 x Drone
1 x USB charger cable
Instruction booklet
Battery precaution booklet
The drone, cable and booklets are contained within a molded, clear plastic tray that slides into the box. The drone fits snugly into the tray with no movement, so there's little danger of the drone being damaged in transit,
Assembly and Getting Started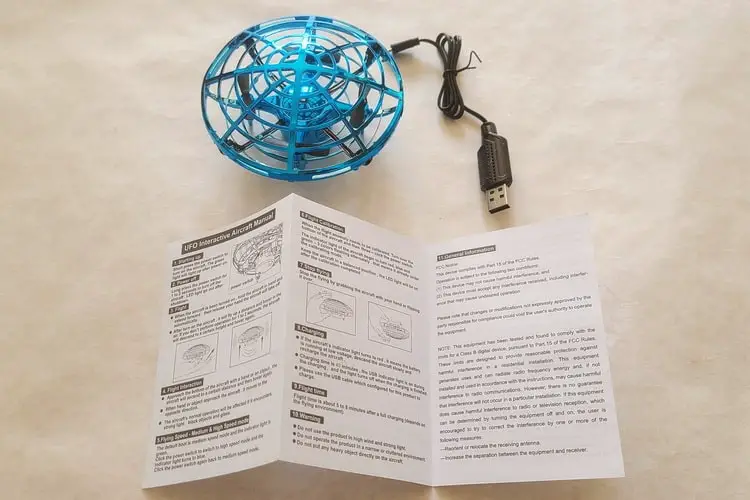 This is a small, very simple drone and, as such, there's very little that needs to be done before it's ready to fly. The instruction booklet is straightforward, but there were a couple of instances where it could be improved.
For example, the first step is to power the drone on. This is accomplished by pressing the power button once and there's a diagram in the booklet to help you locate the button. Unfortunately, it's not really clear from the diagram as to where the button is located, as the arrow appears to be pointing toward the underside of the drone frame.
Since the plastic of the frame is highly reflective, it can also be a little tricky trying to read any text that might be printed on it. (Hint: the power button is on the opposite side of the base from the USB charging port.)
You may need to charge the drone's battery first. It's built into the drone and isn't detachable, so it must be charged by plugging the provided USB cable into the base and then into the charger of your choice. It's worth noting that no charger is provided, so you'll need to plug it into a power strip with USB ports or a cell phone charger.
Charge time is about 40 minutes; the USB plug glows red while charging and then simply goes off once the battery is charged.
Quality and Durability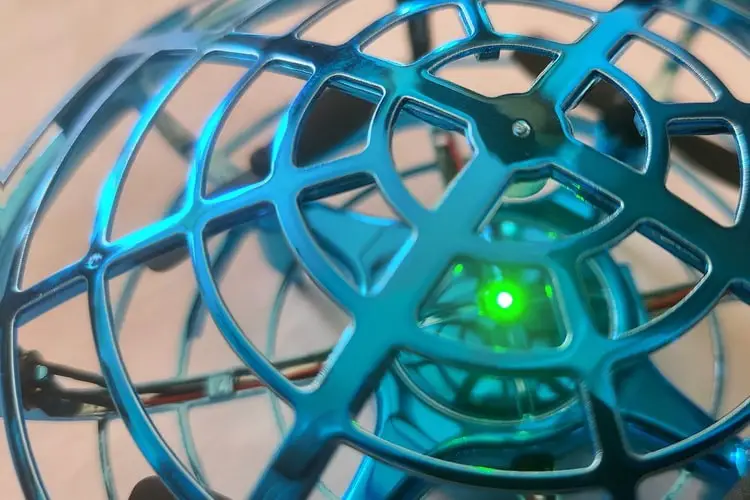 The UFO is, of course, made of plastic, with the frame being quite thin. As such, it won't withstand anyone accidentally treading on it, but the outer rim is sturdy enough to protect the propellers against any knocks and drops. For example, if it hits an obstacle (such as a wall) it could drop to the floor, but the frame will allow it to bounce without breaking.
You may also need to be careful when attaching and detaching the USB cable as the recharging port is located immediately below the frame, making it a little awkward to access.
The frame completely encapsulates the propellers and connecting wires, so there's no danger of either one being damaged as a result of a collision.
Performance and Ease of Use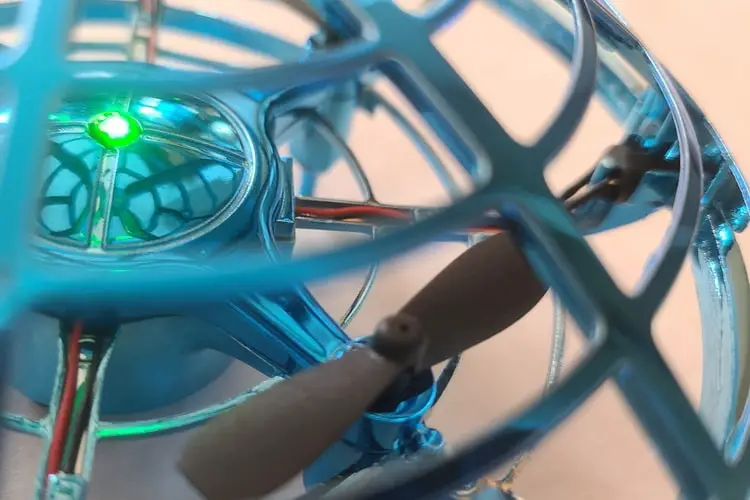 Once you've powered the drone on, the light on top will flash several times before turning green to indicate that it's ready to fly. Since there's no remote control, the drone can be launched by placing it in the palm of your hand and then pushing it up into the air or dropping your hand away. The drone will then rise up and hover, waiting for you to interact with it.
There are a few things to be aware of here:
The drone won't remain in place and will drift. There's no way to correct this except by using your hands to nudge it in the right direction.
The drone also has a tendency to drift slowly upward. When this happens, you could find the drone rising out of reach, but it will drift back down after a few seconds without interaction.
The drone is controlled by moving your hands close to the drone, as though you're pushing it (but without touching it) and it will then move in the desired direction. For example, if you want the drone to rise up, you move your hand in an upward motion beneath the drone. The drone then reacts to the air currents created by your hand.
This can take a little getting used to as you can easily lose control, but it's a fun exercise regardless. Using both hands can help but you might still find it a little tricky. Kids, however, are sure to have a blast chasing the drone around the room.
The drone is small enough and lightweight enough to be operated inside (realistically, it would soon be blown away if it was taken outside) but the instructions warn that its operation is affected by "strong light, black objects and glass."
There are two speeds – medium and high – that can be set before flight by pressing the power button once. The indicator light on top will be green when the speed is set to medium and blue when it is set to high. If anything, the default medium speed is already a little too fast (especially for younger children) so there seems to be little point in setting the speed to high unless you're well practiced with it.
The stated flight time is about 7 or 8 minutes and it seemed quite capable of sustaining that. The indicator light on top will turn red when the battery is low and the drone will eventually land itself. The problem here is that
Lastly, if you want to stop the flight, you'll need to grab the drone and then flip it over. Once the light is a steady green, you can launch it again.
Target Audience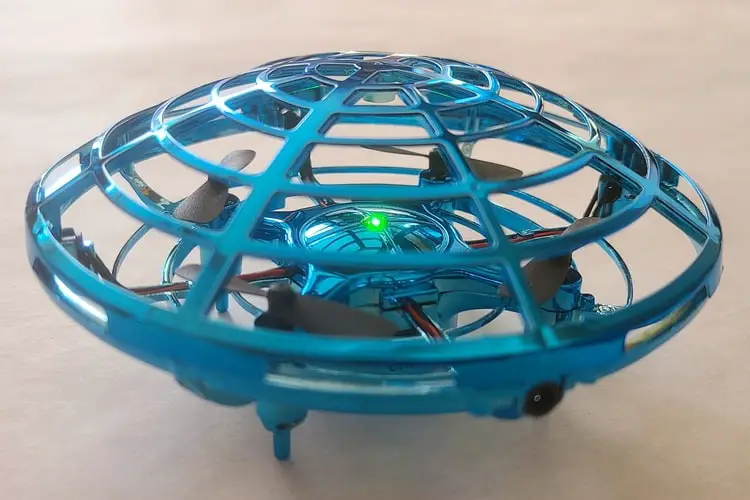 The UFO is clearly meant for younger children. By making it possible to fly the drone without a remote, they'll be able to have fun with their own drone without having to pester anyone to fly the family drone. It can also be enjoyed by adults too, making this a good option for playtime with the kids.
Specifications & Features
Specifications:
Weight: 0.2 pounds
Flight time per battery: 5-8 mins
Number of batteries supplied: 1
Battery charge time: 40 minutes
Total flight time, out of the box: 5-8 mins
Maximum range: N/A
Features:
Headless mode: N/A
Manual return: N/A
Smartphone FPV: N/A
Auto Return: N/A
One key takeoff/land: N/A
Altitude hold: N/A
Point of interest/custom mode: N/A
Obstacle avoidance: N/A
Stunts: N/A
Colored LED Lights: N/A
GPS Enabled: N/A
Follow Me mode: N/A
What We Liked
No assembly required
No controls to learn
Fun for younger kids
Decent flight time
Good value for money
What We Didn't Like
Tricky to control
Tendency to drift upwards
Lack of features
Final Verdict
Is the UFO a toy? The short answer is yes, but it's a fun one and one that's sure to keep kids (of all ages) entertained. It's not meant for use outside, which is arguably a plus since your kids will be able to use it at any time, regardless of the weather. It's lightweight, so it has less potential to cause damage (or be damaged) and it's inexpensive, so it's good value for money and won't break the bank if it gets broken. Overall, it's a solid investment that can pay dividends in some much-needed quiet time for Mom and Dad.
If you're looking for more information about drones, we've created a series of guides to the different drones available. You can check out our overviews of the best drones for kids and the best drones under $200.
Additionally, we have a series of in-depth product reviews of specific drones, including our: Holy Stone HS165 foldable drone review, Potensic d80 drone review, Tomzon a31 flying pig mini drone review, Snaptain s5c drone review, Holy Stone hs340 mini drone review, Holy Stone hs210 mini drone review, Holy Stone hs110d drone review, Holy Stone hs120d drone review, Holy Stone f181w drone review, and our Eachine e520 foldable drone review. Each of these guides will walk you through the different features, instructions, pricing, and pros and cons for each drone to help you find the best one for you.