Eachine manufactures a variety of RC products and accessories, from drones, airplanes and cars to FPV cameras, monitors and goggles. It therefore only seems reasonable to believe there should be something to suit every RC enthusiast's taste. The E520 has been designed to appeal to the beginner and comes with a 4K high definition camera to sweeten the deal – but is flying the drone an experience worth savoring or could it all potentially turn sour?
Our Score for the Eachine E520 Foldable Drone

Learn More

Overall Expert Rating

What we like:
Good value starter drone with a hi-res 4K camera.

Getting Started
Batteries
Features
Ease of Use
Value for Money
All Photos Credit: Richard J. Bartlett
About the Eachine E520 Foldable Drone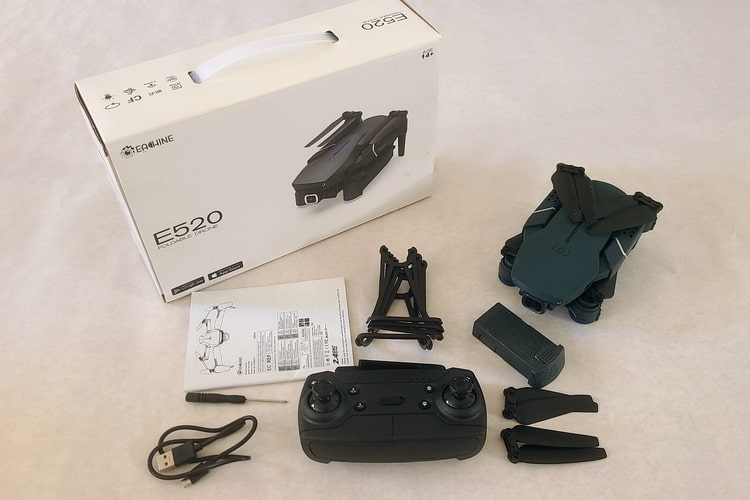 Packaging & Accessories
This is a foldable drone, so it should come as no surprise that the packaging should be relatively small and lightweight. The box measures 11.5 x 3.5 x 7.5 inches (29 x 9 x 19 cm) and weighs just under 2 pounds (0.9 kg.) It also has a handle along the top, making it possible to use the packaging as a carry case if need be.
You'll find the following items inside:
1 x Drone
1 x Controller
3 x Drone batteries
1 x USB charger cable
4 x Propeller guards
2 x Replacement Propellers
1 x Mini screwdriver
Instruction booklet
It should be noted that the version supplied for this review only came with one battery, but Eachine is now offering three batteries with each drone. The drone, controller and parts fit into a molded black plastic base, with a clear plastic cover that fits over it. Everything fits quite securely inside the box, with no loose items and the contents being reasonably well protected during transit.
Assembly and Getting Started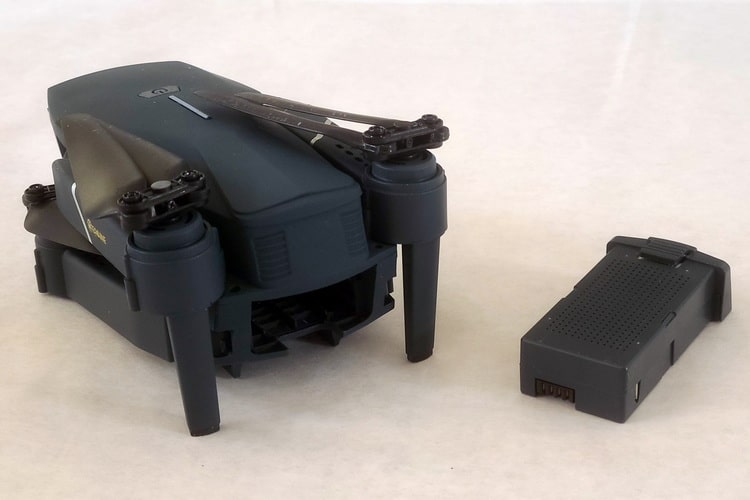 Almost every drone in this price range is "ready to fly" out of the box and requires very little assembly. The E520 is no different; the only thing you need to do is attach the propeller guards and insert the batteries.
As the drone is packed in its folded state, you'll need to extend its arms before attaching the propeller guards. The front arms each have a claw that helps to hold the underside of the drone off the ground, and these arms must be extended before doing the same for the rear.
(There are no landing skids on this drone, so the claws help to prevent the underside and the camera from being scratched and/or damaged.)
The propeller guards clip onto the underside of the propeller housing and, unlike some other drones, they're securely attached and have little risk of constantly dropping off. The manual states they should also be secured with the screws provided, but there are no screws in the package and there are no holes in the guards for the screws anyway.
In terms of batteries, you'll need to find four AAA batteries for the controller and the drone battery takes about an hour to charge.
Inserting the battery into the drone might cause a little confusion at first. It may have just been the particular drone that was sent, but the battery doesn't easily click into place. You can insert batteries into most other drones by applying just a little pressure, but the E520 battery requires a fair amount of force behind it. Gently pushing the battery won't do the trick; it almost has to be rammed into the slot and it feels as though you might break it in the process.
Incidentally, there are no directions in the manual on how to accomplish this, but once the battery solidly clicks into place you're all set.
Beyond these initial steps, everything is pretty standard. There's no GPS with the E520, so there's no calibration required there. You'll need to sync the drone with the controller, but as with other drones, this is easily done by moving the left joystick up and down once or twice. The drone lights then turn solid, indicating the connection was successful.
Quality and Durability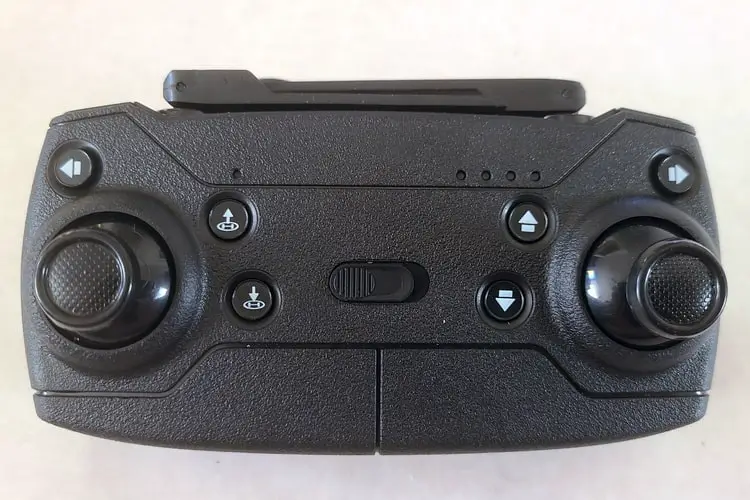 For the most part, the quality doesn't seem to bad; the controller is plasticky and feels hollow and lightweight, but that's not unusual for drones in this price range. The smartphone holder is built into the bottom side of the controller and is partially spring-loaded to help open and close the holder.
It's this holder, in particular, that feels flimsy and it doesn't do a great job of holding the cell phone securely. There is no lip to stop the phone from popping out, which can easily happen if you knock the phone while it's held in place. Again, this isn't unusual, but there are definitely a few other drones available that do a better job.
The buttons and joysticks are fine and the layout is pretty standard, but if you need a little help, the controller comes with a card overlay that explains the function of each button. (Incidentally, this is one controller where the trim is adjusted through individual buttons, rather than as an extra function of a joystick.)
Lastly, the controller has two antennae that can be folded out, although it's not really clear if this has too much of an impact on the operation of the drone, as it seemed to fly well with or without the antennae extended.
As for the drone itself, it folds up neatly into a compact form measuring 6 x 4 x 3 inches and weighing 8 ounces – small enough and light enough to be easily carried in your hand or in a bag. (There's no case provided, but the packaging can be used as a case instead.)
Even though it only weighs half a pound (just below the limit set by the FAA for drones requiring registration) it seems reasonably solid. The front even has an anthropomorphic design that gives it the appearance of a determined and angry face.
Performance and Ease of Use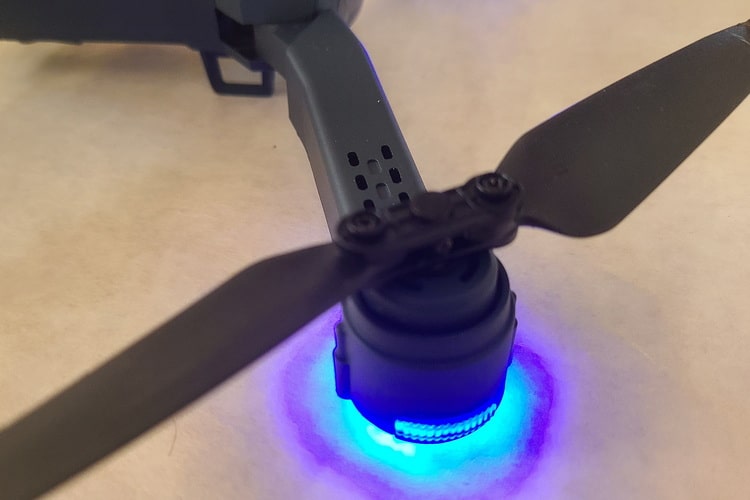 Generally speaking, the drone flew quite well and was easy enough to control. The one-key take-off and landing buttons worked well, there wasn't much need for trim and the camera did a good job of capturing images and video. As the drone has no GPS, the functions are pretty straightforward, making the drone easy to fly for both beginners and more experienced flyers.
Once you get the hang of things, you can download and install the app, which will allow you to fly the drone via your cellphone. The drone broadcasts its own wi-fi network (typically something like WiFi-4k-520-######) and you'll need to have your phone connect to this network in order to control it or record images and video directly onto your phone.
That said, it's typically easiest to forgo the phone and stick to the controller, as trying to fly the drone via your phone's touchscreen can be a little tricky.
Features & Functions
Pairing and Calibration: This couldn't be simpler; you only need to wiggle the left joystick up and down and the drone and controller will pair in just a second or two. There's no need to calibrate the gyros, so once you're paired you can take-off. Similarly, if you happen to crash, you won't need to re-calibrate anything before you fly again.
One Key Take-Off and Landing: This worked nicely and while these buttons are there, you can still manually take-off and land with the left joystick. The drone's height didn't seem to negatively impact the auto-landing feature, although the drone needed a little more manual control as it could drift as it lands.
Emergency Stop: With almost every other drone, an emergency stop is initiated by pushing two buttons at the front simultaneously. This helps to prevent it from being used accidentally, as the drone will immediately lose power and drop out of the sky, potentially suffering some damage in the process. However, the E520 can be stopped with a long press of the Flip button, which seems a little unwise as it could potentially happen accidentally.
Trim: This worked well enough, but if you're used to adjusting the trim via a joystick you might be scrambling to find the right button.
Headless Mode: Always a good option for beginners, the headless mode allows you to fly the drone in a simple forwards/backward and left/right motion so that the front is always facing forwards. This is a little easier than having to turn the drone in the direction you want to go and then moving it forwards and backward. In particular, it makes it easier to fly the drone home in the event it starts to move away from you!
Photos and Videos: The camera is capable of producing 4K video and images. These are produced at a resolution of 2560 x 1440 pixels when recorded using an onboard micro SD card or up to 3840 x 2160 pixels when recording directly onto your cell phone. The quality itself is good and the only jerkiness appeared to be caused by the movement of the drone itself. A nice touch is the ability to manually adjust the tilt of the camera before flight, thereby allowing you to get great shots of the ground. The 120-degree camera will provide some wide views, but you'll notice a significant fish-eye effect on any images or video you record. (The video below has been compressed to 50MB from the original 60MB but is otherwise unaltered.)
Altitude Hold / Hover: The E520 is capable of hovering quite well and had no problem maintaining its altitude either. It was flown to an altitude of roughly 25 meters (82 feet) during the test and continued to respond to commands without any issues.
Flips: Like many other drones in this price range, the E520 can perform flips at the push of a button. This is a nice enough trick on its own, but it's a little more impressive if you can get the drone to flip as it's moving quickly through the air.
Return to Home: Since the E520 has no GPS, there's no auto return-to-home feature. You're able to manually command the drone to return, but this only works within a radius of about ten feet.
The following features and functions can be performed exclusively through the app and are better suited to advanced users. It should be noted that the instruction manual doesn't do a good job of explaining the app's functions and controls, leaving it to the user to figure it out.
Trajectory Flight: The E520 can follow a flight path you draw on the screen, allowing you to have the drone fly-by nearby points of interest.
VR Mode: The drone streams live video to your phone and is compatible with a VR headset, giving you a birds-eye view of your surroundings from the air.
Target Audience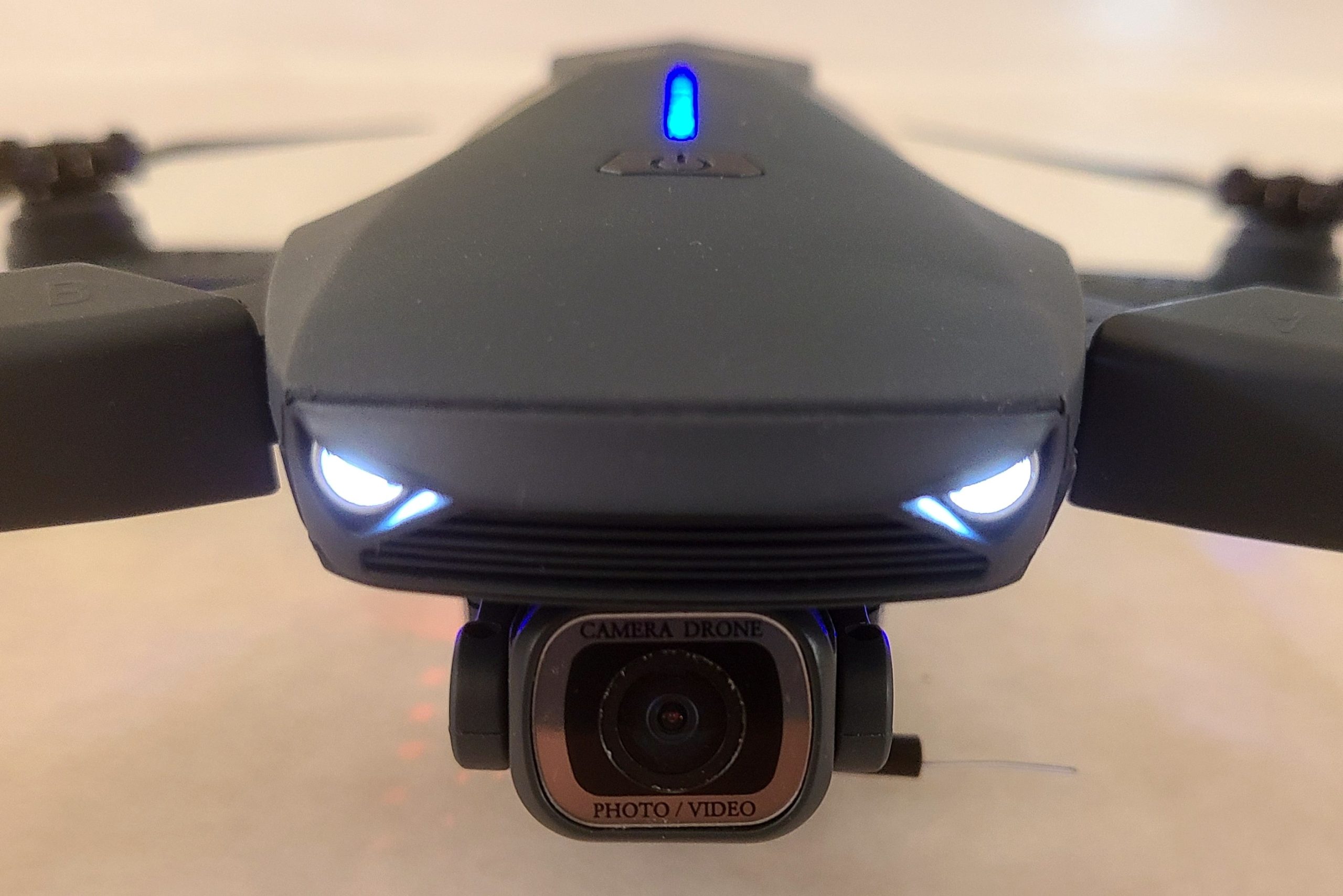 The E520 has clearly been designed with the beginner in mind and is priced appropriately to appeal to that segment of the market. Most experienced flyers will probably find that it lacks the features they might otherwise come to expect, especially GPS and auto-return, but otherwise, it's a good starting point for anyone looking to get into the hobby. Similarly, families are sure to have fun with it, but younger kids will most likely find it a little difficult to control.
Specifications & Features
Specifications:
Weight: 0.5 pounds
Flight time per battery: 15-17 mins
Number of batteries supplied: 1
Battery charge time: 120-150 minutes each
Total flight time, out of the box: 15-17 mins
Maximum range: 165-230 feet (50-70 meters)
Features:
Headless mode: Yes
Manual return: Yes
Smartphone FPV: Yes
Auto Return: No
One key takeoff/land: Yes
Altitude hold: Yes
Point of interest/custom mode: Yes
Obstacle avoidance: No
Stunts: Yes
Colored LED Lights: Yes
GPS Enabled: No
Follow Me mode: No
What We Liked
Quick and easy to get started
Lightweight and compact
4K camera
Good value for money
What We Didn't Like
Lack of features
Flimsy cell-phone holder on controller
Final Verdict
The E520 is a great option if you're looking to buy your first drone – especially if you want to shoot some hi-res video. Its compact, lightweight design makes it highly portable, and it has all the most essential features you need to get started. However, more experienced flyers will probably find it doesn't have enough to hold their interest and may find its lack of features off-putting.
If you're looking for more information about drones, we've created a series of guides to the different drones available. You can check out our overviews of the best drone for kids and the best drone under $200.
Additionally, we have a series of in-depth product reviews of specific drones, including our review of: the Holy Stone HS165 foldable drone, Potensic d80 drone, Tomzon a31 flying pig mini drone, Snaptain s5c drone, Holy Stone hs340 mini drone, Holy Stone hs210 mini drone, Holy Stone hs110d drone, Holy Stone hs120d drone, Holy Stone f181w drone, and our DEERC UFO mini drone. Each of these guides will walk you through the different features, instructions, pricing, and pros and cons for each drone to help you find the best one for you.