Holy Stone have a pretty solid reputation for producing easy-to-use that both beginners and intermediate fliers can enjoy without having to dig deep into their pockets. The Holy Stone HS165 Foldable Drone (which you can buy here) has been designed to be taken almost anywhere and flown by almost anyone, and with built-in GPS, it's capable of flying back to base by itself. So have Holy Stone brought it home with this drone or did they miss the mark?
Our Score for the Holy Stone HS165 Drone

Learn More

Overall Expert Rating

What we like:
A compact, easy-to-fly drone that almost anyone can fly.

Getting Started
Batteries
Features
Ease of Use
Value for Money
All Photos Credit: Richard J. Bartlett
About the Holy Stone HS165 Foldable Drone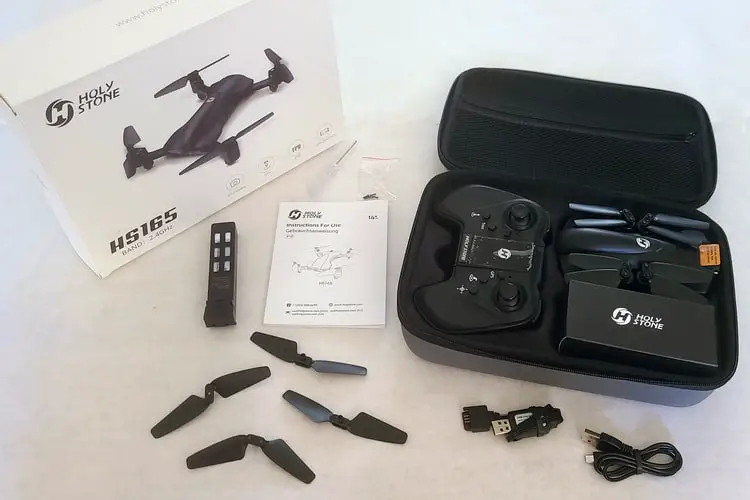 Packaging & Accessories
Holy Stone has its own particular minimalist, black and white packaging design which helps them to stand out from the crowd a little. The packaging is also typically fairly compact; there's no space wasted with unnecessary plastic packaging that's simply there to make the box look bigger.
The box itself measures 11.5 x 8.25 x 3.3 inches (29 x 21 x 8 centimeters) and weighs 2.25 pounds (1.0 kilograms) and is sturdy enough to protect its contents.
Inside the box you'll find a semi-hard carry case with the drone and accessories neatly packed inside:
1 x Drone
1 x Controller
2 x Drone battery
1 x USB charging cable for battery
1 x USB C charger cable for controller
4 x Replacement propellers
4 x Replacement propeller screws
1 x Mini crosshead screwdriver
1 x Protective carry case
Instruction booklet
Assembly and Getting Started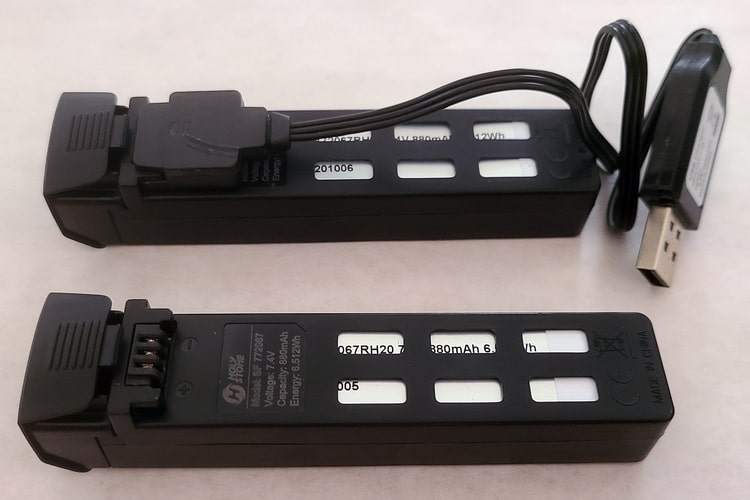 The propellers are already attached, so you won't need to worry about installing those, and since there are rubber feet on the bottom of the rotor casings, you won't need to install landing skids either.
This being the case, the first thing you'll want to do is make sure the drone and controller batteries are charged. Unusually for a drone this size, the controller has a built-in rechargeable battery; it's charged with the provided USB C cable, but there's no charger, so you'll need to plug it into your own charger or into a power strip with USB ports.
It's a similar story with the drone battery. Two are included, with one already inserted into the drone. Unfortunately, there's only one cable, and unlike the controller battery, you'll need a specialized cable to charge it. You won't be able to use a regular USB cable with the drone batteries.
That said, both the controller and the drone battery charged within an hour.
After charging the batteries and inserting one into the drone, you only need to fold out the arms of the drone and power it on. The drone power switch is a little odd as it's on the underside and looks more like a tiny screw.
Next, you'll need to power on the controller and wait for it to pair with the drone. This only takes a few seconds and then you can calibrate the compass for the GPS. This is done by simultaneously pushing both joysticks on the controller upwards and inwards and then rotating the drone three times along its horizontal and vertical axes.
This only needs to be done once, before the drone's first flight. After this step, the drone's lights will alternately flash to indicate that it's attempting to acquire a GPS signal. If you're flying the drone inside, you'll need to turn off this feature with a quick press of the appropriate button on the controller.
Once the signal is acquired (or you've turned the GPS feature off) you're ready to fly.
Beyond this, if you want to take photos or record video, you'll need to either insert a micro SD card into the underside of the drone or use the app to record images and video directly on to your phone. Be aware that an onboard SD card will provide better quality images and video as it won't be dependent upon the wi-fi signal strength between your drone and your phone.
Quality and Durability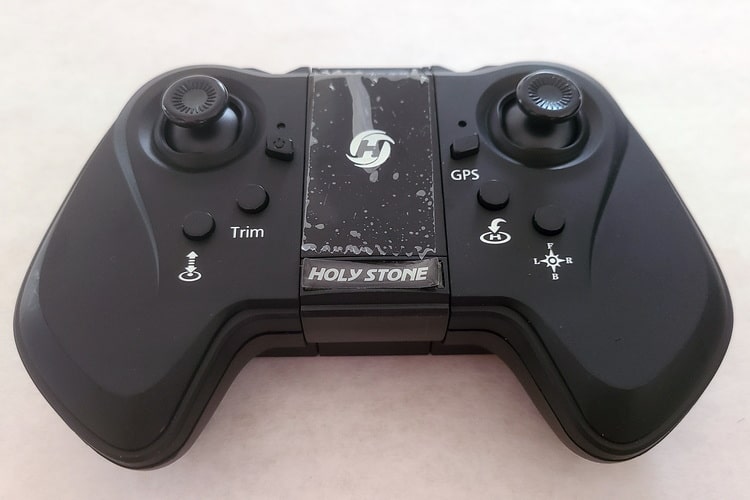 The controller doesn't have a lot of weight to it and feels like it's mostly empty inside. While this isn't necessarily a problem, if you like the feel of a good, solid controller that feels like it could take a little bit of a beating, then this isn't it.  Unfortunately, it very much feels as though it could break into pieces if you accidentally dropped it on the ground.
That said, it worked without any problems. The buttons and controls might feel plastic-y but the joysticks moved easily in all directions.
The cell phone holder worked well too. It has a strong spring-loaded mechanism that doesn't feel too flimsy and it does a reasonable job of holding the phone in place. However, there are no lips at the top or bottom of the holder to stop the phone from potentially popping out.
Weighing in at just 6.2 ounces (including the battery) you might think the drone might also be flimsy, but it's not actually the case. In fact, it feels surprisingly solid and is able to hold its own while in flight. It also folds down to a very compact 5.5 x 3.5 x 1.5 inches, making this a drone you can take almost anywhere.
The only potential criticism of the drone itself is that the blades feel a little thin, and without guards, they could potentially scratch if they hit a solid object. However, since the blades fold, rather than stay rigid, they're able to move if they hit something, which will help to minimize any damage. (And, just in case, there are four replacement blades included.)
Lastly, if you're worried about damage, the included case should do a great job of protecting the drone and controller against any knocks and drops. It's not a true hard case, but it's not soft either and it does a very nice job of keeping everything securely packed. (Incidentally, it's worth keeping the small black card box the batteries came in, as it'll stop the batteries from moving around in the case.)
Performance and Ease of Use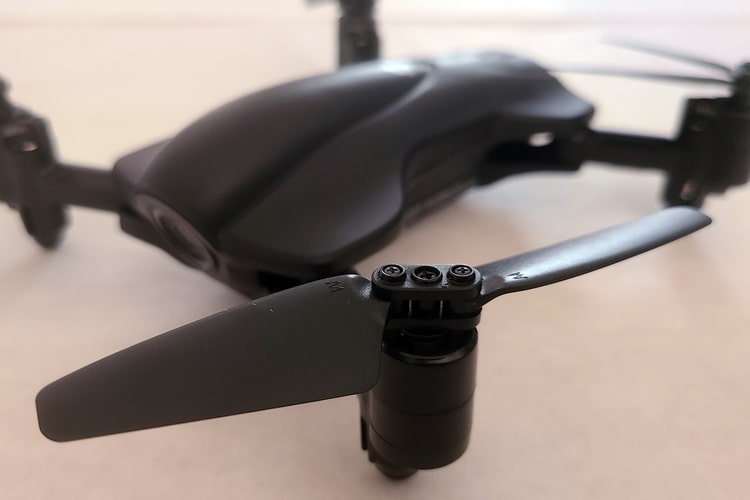 Overall, the HS165 (available here) flies very well. It was tested on a clear day with little to no wind and it was able to hover and fly without hardly any drift. Its ceiling is probably around 20 meters (65 feet) as it wouldn't go any higher, but this was enough to get some decent views of the surroundings. It's also very easy to control, although (like many other drones) it's easier to fly with the controller than via the cell phone app.
Flight time was good, although it's hard to estimate exactly how long the drone battery lasted as it wasn't flying constantly. The indicator on the app showed a low battery after about 20 minutes of use, but the drone was still able to perform all its functions.
Features & Functions
The primary features and functions listed below can be easily performed via the controller with the push of a button and/or the movement of a joystick, with many of them also available via the app. It should be noted that there are no flips or stunts with this drone.
Lock/Unlock the Drone: This is done by pushing the two joysticks down and inward and will cause the propellers to start and stop.
One Key Take-Off and Landing: There's a single button on the controller to automatically take-off and land the drone. When it takes off, it rises to about three feet and is capable of landing itself from its maximum height at the touch of the same button. The landing itself was gentle, even when the drone was moving horizontally.
Trim: Worked well, although there was very little need for it.
GPS Mode and Return to Home: This feature allows you to see where your drone is on a map via the cell phone app. You'll need to have a clear line of sight with 7 or more satellites in order for this work. GPS is also used for the Return to Home feature, which will bring your drone back to its starting point. This feature did a great job of flying the drone back to within a few meters of the take-off point, so if you've moved since then you'll need to account for that. It's a good idea to manually take control of the drone once it's near so you can avoid having the drone inadvertently crash into obstacles along its flight path. The drone will also automatically return to home if its battery runs too low or if it's not able to acquire a signal with 7 GPS satellites.
Headless Mode: A standard feature on many drones, this allows you to fly the drone forward, backward, to the left and to the right regardless of the direction in which it's facing. This can be good for beginners as it can make the drone a little easier to control.
Photos and Videos: If you have a micro SD card installed on the drone, you can record images and video via the controller, otherwise it can be done via the app, with the results stored on your phone. However, recording with the phone may result in poorer quality images and video as the data will be transmitted via the drone's wi-fi signal and will be prone to interference. Images are recorded as JPEGs and are 2560 x 1440 pixels if stored on the drone, or 3840 x 2160 pixels if stored on your phone. The video is recorded as an MP4 and is also 2560 x 1440 pixels when stored on the drone, or 1920 x 1080 pixels if stored on your phone. Both worked fine, but it felt as though both were lacking in color (although obviously this can be easily adjusted later.) The camera can't be adjusted to point down towards the ground, and it also produces a fish-eye effect. The photo and video here were both shot on the same day at close to the maximum altitude of 20m (65 feet.) They've been rescaled to reduce file size but are otherwise unadjusted.
Altitude Hold / Hover: Worked very well – it was able to maintain both its altitude and its position with very little trimming or other adjustments.
The following features and functions can be performed exclusively through the app and are better suited to advanced users:
Gesture Mode: Although not mentioned in the instruction booklet, the drone can be operated with hand gestures.
Voice Commands: The app also responds to basic voice commands (e.g., take-off and landing) but unless the controller stops working, it's a little hard to think of a situation when you'd really need this.
Waypoint Mode: This allows you to set points of interest on the map for the drone to fly to.
Points of Interest: You can also have the drone circle a point on the map.
Follow Me: When the drone is flying at an altitude of more than 4 meters (13.1 feet) and at a distance of 3 meters (9.8 feet) it can follow you as you move. You'll need to make sure you have a good GPS signal in order for this to work properly.
VR Mode: If you've owned a VR headset, you can get a great "drone's eye" view of your surroundings.
Generally, the app performed well, although it did crash once (fortunately not while the drone was in flight.) Besides the functions mentioned above, the map and live video, the app will also show useful information such as the signal strength, the drone's battery, its height and distance, plus its vertical and horizontal speed.
Target Audience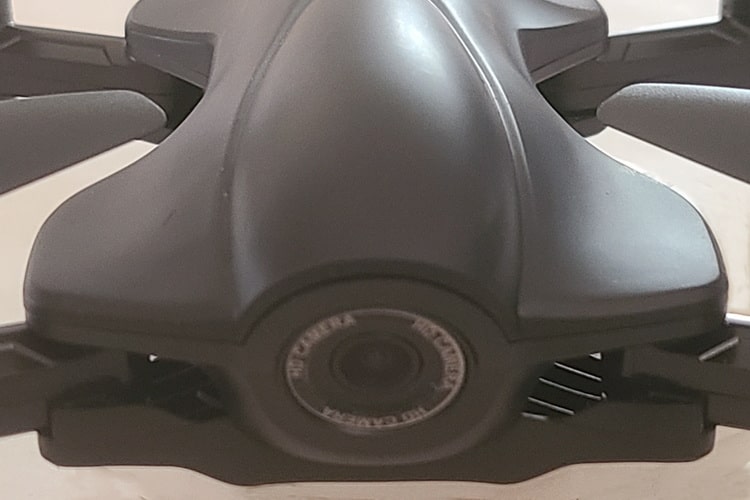 Although this is a good choice for families, younger children will probably need to be supervised as it's not a basic drone that's been designed for their age group. Teenagers will probably find it easy enough to control and the whole family should have fun shooting video and taking pictures.
It's also a great option for beginners looking for a drone they can learn to fly before moving on to the more advanced features that can be enjoyed with a little more experience. Intermediate fliers will also appreciate this inexpensive, portable drone that's capable of providing so much more than just a basic flying experience.
Specifications & Features
Specifications:
Weight: 0.4 pounds
Flight time per battery: 14 mins
Number of batteries supplied: 2
Battery charge time: 1 Hour
Total flight time, out of the box: 28 mins
Maximum range: 1312 feet (400 meters)
Maximum height: 394 feet (120 meters)
Features:
Headless mode: Yes
Manual return: Yes
Smartphone FPV: Yes
Auto Return: Yes
One key take off / land: Yes
Altitude hold: Yes
Point of interest / custom mode: Yes
Obstacle avoidance: No
Stunts: No
Colored LED Lights: Yes
GPS Enabled: Yes
Follow Me mode: Yes
What We Liked
Easy to fly
Very little drift
Great carry case
Great resolution images and video
Two batteries with decent flying time
What We Didn't Like
No propeller guards
Camera is fixed and cannot be moved
Final Verdict
Relatively inexpensive, compact, easy to fly and packed with features that include GPS and high-resolution video, it's hard to find a reason not to like the HS165 (available here). It's a great entry-level drone for beginners that almost anyone can use and promises to provide the user with many fun hours of flying.
If you're looking for more information about drones, we've created a series of guides to the different drones available. You can check out our overviews of the best mini drones for kids and the best drone under $200.
Additionally, we have a series of in-depth product reviews of specific drones, including our review of: the Eachine E520 Foldable Drones, Potensic d80 drones, Tomzon a31 flying pig mini drones, Snaptain s5c drones, Holy Stone hs340 mini drones, Holy Stone hs210 mini drones, Holy Stone HS110D Drones, Holy Stone hs120d drones, Holy Stone f181w drones, and our DEERC UFO mini drones. Each of these guides will walk you through the different features, instructions, pricing, and pros and cons for each drone to help you find the best one for you.